WORX Guide to Choosing and Using Robotic Lawn Mowers
Robotic Mowers 101, Let's Make It Easy! 
A great looking lawn doesn't have to mean giving up your weekends to cut the grass, or spending thousands of dollars per year on a lawn service. Robotic lawn mowers offer a convenient, reliable alternative for regular lawn maintenance that lets you spend more time doing the things you love. If a beautiful lawn with less work, pollution, noise, and expense sounds like a good idea, then a robotic lawn mower may be right for you.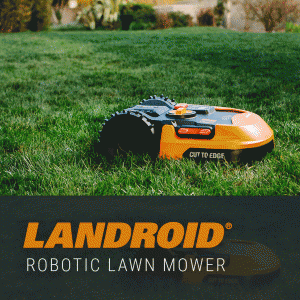 How do robotic lawn mowers work?
Robotic lawn mowers incorporate smart technology, spatial sensors, and remote control features to automate the chore of cutting grass. Powered by clean rechargeable batteries, they use navigation software to efficiently mow the grass on a programmed schedule, and return to a home charging dock when finished.
These little mowers make efficient use of electric power by clipping just a little bit of grass at a time, several times per week. In larger yards they may have to stop and recharge in the middle of a mowing cycle, and then pickup right where they left off to complete the cycle.
Staying inbounds, avoiding obstacles, and ensuring a thorough cut over the entire yard are made possible by a combination of technologies. A boundary wire surrounds the entire yard with a low voltage electric signal to define the property edges. Onboard sensors redirect the mower around obstacles like trees, toys, and lawn furniture. The mower cuts in a seemingly random pattern that is actually guided by a computer algorithm to ensure a thorough, efficient cut.
WORX Landroid robotic mowers are easy to use.  Installation, programming, and operation are simplified by thoughtful design, convenient interface options, and smart technology. Patented artificial intelligence software allows Landroid to solve navigation problems and improve efficiency all by itself. Cut-to-edge capability lets it mow right up to the edges, so trimming becomes a thing of the past.
Landroid is plug-and-play ready right out of the box. The kit includes the charging base, lawn screws, nine cutting blades, boundary wire and stakes. It only requires an outdoor power source and wifi connection. The software updates automatically through either wifi connection or cellular service.
Mow Your Lawn Based On Your Preferences
Customized programming with the WORX Landroid mobile app is recommended for optimal results. Use it to calculate the lawn size for improved efficiency, program custom mowing schedules, set up multiple zones for separate schedules, check the mower's status remotely, and more. The mower can also be programmed via an onboard LCD screen.
Landroid features reliable weather resistant construction, but it knows not to mow in the rain. The onboard rain sensor will send it back to its charging port when precipitation starts. Afterwards it will pick up right where it left off. Add the optional Landroid garage for improved seasonal protection from heavy rain and hot sun.
The modular operating system includes several upgrade options, including an Anti-Collision System that uses ultrasonic detection to avoid obstacles without bumping them first, "Find My Landroid" GPS anti-theft tracking system, and "Off Limits" digital fencing to create no-mow zones within the lawn. The optional Landroid Radio Link boosts the wifi connection up to an additional .62 miles. It maximizes the mower's AI capability by maintaining an unbroken connection to the cloud – an excellent add-on for large properties. Powered by a 20V MAX Lithium 4.0Ah battery, Landroid is part of the WORX Power Share platform that includes more than 35 cordless power tools.
How to choose a robotic lawn mower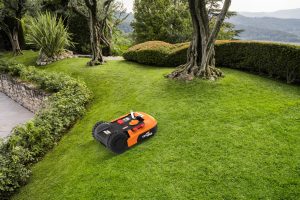 When choosing the best robotic lawn mower for your yard, first consider your lawn size and slope. Lawn size is not the same as lot size. The house, driveway, patio, landscape beds and other non-grassy areas do not count for this calculation. All Landroid models operate on slopes up to 20 degrees (which equates to about 1 foot of rise in 3 feet of horizontal distance).
Lawn size
Landroid M and M+ (WR140 and WR147) is designed for lawns up to ¼ acre (10,890 square feet). It measures 22 x 15 x 10 inches, and cuts a 7-inch wide path per pass. The deck is adjustable to cut at heights from 2 to 3.5 inches.
Landroid L and L+ (WR150 and WR155) mows lawns up to ½ acre (21,780 square feet). The mower measures 25 x 17.5 x 8.86 inches. It cuts a 9-inch wide path per pass, with an adjustable cutting height between 1.6 and 3.9 inches.
Technical features
Technical options abound among robotic mowers. All should include features that let them work without intervention. These include basics like mowing on programmed schedules, avoiding obstacles, staying inbounds, automatic recharging when the battery runs low, safety shutoff.
The next level of features add a layer of convenience not found on entry level models. Such upgraded features include mobile app programming and control, wifi communication, multiple zone programming, rain sensing, and more. Additional capabilities may help to improve efficiency, accuracy, and security. GPS technology is a good example.
Depending on the yard size, either Landroid M (WR140) or Landroid L (WR150) would be a great pick for those who want a convenient, capable mower that offers a high level of convenience and functionality but not every bell and whistle. Those who appreciate the peace of mind that comes with GPS security will prefer the Landroid M+ (WR147) or Landroid L+ (WR 155).
Is Robotic Mowing Really "All That?"
If you're accustomed to conventional gas powered mowing, a robotic mower may seem too good to be true. But you can believe the hype. These small machines maintain the grass at the perfect height all by themselves, without supervision or fossil fuel emissions. They run quietly any time of day or night, and give you extra free time every week.  Leaving this summertime chore to an automated machine might be the best yard care decision you ever make.
Summary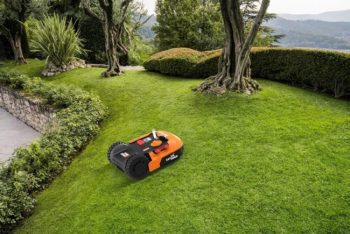 Article Name
WORX Guide to Choosing and Using Robotic Lawn Mowers
Description
Robotic lawn mowers offer a convenient, reliable alternative for regular lawn maintenance that lets you spend more time doing the things you love
Author
Publisher Name
Publisher Logo