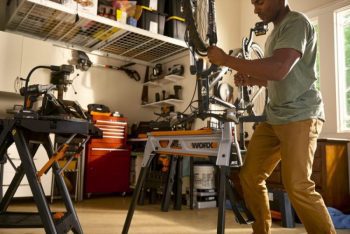 Father's Day is almost here! This has many of us doing a little panic shopping for gifts. We understand; it isn't always easy to shop for dads.
Instead of another generic Father's Day gift that is bought as a last resort, try to get your dad something useful this year. Even if you are a last-minute gift buyer, our Father's Day gift guide can offer a variety of ideas.
If you need a little help finding the right gift, check out a few of the ideas we have listed below. This includes gift ideas for dads who like gadgets, landscaping, and woodworking.
Gifts for Gadget Dads
Most dads love new gadgets that make their lives easier or help them perform a task a little better. If your dad is a fan of gadgets, the following gifts will be a welcome Father's Day surprise:
20V Cordless Fan
With the 20V 9" Cordless Fan from WORX, your dad can stay cool no matter where he is working. Light and easy to carry, our fan uses 20V Power Share batteries so it can share batteries with other tools from the Power Shine line. When plugged in, it can also charge batteries while it is running, so it can double as a convenient battery charger as well.
20V Portable Vacuum
The 20V Portable Vacuum is the perfect gadget for cleaning on the go. The vacuum uses 20V Power Share batteries, so it can share batteries with other tools in the line and it is very easy to use, too. This portable vacuum also comes with a brush attachment and a crevice tool.
20V USB Charger Adapter
This can be the perfect charging solution for your dad's workshop or when he is working away from home. The 20V USB Charger Adapter connects to WORX 20V batteries to allow for charging phones and other devices. It has 2 USB ports and an indicator to show how much charge is left in the 20V battery.
Landscaping Dads
Some dads are obsessed with having a well-tended yard. If that sounds like your dad, the following gifts could be the perfect pick for this Father's Day:
GT Revolution String Trimmer
The 20V GT Revolution 12" String Trimmer is one of the best tools for keeping a neat and attractive lawn. The cordless design means you can take this string trimmer anywhere and it is very easy to handle. It can also convert to a wheeled edger or a mini-mower. 
40V String Trimmer
As an alternative, the 40V Cordless String Trimmer & Wheeled Edger can be good for keeping a yard that looks nice. This model uses two 20V Power Share batteries and it works well for trimming in tight spaces or in areas that are inaccessible to a lawn mower. Just like the GT Revolution, the head on this model can also pivot to turn it into a wheeled edger.
Robot Lawn Mower
A robot lawn mower can be great for taking some of the work out of yard maintenance. With models from the WORX Landroid line, you have robotic lawn mowers that are smart and easy to use. Adjusting the cutting height and setting up the work perimeter for these robot lawn mowers is simple. It also has a convenient app that makes it easy to manage the operation and set a mowing schedule.
Woodshop Dads
New tools are always a welcome gift for dads that love working in their woodshop. Check out the following ideas to find the essential DIY tools for your woodworker dad:
Compact Circular Saw
Circular saws do a lot of work in the woodshop. Even if your dad already has a standard circular saw, the Versacut 3-3/8" Compact Circular Saw can be a nice addition to his tool collection. The compact design makes it easy to handle and it can be the perfect tool for a wide range of cuts. It also has a laser guide for superior accuracy and a dust extraction port to keep the work area clean.
Multi-Sander
Sanding plays an important role in many woodworking projects. With the 20V Sandeck 5-in-1 Multi-Sander, your dad will be able to handle a range of sanding tasks with just one tool. With a simple switch of the pad and function, this tool can be a finishing sander, detail sander, or random orbit sander.
Find the perfect gift for Dad with our Father's Day Gift Guide!
Summary
Article Name
Best Father's Day Tools for the Last Minute Gift Giver
Description
If you need a little help finding the right gift, check out a few of the ideas we have listed below. This includes gift ideas for dads who like gadgets, landscaping, and woodworking.
Author
Publisher Name
Publisher Logo