20V Power Share Sandeck 5-IN-1 Multi-Sander
3 Year Warranty
30 Day Guarantee
As low as
$149.99
Regular Price
$99.99
Details
Innovative Mode Max Technology maintains power transfer specific to each sanding task.
5 sanders in one tool: Detail, Finishing, Random Orbit. Plus, a detail contoured attachment and finger attachment.
The Hyperlock clamping system changes pads and modes easily and securely without the use of tools.
6 variable speed options help adapt to a variety of materials and applications.
DustStop micro filter reduces airborne dust.
Same Battery, Expandable Power. The same battery powers over 75+ 20V, 40V, and 80V lifestyle, garden, and power tools in the Power Share™ family.
No-load Speed
4000-10000/min
Orbital Diameter
Random Orbit-3/32 in. | Finish-1/16 in. | Detail-1/16 in.
(1) - 20V MaxLithium Battery
(1) - 20V Battery Charger
(1) - Dust collection bag
Yes, this model (WX820L) comes with 1 battery and 1 charger.
The Worx SANDECK 5-IN-1 MULTI-SANDER is a handheld multi-purpose sander that contains 5 sanders in one tool: Random orbit, finishing, detail, with finger and contour attachments.
What makes this sander unique is it's Mode Max Technology. It transfers power specific to the sanding task at hand, maximizing efficiency and performance. And not only does this sander do the job of a random orbit, finishing, detail, finger and contour sander, it has 5 variable speed settings. You won't meet a project this tool can't tackle.
The 20V POWER SHARE SANDECK 5-IN-1 MULTI-SANDER only weighs 4.4 lbs with battery.
The accessories included with the 20V SANDECK 5-IN-1 MULTI-SANDER: 1 - Finishing Plate, 1 - Random Orbit Plate, 1 - Detail Plate, 1 - Finger Plate, 1 - Contour Plate, 1 - Dust Bag, 1 - Paper Punch, 3 - 4 1/2" x 5 1/2" Finishing Sanding Paper, 3 - 5" Random Orbit H&L Sanding Paper, 3 - 5 1/2" x 3 1/2" Detail H&L Sanding Paper, 3 - 1 13/64" Finger H&L Sanding Paper, 3 - 3 3/8" x 2" Contour H&L Sanding Paper
The accessories for the Worx Oscillating Multi-Tool are made of quality materials and designed to offer optimum performance for as long as possible. Actual wear rate will depend on the application, materials and user technique. Always use the accessory for its intended purpose, and allow the accessory to do the work without excessive force or pressure.
The lithium battery that powers the cordless 20V SANDECK 5-IN-1 MULTI-SANDER is the same battery we use in our professional cordless drills. They're powerful enough to drill through concrete and large timber, so they're definitely powerful enough to handle whatever project you have in mind.
Runtime will vary from job to job, and sometimes between users, depending on how each person works, the materials being used, and the amp hour rating of the battery you're using. With PowerShare you can use any 20V Worx batteries you already have so you'll never be out of power.
Need to upgrade? Worx offers higher capacity batteries and faster charging options.
Yes! With Power Share, you can share the battery and save money. Your Worx 20V SANDECK 5-IN-1 MULTI-SANDER can use any 20V Worx battery you already own. By sharing the battery between tools, you'll always have the power you need to complete any job.
Our lithium tools and Ni-Cd tools are separate platforms and are not interchangeable. Lithium batteries offer our customers maintenance-free technology without the hassle of managing the memory effect inherent in Ni-Cad batteries.
While Power Share allows you to share batteries between tools within the same voltage family, batteries can only be used with tools of a corresponding voltage. Use your 20V Max Lithium battery with any 20V Worx tool – even the power tools – but save your 32V battery for your 32V tools.
You can download the manual here.
FREQUENTLY PURCHASED TOGETHER
SO MANY SANDERS, SO MANY FEATURES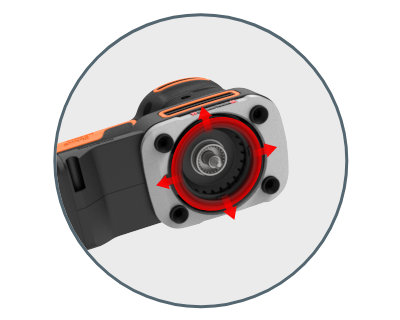 MODE MAX
With all this versatility, we needed an engine that would optimize itself for each type of project. Meet Mode Max Technology. It transfers power based on the needs of the base being used, maximizing efficiency and performance.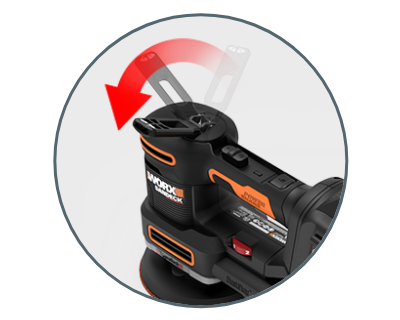 HYPERLOCK IT DOWN
One ton of clamping pressure (one ton?!) on the sanding pad keeps it from slipping off. That secure lock keeps all the friction directed at the surface of the project and away from the body of the tool.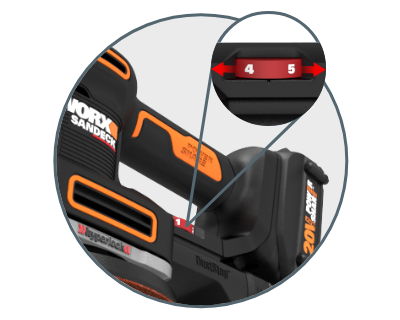 5-SPEED SANDER
5 different sanders, 6 different speed settings. You have so many ways to attack each job with this tool that you're sure to find just the right finish that works for your project.