20V Power Share GT Revolution 12" 4.0Ah String Trimmer
20V Power Share GT Revolution 12" 4.0Ah String Trimmer
is rated out of
5
by
127
.
3 Year Warranty
30 Day Guarantee
Details
The GT Revolution has no time for downtime with longer-running 4.0 Ah 20V Batteries.
20V Power Share 4.0 Ah Batteries amp up your run time so your trimmer won't run out of juice before you!
Patented Command Feed™ Technology extends fresh line on the fly with the touch of a button, no stops necessary.
3-in-1 Flexibility with instant conversion from precision string trimmer...to powerful in-line wheeled edger...to agile mini mower.
A Full Foot Longer than the original WORX GT plus the extreme versatility of 7 handle and 6 rotating head positions.
Less Downtime with the new, on-board extra spool holder. Plus Free Spools for Life.
(1) - 20V GT Revolution 4.0 Ah Trimmer / Edger
(1) - 20V 4.0 Ah MaxLithium Battery
(3) - Trimmer Spool (10 ft/ea)
(1) - 20V Battery Charger
Yes, this model includes 1 battery.
The GT Revolution introduces features not available on previous Worx GT models while still retaining the features you expect on a Worx GT, like an easy conversion from trimmer to edger and mini mow mode. Now lighter than ever before, the GT Revolution includes Command Feed which dispenses more line at the touch of a button, on-board spare spool storage, and it's a full foot longer than previous models to accommodate even our tallest users comfortably.
Worx GT has a history of changing the game when it comes to feeding trimming line, and the Revolution is no exception. Bumping to advance the line became a thing of the past with auto-feeding line on the first GT, and now, CommandFeed puts the control at your fingertips.
Your trimmer is equipped with CommandFeed. To efficiently feed the line, just press the CommandFeed button as needed while the machine is running until you hear the 'clattering' noise of the line cutting. The line will automatically feed to the perfect length for trimming. The motor will shut off when pressing the CommandFeed button and will restart when the button is released.
Absolutely! The Worx Revolution is designed to be fully adjustable from the telescoping shaft, 7-position auxiliary handle, and 6-position pivoting trimmer head. When it comes to height, we've got you covered. At its shortest, the GT Revolution is 35-3/4" long, but when fully extended, it's a full 55-1/2" long. That's a full foot longer than previous Worx GT models to better accommodate even our tallest users comfortably. Don't contort yourself to fit your trimmer, let the Worx Revolution adapt to you.
The trimmer only weighs 6 lbs, even with the battery installed. As light as this is, the ergonomic design ensures the weight is evenly distributed between the main and auxiliary handle to make trimming a comfortable, easy-to-manage experience for anyone.
The 4.0Ah 20 Volt Max Lithium Battery is designed to provide enough working time per charge to trim up to the average 1/2 acre yard on one charge. Actual results may vary depending on the density of the grass or weeds you're cutting or the age of the battery pack.
The lithium battery that powers the Worx GT Revolution is the same battery we use in our professional cordless drills. They're powerful to drill through concrete and large timber, so they're definitely powerful enough to trim your grass and weeds and give your lawn the professionally manicured edge you've always wanted.
The Worx GT Revolution features our highest capacity battery to date. The 20 Volt Max Lithium Battery on the included with the Worx GT Revolution edger/trimmer has an amp hour rating of 4.0 vs our previous battery models (2.0 and 1.3 amp-hour ratings). The amp hour rating measures how much energy can be stored in the battery (energy capacity). The Worx GT Revolution 4.0 Ah battery can hold twice the amount of energy as previous models in the same size due to advanced battery chemistry. This means the WG170.1 model has up to double the run time as the WG170 model.
CALIFORNIA PROPOSITION 65 WARNING:
This product can expose you to chemicals including lead, phthalate or bisphenol A which are known to the State of California to cause cancer, birth defects or other reproductive harm. Wash your hands after use. For more information go to www.P65Warnings.ca.gov.
PROPOSITION 65 DE LA CALIFORNIE AVERTISSEMENT:
Ce produit peut vous exposer à des produits chimiques, incluant au plomb, au phtalate ou au bisphénol A, qui sont reconnus dans l'Ètait de Californie comme pouvant causer un cancer, des anomalies congénitales ou d'autres dommages à l'appareil reproducteur. Assures-vous de bien vous laver les mains après usage. Pour en savoir plus, veuillez consulter le site www.P65Warnings.ca.gov.
20V GT REVOLUTION
A YARD WORK REVOLUTION
Based on feedback from real WORX lawn & garden users, we designed a 3-in-1 that's easy to use and effective. With cutting-edge technology, design, and performance.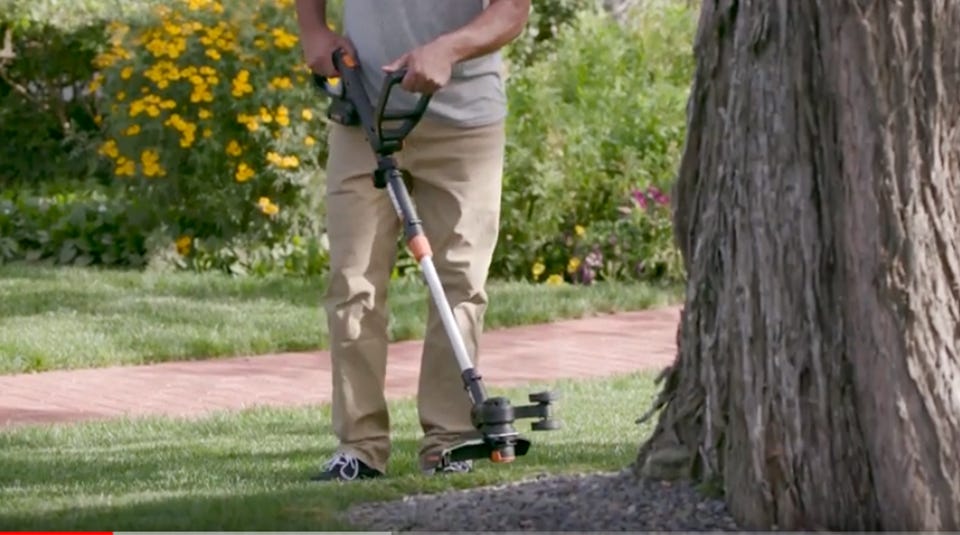 FREQUENTLY PURCHASED TOGETHER
GAME CHANGING 3-IN-1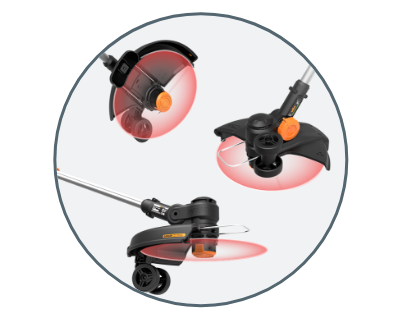 EASY AS 1-2-3
1. Twist the shaft to turn the trimmer into an edger. 2. Twist it back to trim again. 3. Install the wheels and make it a mini-mower.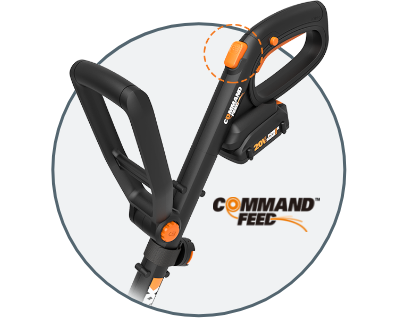 COMMAND FEED™
When you decide that you need fresh line, the push button spool system dispenses the perfect length for trimming.
LESS TRIPS TO THE SHED
With WORX Power Share batteries, and a handy extra spool holder on the shaft, you'll have the power, and the line, to get more done.