Pegasus Folding Work Table & Sawhorse
6 Year Warranty
30 Day Guarantee
Special Price
$104.99
Regular Price
$149.99
Details
Versatile folding work table that may be used as a sawhorse and portable workbench.
Integrated clamping system holds materials firmly in place.
Collapsible workbench design and lightweight for easy transportation & storage.
Includes 2 bar clamps and 4 clamp dogs.
Table Size
31 in. x 25 in.
Sawhorse Load Cap.
1,000 lbs.
(1) - Folding Work Table / Sawhorse
The Worx Pegasus weighs 30 lbs. The sturdy construction and lightweight design make it a great portable work table for a wide range of projects and applications.
The Pegasus folding work table & sawhorse is made out of a durable, molded ABS with steel supports and fittings.
The Pegasus Folding Work Table & Sawhorse's dimensions are:
Folded: 35" H x 25" W x 5" D
Open: Table Size - 31" x 25" Working Height - 32"
The Pegasus is strong and as durable as a work table or sawhorse. As a worktable, the Pegasus has a capacity of 300 lbs. When used as a sawhorse, the load capacity for Pegasus is 1,000 lbs.
The clamps can handle materials up to 18" in either a horizontal or a vertical position. The clamps can provide a maximum force of up to 300 lbs.
Each Worx Pegasus Folding Work Table & Sawhorse comes with 2 clamps and 4 clamp dogs. Clamp dogs are pieces that will snap into the worktable to help stabilize and secure unique shapes and provide additional support for clamping projects. Each Pegasus will also come with two link locks to connect multiple tables.
Yes, the Worx Pegasus coordinates with the Worx Clamping Sawhorses and Worx Sidekick. They are the same working height, feature the same joiners and attachment points to make larger projects easier to tackle, or to create a custom workspace that can be disassembled and stored in limited space.
While the working height of these tables will be consistent between Worx products, keep in mind that attaching different models with varying table dimensions together may mean the table edges won't line up exactly. The joiners are designed to prevent slippage during use. If you're looking for a perfect match or additional security, we recommend pairing up two of the same model tables.
The compatibility of the Pegasus with other brands will vary. The industry standard height for most sawhorses is a working height of about 28-32 inches. The working height of the WORX Pegasus is 32 inches.
Yes! The clamps that are included with the WORX Clamping Sawhorses are the same as the clamps included with the Pegasus.
Yes, the Pegasus Folding Worktable & Sawhorse is designed to be compact and easy to store, which makes them ideal for shipping, too. Each Pegasus is fully assembled so once you open the packaging, you're ready to get to work!
Yes. The Pegasus tabletop is designed to fold down slowly after the clips are released as a safety feature to prevent slamming or pinching fingers.
No, the legs are not adjustable, so the Pegsus will need to be placed on a level surface.
While there aren't any specific hazards related to the Pegasus, we recommend that all our customers follow standard safety precautions while using our tools – including wearing safety eyewear, gloves, appropriate shoes & clothing, and keeping hair tied back.
ATTENTION: While folding and/or transporting the Pegasus, keep fingers clear of the folding joint to avoid getting pinched. The Pegasus does fold flat, and fingers may get caught between the two sides of the tool when folding. Also, note that the tool does not lock when shut. Hold securely shut to avoid additional pinch hazard.
If you decide the WORX Pegasus Folding Worktable & Sawhorse isn't right for you, we offer a 30-day Money Back Guarantee from date of receipt (less shipping and handling). View more information on our 30-Day Guarantee here..
We know your tools are indispensable, so we cover the Pegasus with a 6 Year Limited Consumer Warranty. Register your Pegasus online to lock in your 6 Year Warranty. Already have your Pegasus? Register now!
Parts subject to normal wear and tear are not covered by the tool's warranty. View more information on our warranty here.
Need extra clamp dogs? Lose the joiners to link up two tables? Many replacement parts are available online under Accessories.
PEGASUS
A TABLE FOR ANY PROJECT
The Pegasus sets up in a snap. Made for both the shop and the yard, and ready to get to work right out of the box.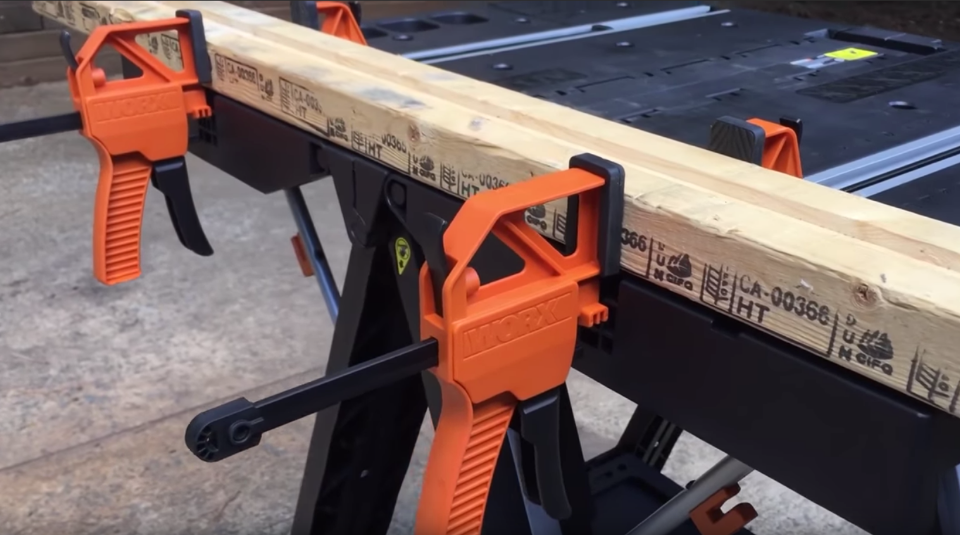 FREQUENTLY PURCHASED TOGETHER
TAKE YOUR WORKBENCH WITH YOU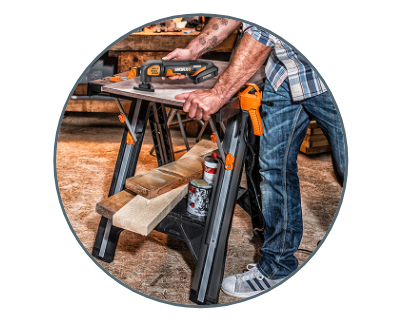 STRONG AS A HORSE
Holds up to 300 lbs, or 1000 lbs when you fold it down into a sawhorse. And you can link a few Pegasus together, to give you even more working space.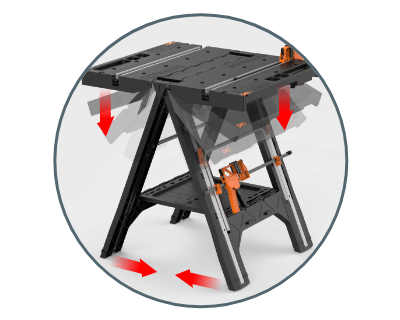 CLAMPS & STORAGE
4 clamp dogs hold unique shapes in place. 2 quick clamps support the most common projects. The storage shelf at the foot is designed to hold power strips and/or tools and supplies. Keep everything you need in one convenient place.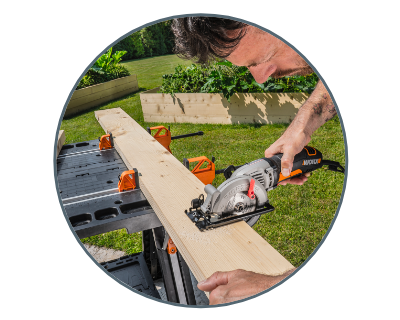 EASY TO MOVE
The Pegasus is only 30 lbs, so you can tuck it under your arm and take it up from the workshop in the basement, to the truck, to the job across town. Then easily fold it up and store it away.