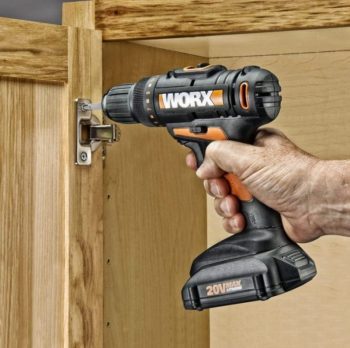 Few homeowners make the most of the available storage space in their kitchen cabinets. Instead, the space often ends up being cluttered and messy. Many homes also have large cabinets that end up overflowing with stuff, making it harder to stay organized. If this sounds like your kitchen, you don't have to do an entire kitchen remodel to get things in order. Easy DIY kitchen cabinet organization projects will help you make better use of the space and keep your kitchen from turning into a mess.
Best of all, these these DIY cabinet storage ideas are affordable and you don't need any special tools to get the job done. Most of these cabinet organizers can be built and installed with some simple hand and power tools, like the AI 20V Drill and Driver and the 4-1/2" WORXSAW Compact Circular Saw.
Simple DIY cabinet storage projects include installing a cabinet drawer, cabinet door spice rack, cutting board organizer, shelves, upright storage, sliding door panels, and/or under-cabinet storage. Any one of these projects can help you get your cabinets organized and cut down on the clutter.
Add a Cabinet Drawer
Adding a drawer under one of the shelves inside a cabinet can be a good way to get more from the space inside. This is a simple, two-step DIY cabinet storage idea. First, measure the width of the drawer to be a little narrower than the opening of the cabinet. Then, mount a piece of wood on the bottom of the shelf for the slides. Just like that, you have a cabinet drawer!
This can be a great place to store the lids that go with pots and pans. It could be used for any number of small items that are cluttering up a cabinet, too.
Cabinet Door Spice Rack
The inside of your cabinet doors can also be used for storage space. Building a spice rack onto the door is a good kitchen cabinet organizer idea that will let you take advantage of this area. You could probably buy a mountable spice rack, but it's not difficult to make your own model, either. With just a few pieces of scrap wood, some screws, and a tool like the 20V Cordless Drill & Driver, you can easily build one that is made to fit the space with precision.
Cutting Board Organizer
The back of a cabinet door will also lend itself well to cutting board storage ideas. If you need to store multiple boards, you could use some wood to build a pocket on the inside of the door.
If you're only looking to store one, you could cut a piece of 1/4-inch acrylic to fit the cutting board and mount it on the door like a sleeve. A tool like the Bladerunner Portable Table Top Saw can be perfect for cutting materials like plastic, wood, and metal.
Add a Shelf
Many cabinets only have one shelf. This can lead to a lot of space going unused. Luckily, it's easy to add shelves. Just cut some plywood to match the existing features and mount them in the cabinet with some shelf supports. It's a relatively simple idea for DIY kitchen cabinet organization, but it's also an effective way to get more from the space inside your cabinets.
Upright Storage
If you want to keep things like baking sheets well organized and make them more accessible, consider adding a divider off to one side of the cabinet. Building upright storage is another easy-to-do DIY kitchen cabinet organization project. Simply cut a piece of plywood to match the height of the cabinet. With some added shelf supports you can easily input this divider to make the space more organized.
Use a tool like 4V Cordless XTD Xtended Reach Driver if the space is tight and you have a hard time fastening the supports. It is a compact power tool that makes it easy to fasten screws in tight spaces.
Sliding Storage Panel
Keep small items organized with this DIY cabinet organizer. You can quickly create this kitchen cabinet organizer. Just collect a piece of wood for the panel, some drawer slides, and a few additional pieces of wood to act as spacers.
You could mount racks or shelves on the panel or use hooks to hang different items. As long as you make sure to mount the slides parallel to these fixtures it will slide in and out of the cabinet easily. This will serve to create a convenient storage space.
DIY Under Cabinet Storage
You could also use the space under cabinets to mount a fold out shelf. One possibility is to build a small DIY under cabinet storage tray with dividers. You can even mount it to the bottom of a cabinet using hinges.
Using the 20V 3-⅜" Worxsaw Compact Circular Saw, make a miter cut on the hinged side so the tray will stop at an angle. You can use a magnetic catch to keep the tray folded up when it is not in use. This can be a good kitchen organizer fixture for storing pens, paper, and other small, light items.
With power tools from Worx, these simple DIY kitchen cabinet organization projects can help you make the most of your storage space.
Summary
Article Name
Your Next DIY Project: Kitchen Cabinet Organizers
Description
DIY cabinet storage projects include installing a cabinet drawer, cabinet door spice rack, cutting board organizer, shelves, upright storage, sliding door panels, and/or under-cabinet storage.
Author
Publisher Name
Publisher Logo