Organization Essentials For The Entryway

The Best Tips for Creating a More Organized Entryway
Entryways are often overlooked. While they typically don't offer a lot of space to play around with, and don't require items to entertain or necessarily inspire, they do serve a big purpose. An entryway is where you transition from the outdoors in. You remove the shoes that carry all types of grime, preventing them from dirtying your home. You take off your coat, gloves, hat, scarf or sunglasses to shift to a cozier environment that doesn't require protection from the elements. You even drop your keys and bag that signify a day of busy events. This transition ensures you come through the home with a different energy.
Entryways are also the first thing people see when they walk into your home, and set the tone for their experience within. If an entryway is jam-packed with tossed coats on a bench, bags hanging over each other on one hook, and scattered, muddy shoes on the floor, you can guarantee it gives off a feeling both for you as well as guests that things are in disarray.
Plus, it's hard to find things when they're disorganized! That's why we've rounded up both simple and innovative ways for creating a more organized entryway that will feel like a breath of fresh air. It will ensure the entire family has structure when putting on or taking off items, will allow for necessary energy shits, and, of course, provide guests an opportunity to feel at ease as they come and go.
1. Use a Bookcase as Storage Lockers
IKEA offers individual slim bookcases that can be used in so many different ways, from turned on their side for seating with storage below to used vertically to display an array of objects, and offer an aesthetically pleasing way to organize items within sight. All you need to do is purchase a few of the bookcases, then position them at a height that works for your space, and you instantly have storage lockers! The cubbies are great for neatly storing backpacks, shoes, sports equipment and more.
2. Reinvent a Media Console
If you're considering upgrading your living room, why not use that old media console as a storage locker? You can pull out the drawers and take off the doors to place in baskets to store various accessories like shoes, bags, hats and gloves. The top of the console can be used for functional decor, like a lamp or a beautiful dish that holds your keys. If you had an open concept console to begin with, just add bins!
3. Label Your Coat Rack
Coat racks get a lot of use! But they also get a lot of abuse. Racks are the easiest way to clog up an entryway, with people piling bags, jackets, umbrellas, hats and more on top of each other when they enter the home. When it's time to leave, rifling through the layers of hanging items can cause frustration, with items flying off the hooks as people look for their belongings. To combat racks from filling up frivolously, try instead to label coat racks. Above a classic, wall-mounted coat rack, install chalkboard labels. You can write what each hook should be used for, like "Coats," or "Bags." Everyone in the family will know where to hang their specific items.
4. Use a Storage Bench to Hold Bags and Shoes
For a roomy entryway, consider a bench. But not just any bench! Try a multifunctional design like an entryway storage bench that allows you to use the cushy seat to sit on when taking off your shoes, but also opens up and provides you a place to store items you want out of sight. Be careful though! You don't want to toss items in thoughtlessly, which could lead to something that resembles a junk drawer. Instead, use dividers or small, soft bins within the bench that ensure everything remains neat and within sight.
5. Revamp a Nearby Closet
Whether you have a closet right in your entryway, or one just around the corner, you might be stuffing it with random items like bulky big coats, cleaning supplies, muddy shoes and more. Typically, hallway closets are small, and don't leave a ton of room to play around, but that's why you have to get creative! Take a look up and you'll realize how much vertical space is going unused in your closet. First, take out that single tension rod. Instead, add in individual coat hooks, one set up very high and the other lower to provide two rows. You can use stacking storage bins on the floor to utilize both vertical and horizontal storage for organizing shoes and clothing. You can even use the door to install mail organizers and a key holder!
6. Hang a Shelf Above Your Coat Rack
If you want to keep your floors clean, avoid entryway storage units. A more minimalist look that goes a long way is installing a shelf above your coat rack. Purchase a series of small baskets, and use one to hold mail, another for sunglasses, one for winter gear accessories, and perhaps one specifically for your keys and wallet. If you only need one or two baskets, consider adding a potted plant to the mix to boost entryway appeal.
7. Create Shoe Stations
While a shoe rack can be great for organizing shoes, if the shoes are wet, you can bet they're going to get all over the ground below. A smarter idea is to create shoe stations. Use a boot tray designed for catching mud and other grime in its tracks. Then, use a rattan basket to vertically store pairs of slippers that can be placed on upon entering. Casual shoes can be stored in a unit of your choice, while dress shoes you brought in from the day deserve to be returned to their rightful spot in the closet.
8. Create Family Launch Pads
If your family is full of activities, it's time to consider stations. One of the biggest reasons the simplest of storage solutions get disorganized is because individuals are looking for their belongings. They'll likely pull off jackets to find their own, pull their sneakers out from beneath someone else's that were stacked on top, etc. Use bins, baskets or cubbies to delegate where each family member's belongings should be placed. That way, when you're running late and someone needs to toss their sports gear on in the car, they'll know exactly where to find it, and won't have to mess up all the organization of the overall entryway display.
9. Install a Magnetic Hall Organizer
Looking to combine style with functionality in your entryway? Try installing metal boxes on the wall to hold various items. Seek out a magnetic surface that allows you to place notes or important papers that need to fly out the door on their exterior. On the interior, you can place small accessories. You could even go for a vintage mailbox with attached hooks that you can use to hang a coat.
10. Climb the Wall with Shoe Shelves
Another innovative way to keep things off the floor is to use floating shelves. Vertical wall space is often overlooked, but offers a great way to host a variety of bins. You could even use longer floating shelves near the floor to place your shoes on. That way, the floor remains free while the shoes stay organized. Individual brass shoe shelves offer a luxurious design, while ensuring a sturdy design for all types of shoes.
11. Try a Floating Cabinet
Use up wall space for the majority of your storage, but have the option for floor bins with a floating cabinet concept. Check out this design. What works here is that there's a sliding cabinet door. On one side, you can display small decor items, or aesthetically pleasing storage bins. Then, shoes, hats, gloves or random items like a flashlight or dog toys, are stored on the other side but out of sight.
Summary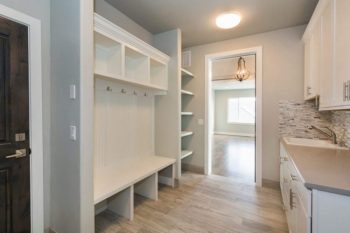 Article Name
Organization Essentials For The Entryway
Description
Entryways are the first thing people see when they walk into your home, and set the tone for their experience within. That's why we've rounded up both simple and innovative ways for creating a more organized entryway that will feel like a breath of fresh air.
Author
Publisher Name
Publisher Logo