Nitro Switchdriver 2.0: Enhanced Power and Performance

Introducing the new Switchdriver 2.0
Back in 2015, WORX revolutionized the power-tool industry when it introduced the Switchdriver, a cordless drill/driver equipped with two rotating chucks, which allow you to quickly switch back and forth between drilling pilot holes and driving screws—without changing bits. After its release, the Switchdriver with its innovative design quickly became one of the most popular cordless drills ever made, but WORX is not a company that rests on its laurels. It recently introduced Nitro Switchdriver 2.0, an updated, super-charged version that's faster, lighter and more powerful than the original Switchdriver.
The new Nitro Switchdriver pairs a 20-volt lithium-ion battery with an ultra-efficient, maintenance-free brushless motor that runs 50 percent longer and has 25 percent more power than a traditional brushed motor. In fact, this new model produces an impressive 443 in.-lbs. of torque, making it more than 50 percent more powerful than the original Switchdriver. But, the most significant—and exciting—feature of the new Nitro Switchdriver is a digital interface that has two keypads, one for drilling and one for screw driving. Here's how it works:
Prior to drilling a hole, press the drill icon on the digital keypad located on top of the drill, as shown below. Next, adjust the two-speed motor by sliding the switch to low speed when drilling into metal, or high speed for boring into wood. Now when you start drilling, use finger pressure on the trigger to control the speed, based on the hardness and thickness of the material. The drill's variable-speed motor runs from 0-450 RPM on low, and 0-1,700 RPM on high speed.
When you're ready to drive a screw, press the screw icon on the digital keypad. The number one will appear, indicating the lowest slip-clutch setting. Use this setting when driving very small screws into soft materials. To adjust the slip-clutch setting, simply continue to press the screw icon. The digital interface offers nine clutch settings, allowing you to select the exact-right amount of torque for driving any screw—large or small—perfectly flush with the surface. The driver mode also features an impulse function that electronically slows down the motor and pulses, depending on the material's resistance, to greatly reduce the chance of stripping the screw head or overdriving the screw. How cool is that? But wait, there's more:
The clever engineers at WORX added one more user-friendly feature: The dual-rotating chuck is synchronized to the digital interface, so that each time you rotate the chuck, the interface automatically switches from drilling mode to driving mode. Rotate the chuck again, and it automatically switches back to drilling.
The dual chucks accept any standard ¼-in.-shank bit, so you can install one drill bit and one screw-driving bit, two different sized drill bits, or two different screw-driving bits. To switch back and forth, simply depress the red button above the trigger and rotate the chuck 180° in either direction.
After testing the new Switchdriver, I found it to be the most intuitive and feature-packed cordless drill I'd ever used. All of the electronics and digital upgrades are so seamlessly integrated into the drill that after just a few minutes of drilling holes and screw driving, I was completely comfortable with all its functions and features.
The new WORX Nitro Brushless Switchdriver 2.0 (Item WX177L) comes complete with a 20-volt 2.0-Ah lithium-ion battery, one-hour battery charger, Phillips screw-driving bit, five twist-drill bits, zippered storage bag, and a metal belt clip that can be attached to either side of the drill, accommodating both left- and right-handed users. Other features include a battery fuel gauge, protective hand shield, LED work light, and non-slip rubber over-mold handgrip. It's available directly from WORX for $130 or as a bare tool (WX177L.9) for $90. Also worth noting: the Switchdriver's 20-volt battery is compatible with more than 75 other tools in the WORX Power Share Platform. For more information, go to worx.com.
Summary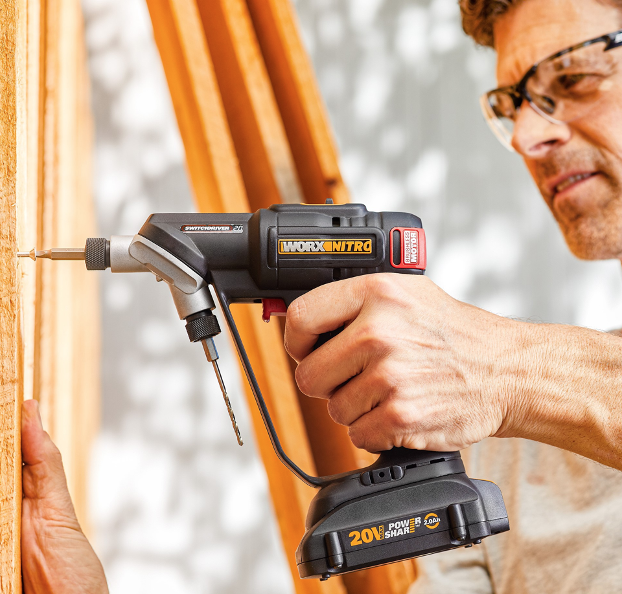 Article Name
Nitro Switchdriver 2.0: Enhanced Power and Performance
Description
Worx recently introduced Nitro Switchdriver 2.0, an updated, super-charged version that's faster, lighter and more powerful than the original Switchdriver.
Author
Publisher Name
Publisher Logo