12 Amp 2-Speed Leaf Blower, Mulcher & Vacuum
12 Amp 2-Speed Leaf Blower, Mulcher & Vacuum
is rated out of
5
by
353
.
3 Year Warranty
30 Day Guarantee
Details
Powerful blowing speeds up to 250 MPH.
2-Speed control provides versatility for both light and heavy-duty projects.
Metal impeller for a 16:1 mulching ratio.
One-touch conversion between blowing & mulching.
Lightweight and easy to use.
(1) - 12 AMP Electric Blower/Mulcher/Vacuum
(1) - Leaf Collection Bag
(1) - Concentrator Nozzle
No, this model does not include a battery. This is an electric tool.
The great news is that it's not heavy! The Electric 2-Speed Leaf Blower / Mulcher / Vacuum only weighs 7.5 lbs. Our ergonomic design ensures even this small amount of weight is optimally distributed to make clean up comfortable, while keeping the controls easily accessible.
The Electric Leaf Blower / Mulcher / Vacuum's attached cord is 11-1/2" and is equipped with an extension cord retainer to help keep your power cords connected, even if it gets caught while you're working.
The right extension cord will ensure you get the performance you expect and will extend the life of your blower. Look for an extension cord rated for Outdoor Use and make sure the gauge of the cord is appropriate for the length you're using. The WG518 is a 12 Amp tool, so check for gauge and length on the grid or in your manual. Your local hardware or garden supply store will be happy to help you select the right cord to meet your needs.
Horsepower rating is more accurately used to describe gas-powered tools. The WG518 has a power rating of 12 Amps and with a max airflow of 400 cfm, you can be sure it has the power to get the job done.
Yes! The WG507 is a blower, mulcher and vacuum.
Yes, the WG507 does have a 2-speed control. The control is in the perfect position for one-handed operation. To change the speed of the blower, use the power switch on the top of the handle to go from low to GO!
Each 12 Amp Electric Leaf Blower / Mulcher / Vacuum comes with some minor assembly required, but it will take less than 3 minutes and will not require tools.
Yes, you can disassemble the electric blower after you've put it together. We make it convenient so you can easily switch out the accessories to meet the needs of each job.
You can download the manual here.
The Electric Leaf Blower / Mulcher / Vacuum is double-insulated to prevent shock, but we recommend that our customers follow standard safety precautions while using our tools - including wearing safety eyewear, gloves, appropriate shoes and clothing, and keeping hair tied back. See your owner's manual for complete details.
If you decide the 12 Amp Electric Leaf Blower isn't right for you, we offer a 30-day Money Back Guarantee from date of receipt (less shipping and handling). Please call our customer service center at 1-866-354-9679 (WORX) and we'll be happy to assist. View more about the 30-Day Guarantee.
We know your tools are indispensable, so we cover each tool with a 2 Year Limited Consumer Warranty. You can extend your warranty to 3 years by registering online within 30 days of purchase. Already have your blower / mulcher / vacuum? Register now!
Parts subject to normal wear and tear are not covered by the tool's warranty. View more on our warranty page.
Need a new bag? Many replacement parts are available online under Accessories.
CALIFORNIA PROPOSITION 65 WARNING:
This product can expose you to chemicals including lead, phthalate or bisphenol A which are known to the State of California to cause cancer, birth defects or other reproductive harm. Wash your hands after use. For more information go to www.P65Warnings.ca.gov.
PROPOSITION 65 DE LA CALIFORNIE AVERTISSEMENT:
Ce produit peut vous exposer à des produits chimiques, incluant au plomb, au phtalate ou au bisphénol A, qui sont reconnus dans l'Ètait de Californie comme pouvant causer un cancer, des anomalies congénitales ou d'autres dommages à l'appareil reproducteur. Assures-vous de bien vous laver les mains après usage. Pour en savoir plus, veuillez consulter le site www.P65Warnings.ca.gov.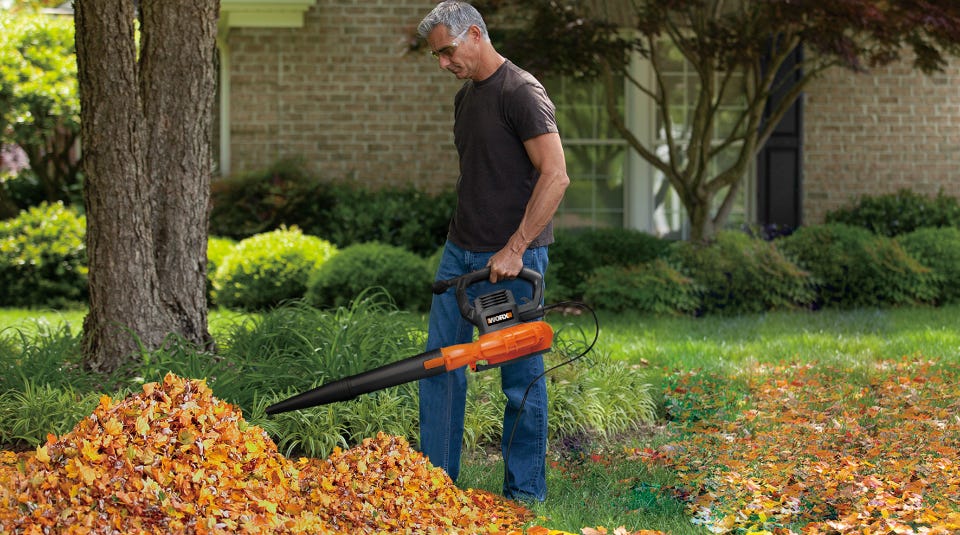 12-amp 2 speed blower mulcher vac
3 TOOLS IN 1
Clear leaves and debris with 250 mph air speed. And with the flip of a switch, your blower instantly turns into a powerful vacuum with 400 cfm air volume. You'll take less bags of leaves to the curb with a 16:1 ratio.
FREQUENTLY PURCHASED TOGETHER