20V Power Share PRO 8.0Ah Lithium-Ion High-Capacity Battery
20V Power Share PRO 8.0Ah Lithium-Ion High-Capacity Battery
is rated out of
5
by
8
.
3 Year Warranty
30 Day Guarantee
Details
Run longer with high-capacity batteries—Worx Power Share PRO intelligent batteries deliver extended run times, plus heat and impact protection. Compatible with all Worx 20V and 40V tools, outdoor power and lifestyle products.
8.0Ah Battery provides up to 4X the run time of traditional 2.0Ah batteries.
Intelligent Battery Management System optimizes individual Li-Ion cells, enhancing power, performance, and run time.
Cell-cooling technology—Thermoplastic material keeps cells cooler, longer, providing extended run time.
360° cell protection provides increased security against vibration and impact.
Charge-level indicator for quick reference to charge status.
Same Battery, Expandable Power. The same battery powers over 75+ 20V, 40V, and 80V lifestyle, garden, and power tools in the Power Share™ family.
*Charger not included.
Battery Capacity
8.0Ah PRO
Compatibility
WORX | WORX NITRO 20V | 40V |80V
Technologies
Intelligent BMS, Cell-Cooling, Cell Protection
Power Share PRO batteries are 100% compatible with all Worx 20V, 40V, 80V tools, outdoor power and lifestyle products that display the Power Share or Power Share PRO logo. Although the WORX Power Share PRO high-capacity batteries come standard with Worx NITRO products, they can also be utilized on the traditional Worx products to achieve longer runtime. Worx recommends that Power Share PRO batteries be used with Worx NITRO products to unlock optimal performance.
No. The Worx Power Share PRO batteries can be used on all existing Worx 20V MAX chargers (WA3742, WA3881, WA3764, WA3770, WA3884,
WA3835).
No. The batteries require the same amount of charge-time as the standard Worx Power Share batteries. However, due to the Cell-Cooling Technology in the Power Share PRO batteries, they stay cooler, longer. As a result, less wait-time is needed before a battery can start charging, due to high temperature.
The Power Share PRO series of Worx high-capacity batteries are designed for optimal performance and come standard with the Worx NITRO product offering. These batteries utilize an intelligent battery management system that monitors each cell to enhance, power, performance, and runtime. Innovative, thermoplastic material encases each cell to pull heat away and maximize the cell's performance, resulting in longer runtime.360° cell protection provides increased security against vibration, drops, and water intrusion. This full-wrap design limits the influence that a compromised cell can have over the rest of the battery pack.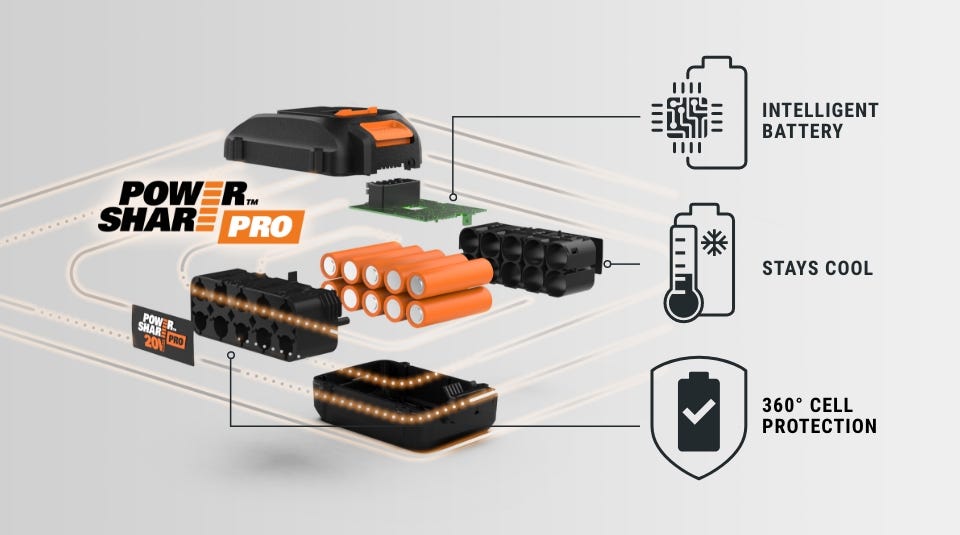 Providing the Power to Outperfom
Power Share™ PRO batteries are the driving force behind the new Worx Nitro Series of power and outdoor products. They offer more performance, more run time, and more protection against heat and damage than standard batteries, and are still compatible with every Worx Power Share™ tool in the family.
Frequently purchased together