20V Power Share GT Revolution String Trimmer/Edger/Mini-Mower & Turbine Blower Combo Kit
20V Power Share GT Revolution String Trimmer/Edger/Mini-Mower & Turbine Blower Combo Kit
is rated out of
5
by
187
.
3 Year Warranty
30 Day Guarantee
Details
Together in one box; The GT Revolution and all new Turbine leaf blower. Patented Command Feed™ Technology automatically extends fresh line, as you need it. Don't stop. Just press and trim. A Full Foot Longer than the original WORX GT. Plus extreme versatility with 7 different handle and 6 different rotating head positions. Less Downtime with the new extra spool holder on board. Just snap in an extra spool before leaving the garage. TURBINE fan technology delivers forceful, high-capacity air volume. 2-Speed control for versatility to switch between lighter & tougher jobs.
WG170 TECHNICAL SPECIFICATIONS
Cutting Diameter
12" (30.48 cm)
Line Diameter
0.065" ( 0.165 cm)
Cutting Line Length
3 X 10'
Machine Weight
5.5 lbs. ( 2.49 kg)
WG547 TECHNICAL SPECIFICATIONS
Machine Weight
4.9 lbs ( 2.22 kg)
(3) - Trimmer Spools with Line (10 ft/ea)
(1) - TURBINE 20V Leaf Blower
(2) - 20V MaxLithium Batteries
(1) - 20V Battery Charger
Worx GT has a history of changing the game when it comes to feeding trimming line, and the Revolution is no exception. Bumping to advance the line became a thing of the past with auto-feeding line on the first GT, and now, CommandFeed puts the control at your fingertips.
Your trimmer is equipped with CommandFeed. To efficiently feed the line, just press the CommandFeed button as needed while the machine is running until you hear the 'clattering' noise of the line cutting. The line will automatically feed to the perfect length for trimming. The motor will shut off when pressing the CommandFeed button and will restart when the button is released.
The trimmer only weighs 5.5 lbs (2.49 kg) , even with the battery installed. As light as this is, the ergonomic design ensures the weight is evenly distributed between the main and auxiliary handle to make trimming a comfortable, easy-to-manage experience for anyone.
The two 2.0Ah 20 Volt Max Lithium Batteries included are designed to provide enough working time per charge to trim up to the average 1/4 acre yard on one charge. Actual results may vary depending on the density of the grass or weeds you're cutting or the age of the battery pack.
Each trimmer comes with some minor assembly required, which may take up to 5 minutes per tool. A step-by-step instruction manual is included along with easy assembly instructions. Please have a #2 Phillips head screwdriver on hand when assembling your GT Revolution.
The Worx GT Revolution features our 2.0 Ah 20 Volt Max Lithium Battery. The amp hour rating measures how much energy can be stored in the battery (energy capacity). This 2.0 Ah battery can hold almost twice the amount of energy as our 1.3 Ah model in the same size due to advanced battery chemistry, which means more power and run time when it really counts.
Converting your trimmer from Trimmer to Edger, or to a Mini-Mower is quick and easy, just like our GT 2.0.
To turn the cutting head for edging mode, hold down the black trimmer line guard with your foot. Pull upward on the telescopic shaft such that the shaft displaces by roughly an inch. Then twist the telescopic shaft clockwise 90 degrees and release. The shaft will automatically lock back into position automatically.
To use your Revolution in mini mower mode, use the same cutting head angle you would for trimming. Install the wheels under the safety guard in the position that works best for the area you're trimming. Adjust the cutting head angle to give you the best ergonomic position and you're ready to cut!
Each Worx Revolution Trimmer / Edger / Mini-Mower includes three (3) pre-loaded spools of cutting line to get you started. Extra spools are free of charge in our Free Spools for Life program for as long as you own your trimmer; you just cover the cost of shipping and handling any time you need more! Order additional pre-loaded spools here.
Some stores do offer spools for sale in smaller packs, and while these may be the answer if you run out and need them right away, we recommend taking advantage of the Free Spools for Life program benefits included with the purchase of your trimmer.
The safety guard is an essential part of the tool. Not only does it keep you safe from any debris from the trimming/edging, it also helps regulate the length of the cutting line. Without the safety guard, your Worx GT Revolution will not operate properly and you are at risk for injury.
WORX has an entire line of Turbine products, some of which are battery operated and some of which are electric to offer the solution that best meets your needs.
CFM stands for "cubic feet per minute" and is the measurement of air flow that is used to describe the volume of air that the blower is capable of moving. The higher the CFM, the more air the blower is capable of pushing through the tube.
This blower does not include a vacuum or mulching feature. However, we do offer a large lineup of 3-in-1 Blower, Mulcher, Vacuums for your yard work demands.
Each blower comes with some minor assembly required, but takes less than 3 minutes and will not require tools.
GET TO KNOW THE COMBO KIT
20V GT REVOLUTION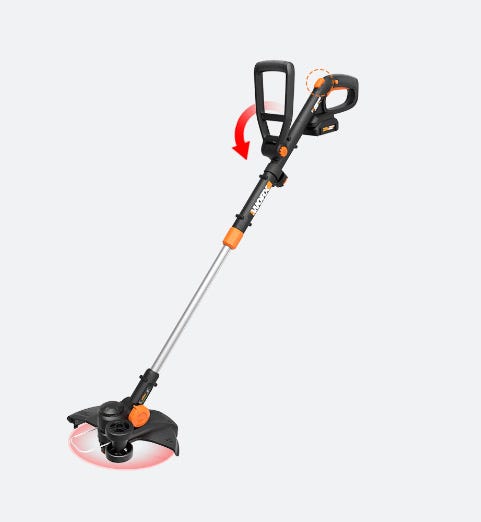 Innovative Command Feed™ extends line on command
Switch between trimmer, edger and mini-mower
Bonus spool holder keeps extra line on-board
Adjustable handle offers max comfort & control
Shaft adjusts to suit any height & posture
Trimmer head pivots 90° to reach tight spaces
20V TURBINE BLOWER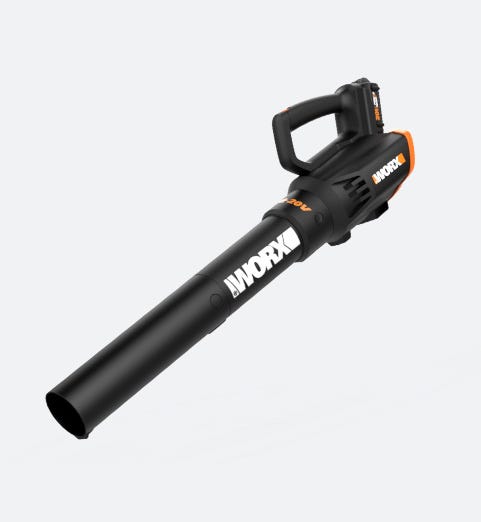 High-capacity air volume moves up to 360 CFM
2 speeds for tackling lighter & heavier jobs
Lightweight for one-hand operation
Hyper-steam air nozzle blasts away stubborn debris
PRO CURB APPEAL AT YOUR FINGERTIPS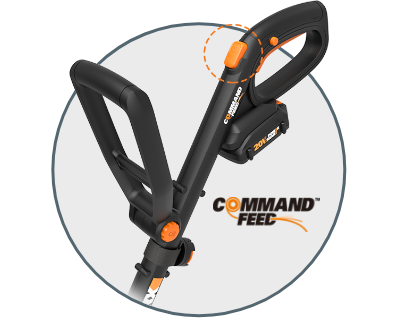 JUST KEEP TRIMMING
Innovative Command Feed™ automatically extends the spool line with the push of a button. No more stopping or slowing down.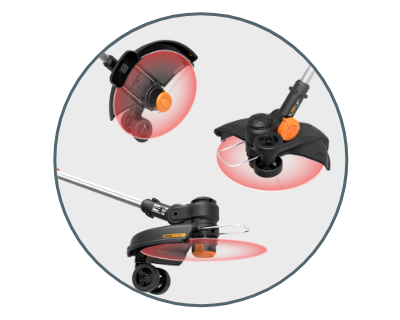 3 TOOLS IN 1
Move from one lawn task to another without missing a beat. Converts from a precision trimmer to an in-line edger to a mini-mower in seconds.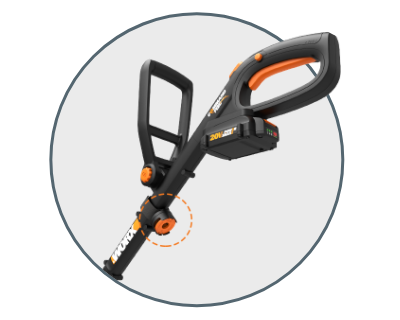 STAY ON THE JOB
New on-board spool holder lets you make spool changes on-the-go.
SAY GOODBYE TO YOUR RAKE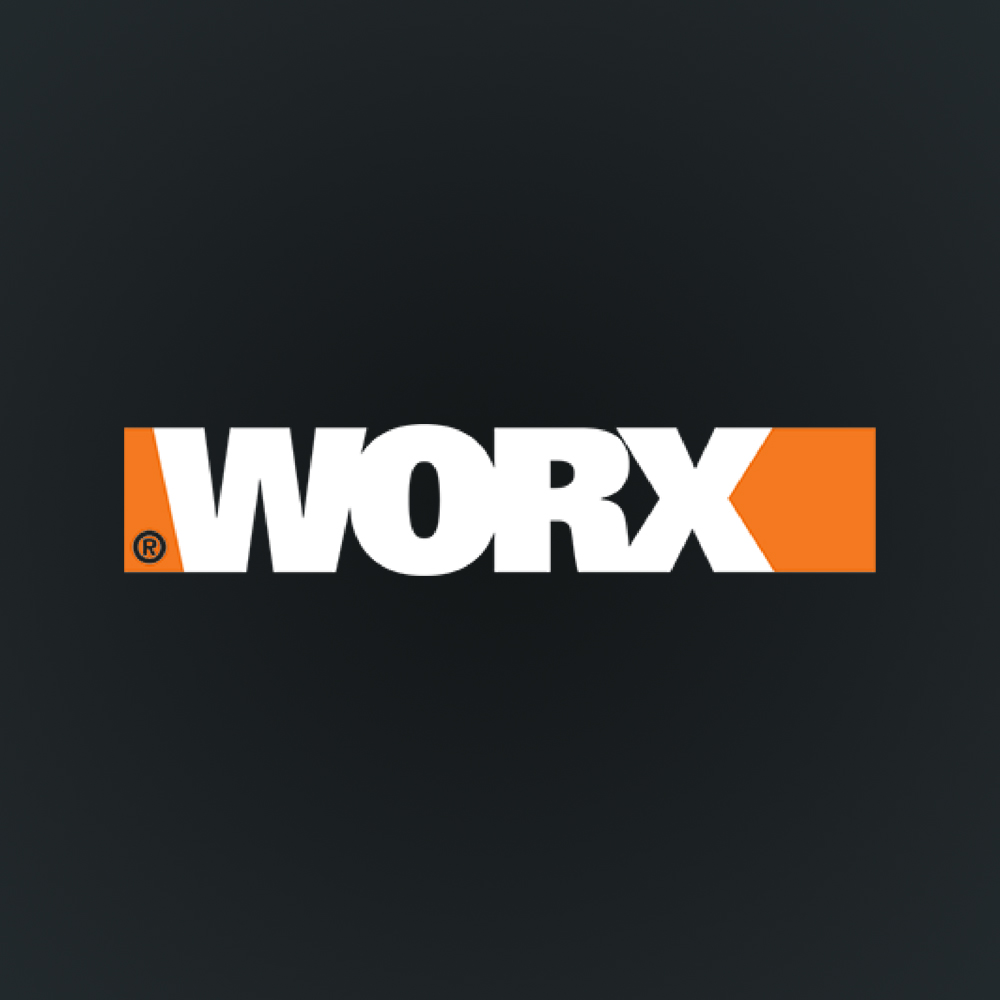 LIGHT YET MIGHTY
At only 4.9 lbs., even with the battery installed, you can clean up the whole yard and then some without getting fatigued.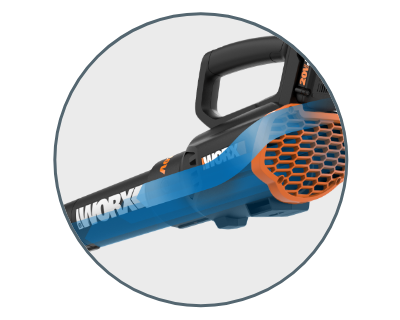 HARNESS THE POWER OF TURBINE
Powerful WORX TURBINE fan technology delivers forceful, high-capacity air volume to show those leaves who's boss.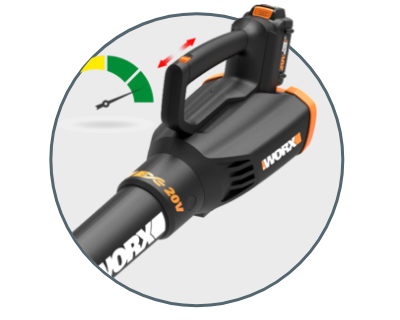 NEED FOR 2-SPEED
Choose from two speeds to customize airflow for each task at hand. Keep delicate plants intact or blast away stubborn debris.