20V MAKERX Angle Grinder - Tool Only
3 Year Warranty
30 Day Guarantee
As low as
$59.99
Regular Price
$59.99
Details
20V Angle Grinder and Disc Sander for use with the MAKERX system of portable crafting tools.

Compact brushless motor offers longer runtime and more power over angle grinders with non-brushless motors.

Variable speed control with up to 24,000 RPMs for precise control across various crafting activities.

Micro-ergonomic design enhances overall user control for cutting and sanding applications.

Blade fit compatible with 2 in. blades having 3/8 in. arbors, and 1 ½ in. blades having ¼ in. butterfly-style arbors.

Use the MAKERX hub to connect to any 20V Power Share battery to power the MAKERX series of go-anywhere creative tools.

*20V battery (WA3520) and MAKERX Hub (WA7150) not included.
No-Load Speed
14,000 to 24,000 RPM
Blade Option 1
2 in. blade with 3/8 in. round arbor
Blade Option 2
1.5 in. blade with 1/4 in. butterfly-style* arbor
*compatible with Dremel® EZ-Lock™ system. Brands are trademarks owned by third parties which may be registered by their respective owners.
(1) - 2" Cutting Wheel, 3/8 Arbor
(1) - 2" Grinding Wheel, 3/8 Arbor
(1) - 2" Flap Disc, 3/8 Arbor, Med Grit
(1) - 1/4 Flange Adapter for Butterfly-style Arbor
(1) - Cutting Wheel, 3/8 Arbor
(1) - 2" Grinding Wheel, 3/8 Arbor
(1) - 2" Flap Disc, 3/8 Arbor, Med Grit
(1) - 1/4" Flange Adapter for Butterfly-style Arbor
The 1/4" arbor adapter allows the grinder to use Dremel® EZ-Lock™ wheels.
*Brands are trademarks owned by third parties which may be registered by their respective owners.
These recommendations will help maximize the performance of your tool, and achieve the best results.
Do not subject the tool or accessory to heavy load. Use light, constant pressure. Pushing harder typically does not improve removal rate or performance. Be patient and let the tool work as designed.
Allow the tool to reach target rotation speed before engaging the work piece. Use the fastest rotation possible while still achieving desired results. Typically, tougher materials require faster rotation speeds.
Clamp the workpiece whenever possible. A moving workpiece is more likely to create a pinching or binding situation.
When using a cutting wheel, keep the wheel straight in the cut. If the wheel is twisted, it will tend to grab and climb out of the cut. The tool will shut off in an effort to prevent this situation, which is called kickback.
Note: The MakerX Grinder is designed to help the user make straight cuts. The tool body and wheel are lined up. When held, the user's forearm and hand are lined up with the blade and tool. Pull the Grinder and wheel through the cut, in line with the hand and forearm.
If the tool does stop suddenly, press the power button to turn it off. Remove the accessory from the work piece. Turn the tool back on and allow the rotation to build to target speed. This may take between 1.5 to 3 seconds. Resume the work gradually. If cutting, take care to follow the cut path already established. Do not twist or bind the blade.

Multiply Your Creativity
MAKERX is a system of portable, powerful, and precise crafting tools. It puts the power you need into compact and ergonomic tools that you can take anywhere to make anything. Make your world more beautiful with MAKERX.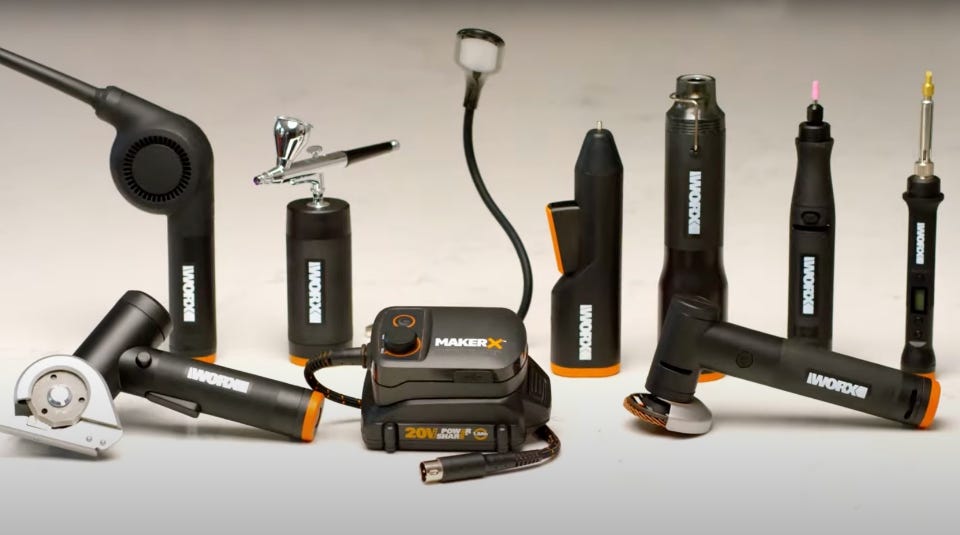 Designed to Shine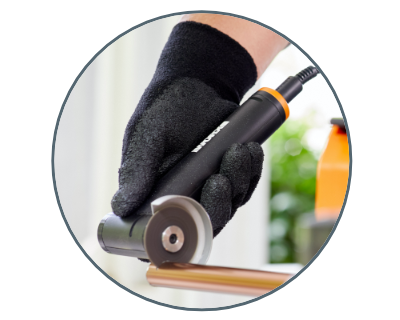 Take it Easy on Your Hands
By off-loading the power duties to the Hub, this tool's design remains compact, making it easier to grip, with less strain on your hands.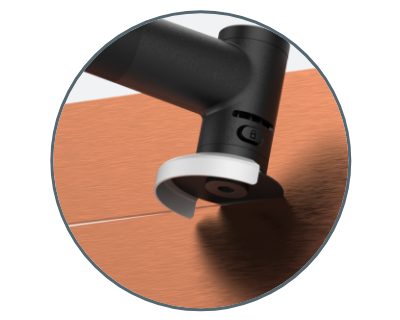 Up to 24,000 RPM
Aggressively carve out complex shapes and contours, cut thin sheet goods, and sand wood and metal efficiently.
Take Your Power with You
The Hub goes where your tool goes. That's 20V of portable power that doesn't need to be near an outlet.
MakerX Hub sold separately.
Meet the MAKERX 20V angle grinder. This cordless angle grinder works with the MAKERX system of portable crafting tools and it can be put to a wide range of tasks. With the right attachments, it can be used for grinding, sanding, polishing, cutting and more.
The innovative design of the MAKERX platform helps to make this the best angle grinder you will find. The MAKERX Hub works with any WORX 20V battery and the speed of this grinder tool can be controlled with precision from the hub. The brushless motor offers a longer runtime and more power than many of the competing tools on the market and it has a maximum speed of 24,000 RPM.
The micro-ergonomic design fits comfortably in the hand of the user for greater accuracy. With the power source being offloaded into the MAKERX Hub, you get a tool that is lighter and more compact for improved precision. These features make for an angle grinder that is easy to use and easy to handle.
This cordless grinder comes with a cutting wheel, a grinding wheel and a flap disc. You can also use the MAKERX angle grinder with accessories from other manufacturers. Beyond being used as an angle grinder, this tool can be a disc sander, a cutting tool and for polishing, stripping and sharpening. Combine it with the rest of the MAKERX line and you have a versatile go-anywhere toolkit for crafting.