20V MAKERX 3pc Combo Kit - Rotary Tool + Angle Grinder + Wood/Metal Crafting Tool
3 Year Warranty
30 Day Guarantee
As low as
$249.99
Regular Price
$249.99
Details
MAKERX multi-tool combo kit featuring the rotary tool, angle grinder, and wood burning tool.
Both the rotary tool and angle grinder feature compact brushless motors for longer runtime and longer tool life when compared to non-brushless motors.
Rotary tool accepts accessories from all major brands. Angle grinder accepts all 1.5 in. wheels with ¼ in. butterfly-style arbor, and 2 in. wheels with a 3/8 in. arbor.
Wood burning tool and soldering iron quickly reaches target heat in just 30 seconds.
Hub and 4 ft. flexible cord are compatible with every tool on the MAKERX platform.
Rotary tool, angle grinder, and wood burning tool combo kit includes 59 accessories, storage bag, accessories storage case, 20V Power Share battery, charger, and the MAKERX Hub.
WX739L TECHNICAL SPECIFICATIONS
No-Load Speed
5,000 - 35,000 RPM
Collet Size
1/8 in. and 3/35 in.
WX741L TECHNICAL SPECIFICATIONS
No-Load Speed
14,000 to 24,000 RPM
Blade Size
1.5 in. to 2 in.
Arbor Size
3/8 in. or 1/4 in.
WX744L TECHNICAL SPECIFICATIONS
Temperature
400˚ F to 900˚ F
(1) - 20V Brushless MAKERX Rotary Tool
(1) - 20V Brushless MAKERX Angle Grinder
(1) - 20V MAKERX Wood & Metal Crafting Tool
(1) - 20V Power Share Battery
(1) - 20V Battery Charger
(8) - Cutting Accessories
(12) - Sanding Accessories
(4) - Polishing Accessories
(5) - Grinding Accessories
(4) - Engraving Accessories
(1) - 1 1/8 in. Drill Bit
(1) - Silicon Comfort Sleeve
If the Wood & Metal Crafter has not been moved for about 5 minutes, the temperature will drop to 400˚F. If the tool remains motionless for another 10 minutes, the tool will shut off all together.
Yes, other woodburning and soldering tips can be attached to this tool.
On a fully charged 1.5Ah battery, the Wood & Metal Crafter will stay hot for about 45 minutes of continuous use.
The MAKERX Rotary tool accepts all standard rotary tool accessories, provided the proper collet is in place.
The MAKERX Rotary tool ships with a 1/8 in. collet, and can use any standard collet on the market.
1 Accessory Case
1 Carry Bag
1 Steel Brush
1 Bristle Brush
1 Drum Mandrel
8 Cutting Accessories
12 Sanding Accessories
4 Polishing Accessories
Grinding Accessories
4 Engraving Accessories
1 Screw-On Mandrel
1 Threaded Mandrel
1 1 1/8 in. Drill Bit
1 Spanner Wrench
1 Cutting Wheel
1 Grinding Wheel
1 Flap Disc
1 Hex Key
8 Woodbuning Tips
1 Soldering Tip
1 Silicon Comfort Sleeve

Multiply Your Creativity
MAKERX is a system of portable, powerful, and precise crafting tools. It puts the power you need into compact and ergonomic tools that you can take anywhere to make anything. Make your world more beautiful with MAKERX.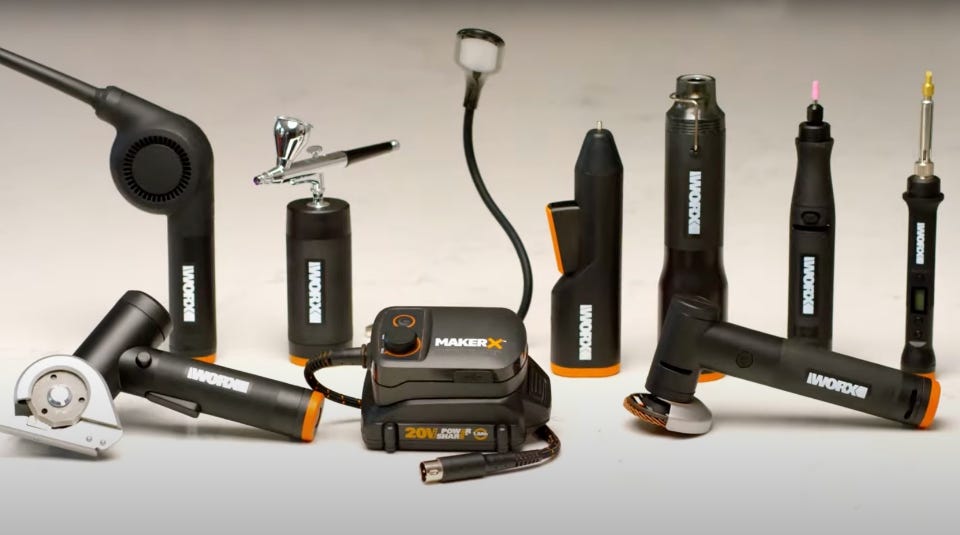 Engrave, Grind, Sand & Burn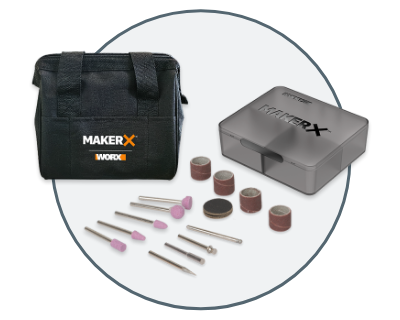 Everything You Need
This kit comes with the roomy and durable MAKERX storage bag, with more than enough room to carry every tool in this bundle. Plus, the Accessory Storage Case keeps all of the accessories organized.
Variable Speed Control
The Angle Grinder's variable speed control goes up to 24,000 RPM, while the Rotary Tool can achieve 35,000 RPM, making it as fast as other rotary tools in its class.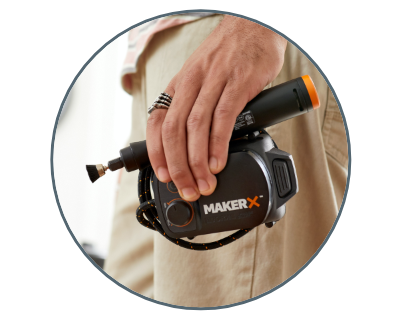 Take Your Power with You
The Hub goes where your tool goes. That's 20V of portable power that doesn't need to be near an outlet.