Storage Step Stool
is rated out of
5
by
111
.
No Warranty
30 Day Guarantee
Details
13 in. (33.02 cm) step stool with handle, deep storage area with metal lock, and pull-out drawer for accessory storage.
Sturdy step stool and tool storage container with a standing weight capacity of 324 lbs. (146.96 kg).
Load up to 28 lbs. (12.7 kg) of tools with the onboard storage capacity.
*Tools Not Included.
Standing Weight Capacity
324 lbs.
No, the Storage Step Stool is an non-powered addition to your must-have WORX tool collection. With the handy carrying tool inlaid in the surface, you can think of it as a dual-purpose step stool and toolbox perfect for apartment dwellers, or home DIY'ers that need convenient storage, but don't need a full size tool box in the house.
The WORX Storage Step Stool is 13" (33 cm) tall, and has a footprint of 14.5" x 10.5" (36.83 x 26.67cm), making it big enough for use as a stable and steady step stool. The top is grooved for secure footing and traction during use, and the handle is inlaid to keep it out of the way when not needed for transportation.
At only about 7 lbs. (3.17 kg) , the Storage Step Stool is suprisingly lightweight for its durability and sturdy construction.
The WORX Storage Step Stool has an external load capacity of 324 lbs. (146.9 kg). It can carry up to 28 lbs. (12.7 kg) of tools, making it an ideal place to stash those must-have tools you need in a pinch.
The internal storage compartment is 14.25" x 10.25" and 5.5" (36.19 x 26 x 13.97 cm) deep. This means you can fit a wide variety of hand tools, including any of the WORX Oscillating Tools, WORX Compact Circular Saw, Switchdriver and more! The pull out tray under the main storage compartment is 8.5" x 9" x 2.75" (21.59 x 22.86 x 6.9 cm) and is ideal for your tool accessories, or even small tools, like the WORX SD Driver. You can store up to 28 lbs. (12.7 kg) of tools in your WORX Storage Step Stool between the two available compartments.
For durability and strength, the Storage Step Stool is made out of nylon resin. The latch to secure the internal storage compartment is metal.
While there aren't any specific concerns about using the Storage Step Stool, when using it as a step stool, it should only be used on the stable, level ground under dry conditions. WORX urges all our customers to follow standard safety guidelines when using any tool, including wearing proper safety gear and maintaining a clean, safe workspace.
This tool doesn't have a manual. Our friendly customer service team will be glad to answer any questions you may have at 1-866-354-9679 (WORX).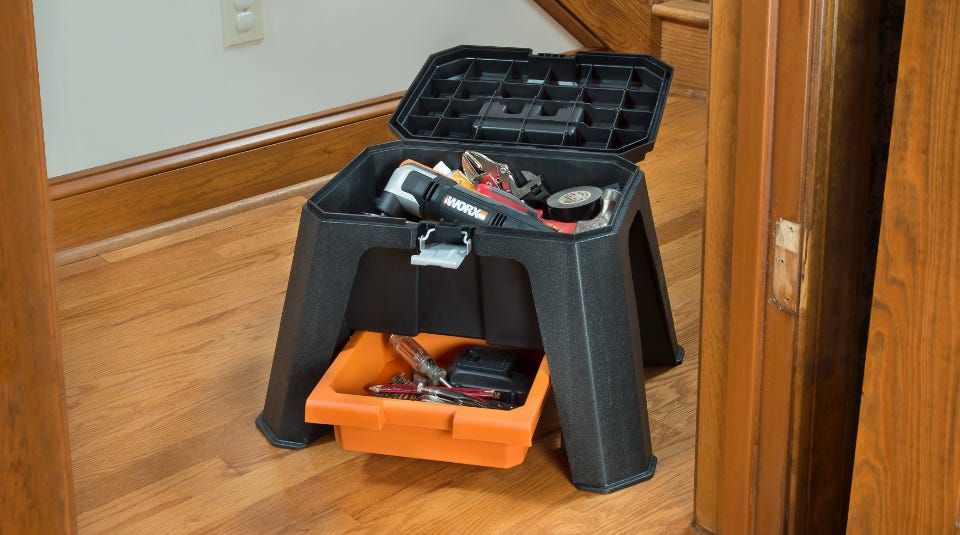 A FUNCTIONAL TOOL BOX
Add an extra 13″ to your reach and store your tools right in the lid. The multi-functional storage step stool has a spacious storage area as well as a pull out drawer to hold your accessories.
FREQUENTLY PURCHASED TOGETHER