TRIVAC 12-Amp Electric 3-IN-1 Blower / Mulcher / Yard Vacuum w/ Leaf Collection System
3 Year Warranty
30 Day Guarantee
Details
Patented motor rotates from a blower to a vacuum with mulching capabilities by the turn of a knob.
Wide mouth tube with 620 CFM for high-capacity air volume.
Metal propeller provides a 18:1 mulching ratio (turn 18 bags of leaves into 1).
Leaf collection with a flexible 8 to 16 ft. hose with drawstring mesh hood fits over most 32 to 96 gallon waste containers and leaf bins for no-touch, high capacity leaf collection.
Includes a quick, detachable bag for composting or general collection.
Two-speed operation for corner sweeping and or maximum performance.
Collection Bag Capacity
1.4 Bushels (49.33 L)
Machine Weight
9 lbs. (4.08 kg).
(1) - 12-AMP Electric Blower/Mulcher/Vac
(1) - Leaf Collection Bag
(1) - 8 ft. Flexible Hose
This tool is equipped with a metal impeller to efficiently mulch leaves and small yard debris.
This tool has multiple preset speed options perfect for any yard cleanup task.
It's as easy as flipping a switch! You can even make the switch while working. Blow the leaves into a pile, then turn the switch on the shaft. Add a collection bag or accessory and vacuum up the debris.
No. Wet leaves can stick to things and cause clogging which could make it even more difficult for the Trivac to vacuum. Also, the Trivac is an electric item. It is best not to use this item near wet/damp areas.
This is an electric tool and does not use batteries. You will need an extension cord connected to a power outlet to use this tool. You can check for extension cord gauge and length on the grid HERE, or in your manual.
CFM stands for "cubic feet per minute" and is the measurement of airflow that is used to describe the volume of air that the blower is capable of moving. The higher the CFM, the more air the blower is capable of pushing through the tube.
Yes (included), the LEAFPRO is a Universal fit accessory and will work will almost any brand of blower/mulcher/vacuum
Yes, the GUTTERPRO is a Universal fit accessory and will work will almost any brand of blower including mulcher/vacuums
If you decide your tool isn't right for you, we offer a 30-day Money Back Guarantee from the date of receipt (less shipping and handling).
We cover each tool with a 2-Year Limited Consumer Warranty. You can extend your warranty to 3 years by registering online within 30 days of purchase.
TRIVAC
TRY THIS VAC AND NEVER GO BACK
It blows, it vacuums, it mulches, TRIVAC's 3-in-1 design makes yard work so much easier. Leaves have finally met their match.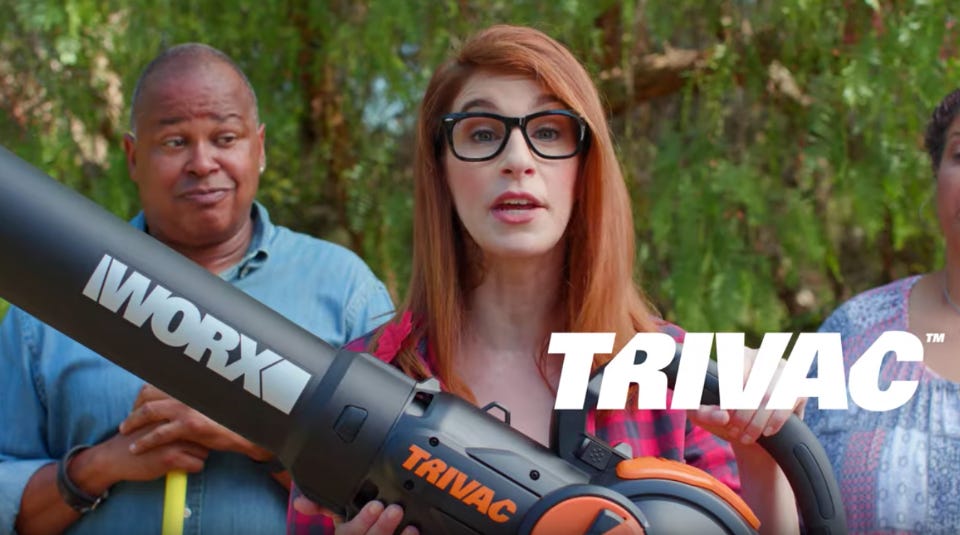 FREQUENTLY PURCHASED TOGETHER
SO MANY REASONS TO LOVE THE TRIVAC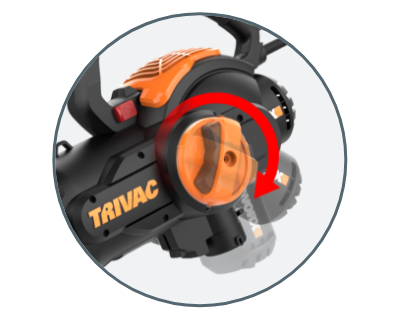 3-IN-1 DESIGN
Just the turn of a knob easily switches from a blower to a vacuum with mulching.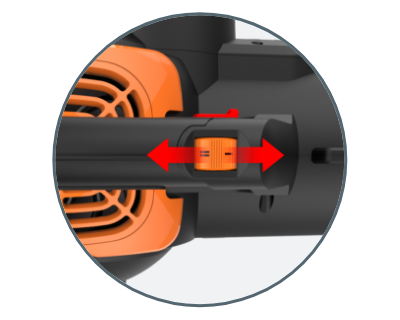 2-SPEED CONTROL
Whether you are sweeping corners or tackling heavy yard debris, 2 speeds and a max air volume of 600cfm can tackle any job.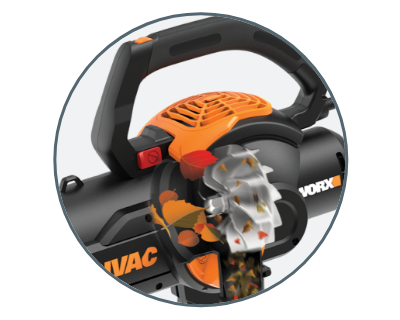 18:1 MULCH RATIO
Powerful metal impeller mulches 18 bags of leaves into one.