8 Amp Electric 10" Pole Saw
8 Amp Electric 10" Pole Saw
is rated out of
5
by
265
.
3 Year Warranty
30 Day Guarantee
Details
Powerful 8 Amp motor offers consistent performance and durability.
8 ft. extension pole provides 10 ft. reach and tool-less installation.
Rotating handle makes trimming and pruning easy tasks.
Tool-free chain tension system, automatic oil pump, and oil level indicator.
(1) - 8-foot Extension Pole
(1) - Blade Protection Cover
No, this model does not include a battery. This is an electric tool.
The Worx 8 Amp Electric 10" Pole Saw weighs 10 pounds.
The chain spins at 28ft/second.
The Chain Saw does come assembled, but not attached to the pole. Attaching the pole is quick, easy and requires no tools!
Attaching the pole is easy and does not require any tools! You'll be able to connect it in less than 3 minutes. First, screw the pole together securely. To save you on shipping, and to make future storage more convenient, the pole unscrews into two tethered pieces. Once the pole is assembled, unscrew the attachment faceplate from the pole and set aside. Set the handle of the chainsaw around the handle bracket on the pole. Re-attach the faceplate and screw in securely. Attach the chainsaw cord to the cord on the handle, and you're ready to go!
The 8 Amp Electric 10" Pole Saw can take any kind of bar and chain oil, which is available in most hardware stores or stores that sell chainsaws. The oil tank capacity will hold 4.06 ounces.
With a saw designed to self-lubricate during operation, a little oil leakage is normal. To help minimize and prevent leakage, we recommend the following:
-Use only enough oil for the task at hand.
-Remove oil cap and immediately replace it after operation to vent the oil tank. This relieves any accumulated pressure during the oiling process.
-Allow the saw to cool down before storing.
-Wipe down the saw sprocket area.
-Remove oil from saw before storage.
-Store the saw horizontally when not in use.
Both the bar and chain are available under Accessories
Need something faster? Local hardware or home improvement stores may carry accessories that fit your Worx chainsaw. Look for the following items compatible with your WG323 Cordless Pole/Chain Saw.
Chain:
ES: 3/8LP.050 40E, QIRUI: A1-40, Oregon: 90PX0034X
Bar:
ES: ES100SDEA041, QIRUI: P010-50SR, Oregon: 100SDEA041
Yes, the chainsaw can be used with or without the pole, depending on what the job at hand requires.
The full length of the Cordless Pole/Chain saw is 97.5".
Working directly overhead is never a safe option when trimming limbs from trees, so the calculation isn't based on direct reach. Since the safest way to approach tree trimming would be standing away from the branch being cut and reaching up at an angle, the total reach factors in the average height of the person using the tool as at least 4'. When standing at the base of the tree and reaching with the Pole/Chain Saw at an angle, the average user can cut branches at a height of 10 or more feet.
Carefully review the owner's manual for all safety information and guidelines. Follow safety precautions while using any power tools – including wearing safety eyewear, gloves, appropriate shoes & clothing, and keeping hair tied back. See the owner's manual for complete safety instructions and details.
You can download the manual here, or our friendly customer service team will be glad to answer any questions you may have at 1-866-354-9679 (WORX).
If you decide the Worx 8 Amp Electric 10" Pole Saw isn't the right tool for you, we offer a 30-day Money Back Guarantee from date of receipt (less shipping and handling). Please call our customer service center at 1-866-354-9679 (WORX) and we'll be happy to assist. View more information here.
We know your tools are indispensable, so we cover each tool with a 2 Year Limited Consumer Warranty. You can extend your warranty to 3 years by registering online within 30 days of purchase. Already have your 10" Electric Pole/Chain Saw? Register now!
Parts subject to normal wear and tear are not covered by the tool's warranty. View more information on our warranty here.
Need a spare bar or chain? Many accessories are available online under Accessories.
Frequently purchased together
Extend Your Saw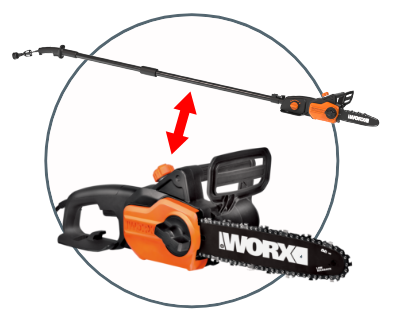 2-IN-1
It's a pole saw, or take the extension off and use it as a regular saw.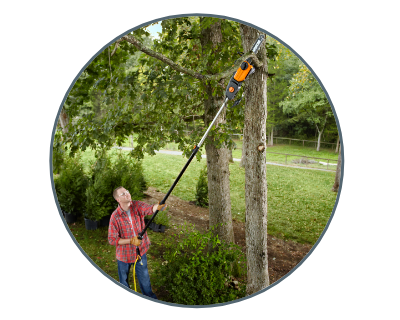 LEAVE THE LADDER
Stay safer on the ground and reach limbs up to 10 feet in the air.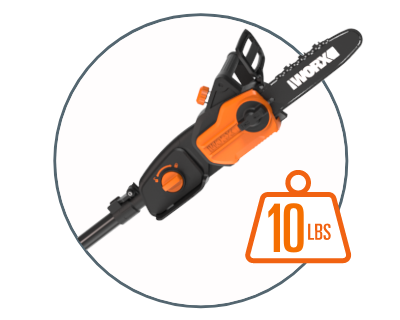 LIGHTWEIGHT YET POWERFUL
Only 10 lbs, so anyone can hold it up. And the chain spins at 8.5 M/S, to get the job done.