20V Power Share LEAFJET Cordless Leaf Blower with Brushless Motor (Tool Only)
3 Year Warranty
30 Day Guarantee
As low as
$149.99
Regular Price
$149.99
Details
20V leaf blower with 4.0Ah battery features longer runtime than traditional 2.0Ah batteries.
High-performance battery-powered leaf blower in a compact, efficient form factor.
Ultra-lightweight blower for improved user experience and less fatigue.
Sonic Turbine Fan Technology: 410 CFM blower delivers forceful, high-capacity air volume at 130 MPH.
Dual air intakes pull in additional air for greater air volume output.
Variable Air Control Nozzle allows for choosing high-volume or high-speed air for various applications.
410 CFM blower with high-efficiency brushless motor for higher power, extended runtime, and longer life.
2 speeds for added control of the leaf blower in tight spaces or large areas.
Charge level indicator provides quick reference of remaining runtime.
2-Amp charger charges 4.0Ah battery in 2 hrs.
*Battery and charger not included.
Air Volume
High: 410 CFM Low: 190 CFM
Air Speed
High: 130 MPH Low: 95MPH
Machine Weight
2.3 lbs. (bare)
Volume mode: Move more air for high-capacity leaf blowing.
High speed mode: Enhanced performance moving wet or embedded leaves.
Depress the orange tab to slide the Variable Air Control Nozzle forward or backward. Forward; utilizes the larger nozzle to blow air, while also drawing more air through the secondary air intake. Backward; utilizes the narrower tube for blowing more high-speed, concentrated airflow.
WORX is leading the charge in leaf blowing technology. A high-speed, in-line motor is smaller, lighter, more powerful, and allows for a slimmer, narrower configuration makes it lighter and easier to use.
Yes, again, the high-speed motor allows for a smaller, innovative configuration. This is pushing 410 CFM and 130 MPH.
Worx 20V LEAFJET Leaf Blower
Innovative, Compact, Lightweight
Unusual design, unusually-good results. The in-line motor provides the power of a larger leaf blower while allowing the tool to remain compact. The Variable Air Control Nozzle lets you choose between more air volume, or more airspeed.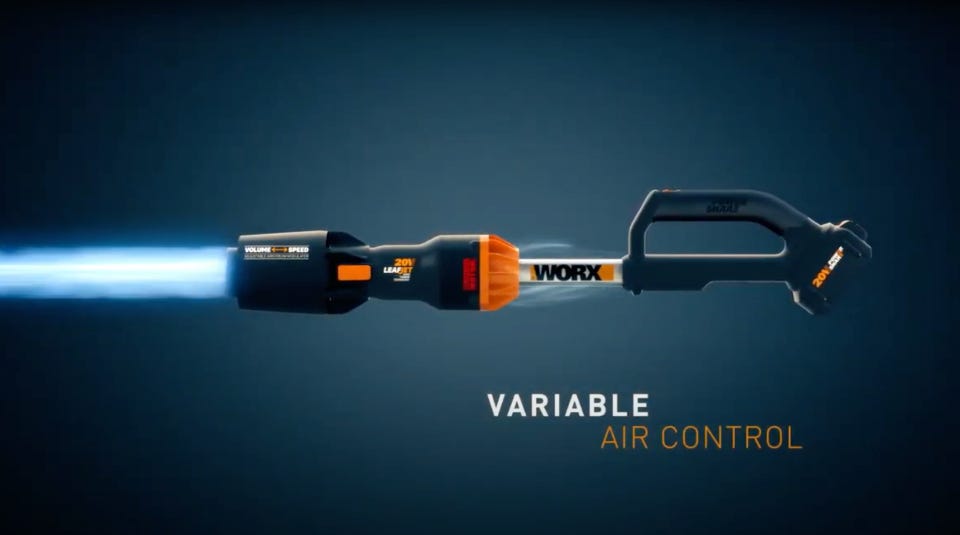 Frequently Purchased Together
The Coolest Leaf Blower on the Block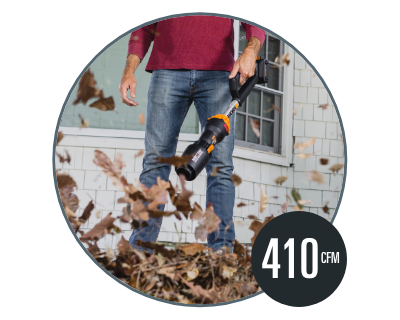 410 CFM Blower
This 20V leaf blower pumps out as much air volume and airspeed (130 MPH) as battery-powered leaf blowers twice, even 4x its size.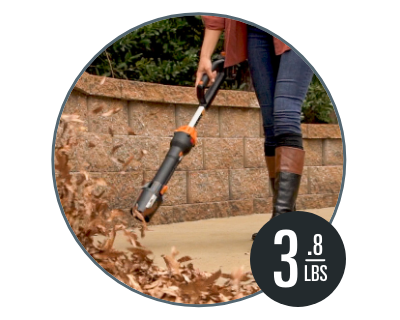 Ultra-Lightweight Blower
Weighs less than 4 lbs. so pretty much anyone in the family can use the LEAFJET around the yard. And you can use it for long stretches without getting fatigued.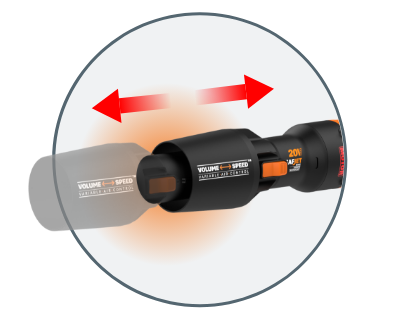 Pick Your Poison
Do you need more air volume for the open lawn? Slide the revolutionary Variable Air Control Nozzle forward. Need more speed? Slide it back.