20V MAKERX 6pc Ultimate Crafting Tool Combo Kit
3 Year Warranty
30 Day Guarantee
Details
MAKERX ultimate crafting tool kit featuring the Rotary Tool, Angle Grinder, Wood and Metal Crafter, Mini Heat Gun, Air Brush, LED Flex Light, HubX and (2) 2.0Ah Power Share batteries.
All MAKERX crafting tools feature a micro-ergonomic design so they're more comfortable to hold for long stretches, and are easier to maneuver.
4-foot-long flexible cord attachment allows for unencumbered movement when working.
HubX power adapter includes convenient belt clip for mobility, and USB charging port for the Flex Light and other electronic devices.
USB LED flexible worklight plugs into the HubX or any USB port Type A (5V 80MA min).
Food-Safe Air Brush is certified to FDA requirements and fitted with a .5mm nozzle.
Comes with 40 Rotary Tool accessories, 5 Angle Grinder accessories, 11 Wood and Metal Crafter accessories and 3 Air Brush accessories.
Also includes 1-hour Fast Charger, (2) 2.0Ah 20V Power Share batteries, accessory case and carry bag.
Worx Power Share intelligent batteries maximize power, performance and run time and are compatible with all Worx 20V, 40V and 80V tools, outdoor power and lifestyle products.
WX739L.9 TECHNICAL SPECIFICATIONS
No-Load Speed
5,000 - 35,000 RPM
WX741L.9 TECHNICAL SPECIFICATIONS
No-Load Speed
14,000 to 24,000 RPM
Blade Option 1
2 in. blade with 3/8 in. round arbor
Blade Option 2
1.5 in. blade with 1/4 in. butterfly-style* arbor
*compatible with Dremel® EZ-Lock™ system. Brands are trademarks owned by third parties which may be registered by their respective owners.
WX742L.9 TECHNICAL SPECIFICATIONS
Pressure Value
14 PSI - 18 PSI
WX743L.9 TECHNICAL SPECIFICATIONS
Product Number 2 TECHNICAL SPECIFICATIONS
Temperature
400˚ F to 900˚ F
WA7231 TECHNICAL SPECIFICATIONS
Power Input
5V MAX | 80 MA min
Light Source
18 LED Lights
Settings
3 - 54/33/20 Lumens
(1) - Rotary Tool (WX739L.9)
(1) - Angle Grinder (WX741L.9)
(1) - Airbrush with Food Safe Nozzle (WX742L.9)
(1) - Mini Heat Gun (WX743L.9)
(1) - Wood & Metal Crafter (WX744L.9)
(1) - USB LED Flex Light (WA7231)
(40) - Rotary Tool Accessories
(1) - 2 in. Cutting Wheel 3/8 Arbor
(1) - 2 in. Grinding Wheel 3/8 Arbor
(1) - 2 in. Flap Disc 3/8 Arbor, Med Grit
(1) - 1/4 in. Flange Adapter for Butterfly-Type Arbors
(8) - Assorted Woodburning Tips
(1) - Silicon Comfort Sleeve
(3) - Air Brush Accessories
(1) - Storage Case (WA4227)
(2) - 2.0Ah Batteries (WA3535)
(1) - 2A Quick Charger (WA3881)

Multiply Your Creativity
MAKERX is a system of portable, powerful, and precise crafting tools. It puts the power you need into compact and ergonomic tools that you can take anywhere to make anything. Make your world more beautiful with MAKERX.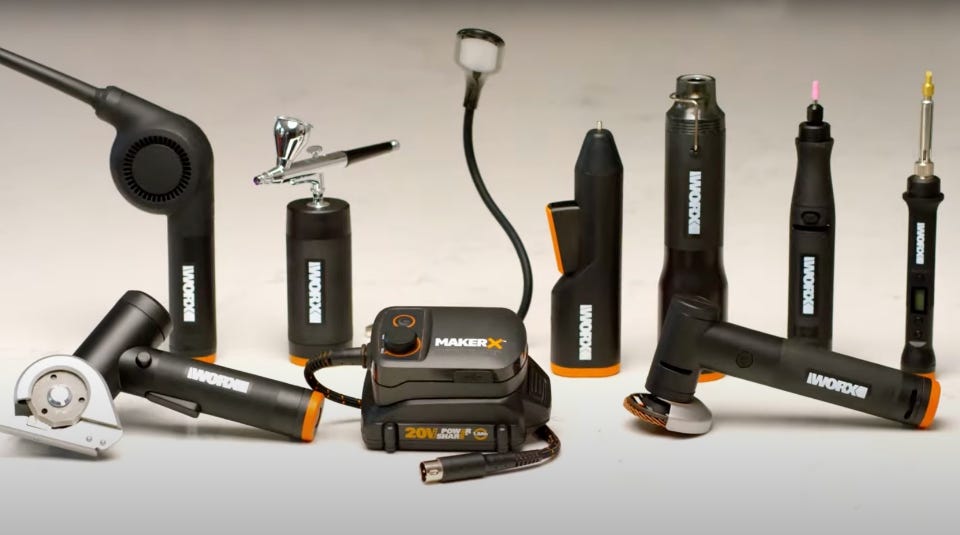 Frequently Purchased Together
Everything You Need to Make and More
Rotary Tool
Maybe the handiest tool in the bunch. With variable speed up to 35,000 RPM, you can engrave or polish glass, wood, metal, and do much, much more.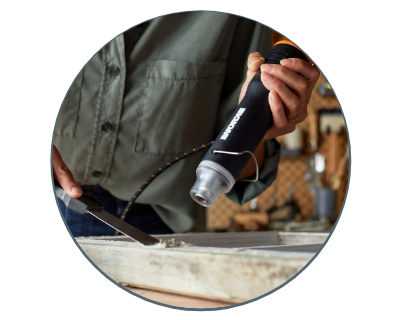 Mini Heat Gun
Blows at 500°F continuously for easy shaping of wood or plastic. It's great for embossing paper crafts too.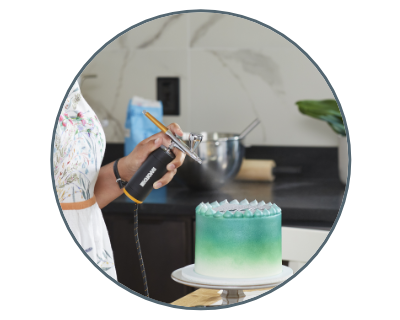 Food-Safe Air Brush
FDA certified and ready to add an extra level of detail to your cookies and cakes, thanks to its precision nozzle.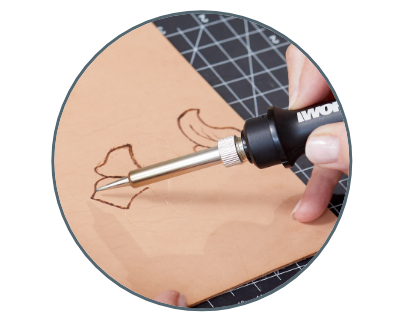 Wood & Metal Crafter
Reaches target heat in just 30 seconds. Plus, the micro-ergonomic design allows you to make finer details.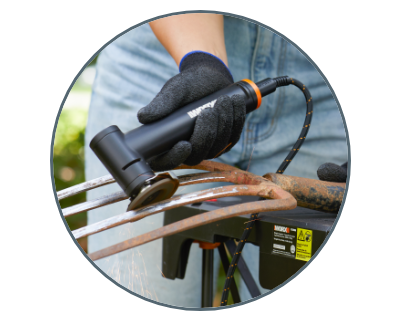 Angle Grinder
With variable speed up to 20,000 RPM you have the power for a wide variety of tasks like aggressively carving out shapes and contours.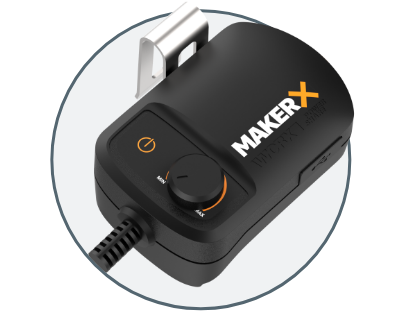 MAKERX HUBX
The MAKERX HubX connects to any 20V Power Share battery to power the full system of Go-Anywhere Creative Tools and includes a 4-foot-long cord for unencumbered movement while working. The HubX also includes a USB port to power the MAKERX flex light and other USB devices.