20V MAKERX 2pc Combo Kit - Rotary Tool + Heat Gun
3 Year Warranty
30 Day Guarantee
As low as
$179.99
Regular Price
$179.99
Details
MAKERX multi-tool combo kit featuring mini heat gun and rotary tool attachments.
Rotary tool accepts standard bits from all brands.
Rotary tool features compact brushless motor for longer runtime and more power.
Battery powered heat gun continuously blows hot air at 500° F.
Mini heat gun features precision nozzle to control location and direction of heat.
Both the mini heat gun and airbrush feature a micro-ergonomic design which enhances overall user control.
Hub and 4 ft. flexible cord are compatible with every tool in the MAKERX platform.
Multi-tool combo kit includes 42 accessories, Storage Bag, Accessories Storage Case, 20V Power Share battery, and the MAKERX Hub.
WX739L TECHNICAL SPECIFICATIONS
Collet Size
1/8 in. (3.2 mm)
Rated Capacity
1-1/2 in. (38 mm)
No-Load Speed
5000-35000 RPM
Machine Weight (Bare Tool)
0.29 lbs. (130 g)
WX743L TECHNICAL SPECIFICATIONS
(1) - Rotary Tool (WX739L.9)
(1) - Mini Heat Gun (WX743L.9)
(1) - 1.5Ah Battery (WA3520)
(1) - 5 hr. Charger (WA3742)
(1) - Accessory Case (WA4227)
(5) - Silicon Carbide Grinding Stones
(2) - Large Felt Polishing Wheels
(2) - Small Felt Polishing Wheels
(1) - Spanner with Slotted Driver
(1) - Screw-On Mandrel for Wheels
(1) - Drum Mandrel for Sleeves
(1) - Threaded Mandrel for Soft Wheels
The MAKERX Rotary tool ships with a 1/8" collet, and can use any standard collet on the market.
The MAKERX Rotary tool accepts all standard rotary tool accessories, provided the proper collet is in place.
These recommendations will help maximize the performance of your tool, and achieve the best results.
Do not subject the tool or accessory to heavy load. Use light, constant pressure. Pushing harder typically does not improve the removal rate or performance. Be patient and let the tool work as designed.
Allow the tool to reach target rotation speed before engaging the work piece. Use the fastest rotation possible while still achieving desired results. Typically, tougher materials require faster rotation speeds.
Clamp the workpiece whenever possible. A moving work piece is more likely to create a pinching or binding situation.
When using a cutting wheel, keep the wheel straight in the cut. If the wheel is twisted, it will tend to grab and climb out of the cut. The tool will shut off in an effort to prevent this situation, which is called kickback.
If the tool does stop suddenly, press the power button to turn it off. Remove the accessory from the workpiece. Turn the tool back on and allow the rotation to build to the target speed. This may take between 1.5 to 3 seconds. Resume the work gradually. If cutting, take care to follow the cut path already established. Do not twist or bind the blade.
A fully charged 1.5Ah battery will power the Heat Gun for about 10 minutes of continuous use.

Multiply Your Creativity
MAKERX is a system of portable, powerful, and precise crafting tools. It puts the power you need into compact and ergonomic tools that you can take anywhere to make anything. Make your world more beautiful with MAKERX.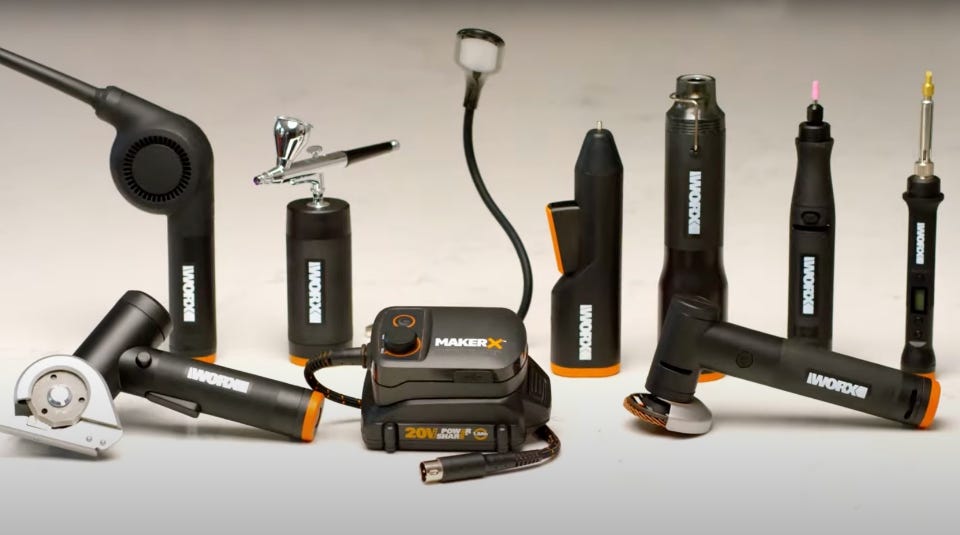 Frequently Purchased Together
Sand It Down, Heat It Up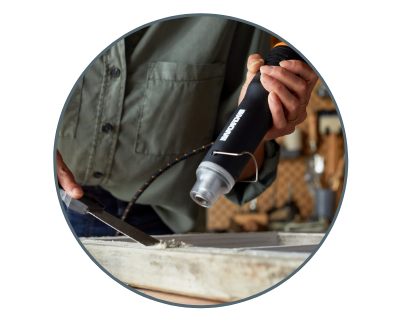 Precisely the Right Size
Specifically designed to be thin and easy to hold, so you can point the gun right where you need to.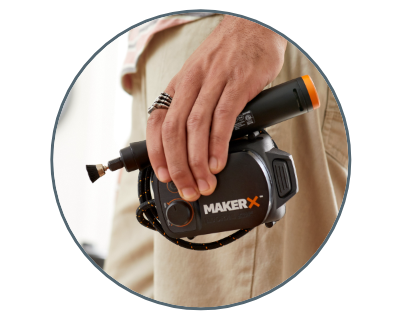 Go Anywhere Creative Tools
The Hub goes wherever you go, so you can operate the rotary tool or mini heat gun without being tethered to an outlet.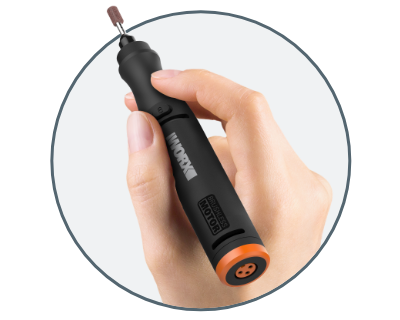 Made to Mind the Details
The slim design of the rotary tool lets you grasp it like a pencil so you can make very intricate movements.