20V Power Share Portable Air Pump Inflator - Tool Only
3 Year Warranty
30 Day Guarantee
As low as
$79.99
Regular Price
$79.99
Details
High-Pressure Inflation—Provides up to 150 PSI, perfect for inflating tires, sports balls, and other small inflatables.
Digital LED Gauge displays accurate tire pressure with the ability to preset desired PSI.
Powerful LED Light illuminates work areas and includes a red and yellow emergency light.
Automatically shuts off when set pressure is reached to avoid over-inflating.
3-ft. (0.91 m) high-pressure hose provides extended reach—3 adaptors store onboard for tires, sports equipment, and air mattresses.
Compact design makes it portable and easy to transport and store.
Do it all with the same battery—Worx Power Share is compatible with all Worx 20V and 40V tools, outdoor power, and lifestyle products.
*Battery and charger not included.
Capacity
(1) - 2.0Ah Battery
Inflating Efficiency
215/55R17 tire from 0 to 36 PSI in 4 mins 5 seconds
Inflate per Charge
4.5 pc 215/55R17 tires per 2.0Ah
Machine Weight
1.78 lbs. (0.81 kg)
(1) - Presta Valve Adaptor
This inflator comes with adaptors that are best used for bike tires, sport balls, and other small inflatables.
You need to set a PSI in order to use the inflator. This ensures you never over inflate items. It will automatically shut off when reaching the set pressure.
No, this inflator is only used to inflate items.
Yes, it is able to read your tire pressure and display it on the digital LED guage.
Frequently Purchased Together
Powerful, Precise, Peace of Mind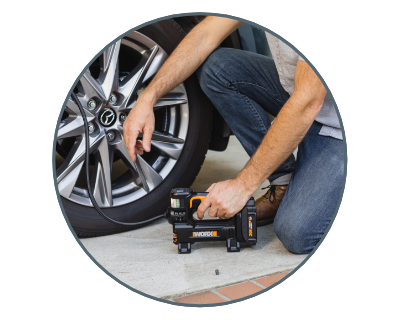 Provides 150 PSI
It'll fill up all 4 car tires on a single charge from 0-36 PSI, in about 4 minutes for each tire.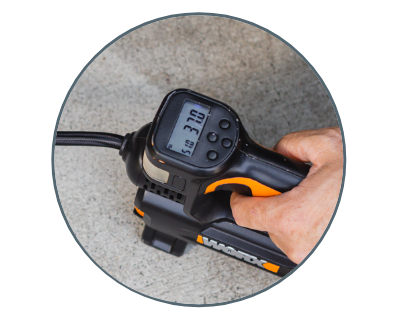 Sets the Pressure Exactly
Look up the recommended PSI and dial it in to the Digital LED Gauge. This inflator will take care of the rest.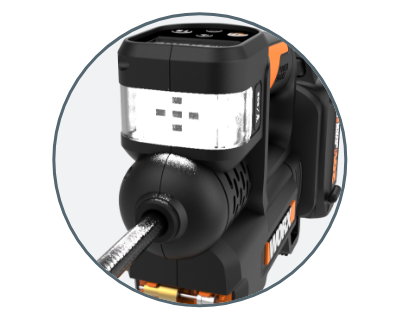 Sometimes You Need a Hand
The 100-200 Lumens LED Light lets you see what you're doing, but if you've called a tow truck or need assistance, the red and yellow flashing function comes in handy.