Clamping Sawhorses with Bar Clamps
3 Year Warranty
30 Day Guarantee
Details
This set of versatile sawhorses have a built-in clamping system to hold large or small items in vertical or horizontal positions.
Lightweight and easy to transport wherever they are needed.
Weight capacity of 1000 lbs. (453.59 kg) per pair of sawhorses and each clamp utilizes up to 300 lbs. (136 kg) of clamping force to assist with any job.
Features a built-in shelf and cord hooks for storing tools, cords and other materials.
Max Weight Capacity
1,000 lbs. (453.59 kg) per pair
Max Clamping Width
18 in. (45.72 cm)
(2) - Clamping Saw Horses
The WORX Clamping Sawhorses are surprisingly light for their durability and strength. Each pair, with the clamps stored onboard, only weighs 15.6 lbs. (7.07 kg)
The Clamping Sawhorses are made out of a durable, molded ABS. The clamps are ABS and steel.
The Clamping Sawhorse dimensions are:
Folded: 32.6" H x 27" W x 2.5" D (82.80 x 68.58 x 6.35 cm)
Open: 32" H x 27" W x 15" D (81.28 x 68.58 x 38.1 cm)
The Clamping Sawhorses are strong and durable on their own, but when they pair up, they're twice as strong. Each individual sawhorse can handle 500 lbs. (226.79 kg), and when paired up, two sawhorses can handle 1,000 lbs. (453.59 kg)
The clamps can handle materials up to 18 in. (45.72 cm) in either a horizontal or a vertical position. The clamps can provide a maximum force of up to 300 lbs. (136.07 kg)
Yes, the Clamping Sawhorses coordinate perfectly with the WORX Pegasus. They are the same working height and use the same clamps. The slots on the Clamping Sawhorses line up with those on the Pegasus to make larger projects easier to tackle or to create a custom workspace that can be disassembled and stored in limited space.
The compatibility of the Clamping Sawhorses with other brands will vary. The industry-standard height for most sawhorses is a working height of about 28-32 inches. (71.12 - 81.28 cm). The working height of the WORX Clamping Sawhorses is 32 in. (81.28 cm).
Yes! The clamps that are included with the WORX Clamping Sawhorses are the same as the clamps included with the Pegasus.
Yes, the WORX Clamping Sawhorses are designed to be compact and easy to store, which makes them ideal for shipping, too. Each sawhorse is fully assembled and has a clamp stored onboard. Once you open the packaging, you're ready to get to work!
There are two videos that can be used for reference, and our friendly customer service team will be glad to answer any questions you may have at 1-866-354-9679 (WORX).
Clamping Sawhorse How-To Video
Most of the WORX Clamping Sawhorses will come in pairs, but the model number will help you determine which one you'll receive when you order. Model number WX065 is packaged as a pair of sawhorses with a total of 2 clamps. Model number WX065.1 is a retail partner's in-store exclusive that includes one sawhorse and one clamp.
While there aren't any specific hazards related to the Clamping Sawhorses, we recommend that all our customers follow standard safety precautions while using our tools – including wearing safety eyewear, gloves, appropriate shoes and clothing, and keeping hair tied back.
ATTENTION: While folding and/or transporting the Clamping Sawhorses, keep fingers clear of the folding joint to avoid getting pinched. They do fold flat, and fingers may get caught between the two sides of the tool when folding. Also, note that the tool does not lock when shut. Hold securely shut to avoid additional pinch hazard.
Many replacement parts are available online under Accessories.
If you decide the WORX Clamping Sawhorses isn't right for you, we offer a 30-day Money Back Guarantee from date of receipt (less shipping and handling). View more information here.
We know your tools are indispensable, so we cover each tool with a 2 Year Limited Consumer Warranty. You can extend your warranty to 3 years by registering online within 30 days of purchase. Already have your Clamping Sawhorses? Register now!
Parts subject to normal wear and tear are not covered by the tool's warranty. View more information on our warranty here.
FREQUENTLY PURCHASED TOGETHER
VERSATILE SAWHORSES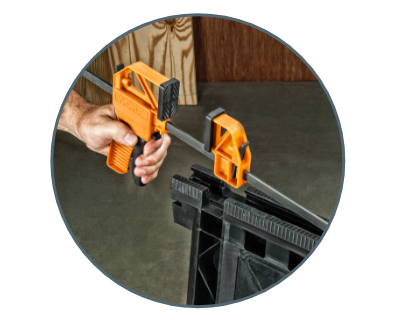 REMOVABLE CLAMPS
The clamps are built-in, but you can slide them out to use for other projects.
RUGGED
Engineered to hold up to 1000 pounds as a pair, yet light enough to hang up for storage.
AN EXTRA PAIR OF HANDS
Instead of calling for help to hold a project in place, just clamp it down with the clamping sawhorses.