4V Cordless XTD Xtended Reach Driver
4V Cordless XTD Xtended Reach Driver
is rated out of
5
by
292
.
3 Year Warranty
30 Day Guarantee
Details
Patented extending shaft reaches into recessed areas.
Longer shaft improves control and helps drive screws straighter.
Offset chuck provides access in tight corners.
Powerful 4V Max Lithium battery holds a charge for up to 18 months.
Chuck Size
¼ in. (0.63 cm)
Machine Weight
1.1 lbs. (0.49 kg)
(1) - XTD Xtended Reach Driver
(8) - Screwdriver Bits (PH0, PH1, PH2, SL4, SL6, SQ2, T15, T20)
This model is battery operated, but the battery is inside the tool. One charger is included with your 4V CORDLESS XTD XTENDED REACH DRIVER.
Typical screwdrivers have a limited reach, and getting into tight spaces is limited by your ability to squeeze into them. The Worx XTD Extended Reach Screwdriver adjusts up to 2" to reach where other screwdrivers can't. Offset bit placement helps reach screws near obstacles. With an LED to brighten dark areas, even those tough-to-see spots won't seem nearly as difficult.
The XTD XTENDED REACH DRIVER includes 8 bits (PH0, PH1, PH2, SL4, SL6, SQ2, T15, T20) and can accommodate any ¼ in. (0.63 cm) hex bit. Customize the XTENDED REACH DRIVER to the job by using ¼ in. (0.63 cm) hex bit you may need, which can be purchased at any local hardware or home improvement store.
Changing bits on the 4V CORDLESS XTD XTENDED REACH DRIVER is easy. Simply pull the bit from the chuck and re-insert another when you're ready to switch. The XTD XTENDED REACH DRIVER will hold them securely in place.
To extend the chuck and bit for hard-to-reach job, push the top slide cover on top of the 4V CORDLESS XTD XTENDED REACH DRIVER to the desired length. You'll get up to an extra 2 in. (5.08 cm) of reach by extending it completely. When you're done, it's as easy as sliding the red top cover back to withdraw the chuck.
If you decide the Worx 4V CORDLESS XTD XTENDED REACH DRIVER isn't right for you, we offer a 30-day Money Back Guarantee from date of receipt (less shipping and handling). Please call our customer service center at 1-866-354-9679 (WORX) and we'll be happy to assist. View more information here.
We know your tools are indispensable, so we cover each tool with a 2 Year Limited Consumer Warranty. You can extend your warranty to 3 years by registering online within 30 days of purchase. Already have your XTD XTENDED Reach Driver? Register now!
Parts subject to normal wear and tear are not covered by the tool's warranty. View more information on our warranty here.
FREQUENTLY PURCHASED TOGETHER
EXTEND YOUR REACH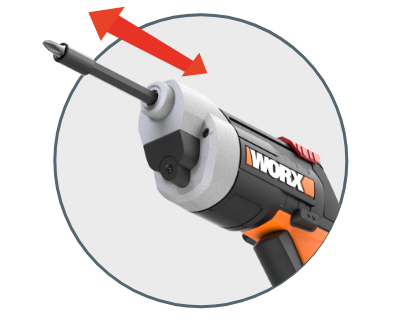 ACCESS HARD TO REACH AREAS
The extendable shaft gets into spaces where other drivers can't, saving time, strain and hassle.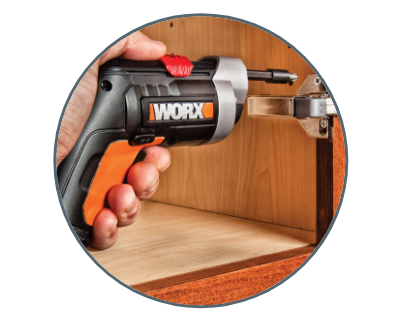 ACCESSORIES INCLUDED
Eight of the most commonly used screwdriver bits are included, and it's compatible with any ¼" hex bit.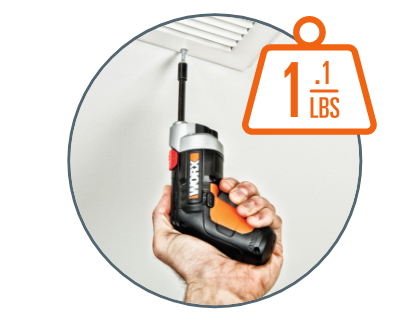 ULTIMATE PORTABILITY
At only 1.1 lbs, the XTD is lightweight and compact, so you can take it anywhere.