20V Power Share Switchdriver 2-in-1 Cordless Drill & Driver
20V Power Share Switchdriver 2-in-1 Cordless Drill & Driver
is rated out of
5
by
1559
.
3 Year Warranty
30 Day Guarantee
As low as
$149.99
Regular Price
$99.99
Details
Rotating dual chucks let you switch between bits on the switchdriver drill faster than ever.
Electronic torque control prevents the stripping of screws.
Cordless driver/drill variable 2-speed gearing tackles all common drilling & driving functions.
¼ in. (0.63 cm) hex quick-change chucks for easy bit change-out.
Includes 2 powerful MaxLithium batteries — part of the 20V Power Share platform of DIY yard and power tools that share batteries, saving you time and money.
No-Load Speed
0-400/MIN - 0-1500/MIN
Chuck Capacity
¼" HEX (0.63 cm)
Max Drilling Capacity
3/8" STEEL | 1-3/16" WOOD (0.95 | 3.01 cm)
Machine Weight
3.1 lbs. (1.40 kg)
(1) - 20V Switchdriver Drill/Driver
(1) - 20V Battery Charger
(1) - 2" (5.08 cm) Screwdriver Bit
Yes, this model includes one battery and one charger.
The WORX Switchdriver is surprisingly lightweight for the power and torque it delivers. Even with the battery installed, it only weighs 3.1 lbs. (1.40 kg), making it the perfect tool for everyone from the at home DIY'er to the contractor who takes it to every job site.
¼ The WORX Switchdriver uses standard ¼ in. (0.63 cm) hex bits. You can use any standard 1/4 inch hex bits you already have, or purchase bits from your favorite retailer.
The WORX Switchdriver features the innovative rotating chuck that allows you to use two different bits at the same time and switch between them one-handed. Our quick release chuck is like another pair of hands – just pull the collet locking sleeve on the chuck (away from the tool), insert the bit and let go of the collet. That's it! Your bit is already perfectly seated and tightened. To remove the bit, pull the collet locking sleeve away from the tool and remove the bit. It's that simple.
The two chucks are functionally the same.
The innovative chuck on the WORX Switchdriver was designed with convenience in mind so you can get the job done instead of wasting time changing bits. To rotate the chuck, squeeze the red dual chuck release button over the on/off switch on the Switchdriver. While holding it down, rotate the chuck until it clicks into place. Many people use their thigh or forearm to turn the chuck while keeping one hand on the work. For your safety, the Switchdriver on/off switch will not operate until the chuck is clicked securely into the correct position, which will also prevent it from accidentally turning while in use. Always make sure the chuck has "clicked" into place before using the tool.
The speed of the Switchdriver can be controlled two ways. On top of the unit, there's a two-position switch for selecting a low speed setting (providing more torque for drilling, difficult materials, or long bolts), or a high-speed setting (less torque for lower resistance jobs, like installing screws in pre-drilled holes). Additionally, the on/off switch is pressure sensitive to determine how fast the WORX Switchdriver operates. The more pressure, the faster the speed.
The red dial on the WORX Switchdriver is an electronic torque adjusting dial. Torque is a measurement of turning power. Switchdriver has about 265 inch-pounds of torque, which is excellent for drills of its size and class. The electronic torque adjusting dial allows you to control how much turning power your Switchdriver will exert and whether the electronic clutch will be applied during the task.
Drills have clutches in them to prevent over-driving screws. Most drills use a mechanical clutch, but Switchdriver has a clutch controlled by an electronic PCB. Set the clutch on a low number when screws are small or soft and cannot handle a lot of force put to them. For big fasteners, or tough materials, set the clutch on a high number. If the screw drives too far into wood, or breaks off, set the clutch to a lower setting. If the screw will not drive flush with the work surface, increase the clutch setting. Setting the clutch requires some trial and error. If possible, practice on a scrap workpiece first.
Not necessarily. Different packages contain different items. To be sure you've received everything, be sure to look at your model number in the "accessories" chart in the manual. Our 16 and 67 piece kits will include a variety of bits for everything from drilling to driving. And if your kit doesn't come with a particular bit you need, you can use any standard ¼ in. (0.63 cm) hex bits in your Switchdriver.
Switchdriver
GET MORE DONE, FASTER AND EASIER.
The 20V Switchdriver holds multiple bit pairings so you get your work done twice as fast, with half the hassle. No more fumbling around for loose bits. Just give the head a quick twist and switch from drilling to driving in an instant. And since the Switchdriver is part of the 20V Power Share platform, you can share batteries with other 20V WORX tools you already own, saving time and money.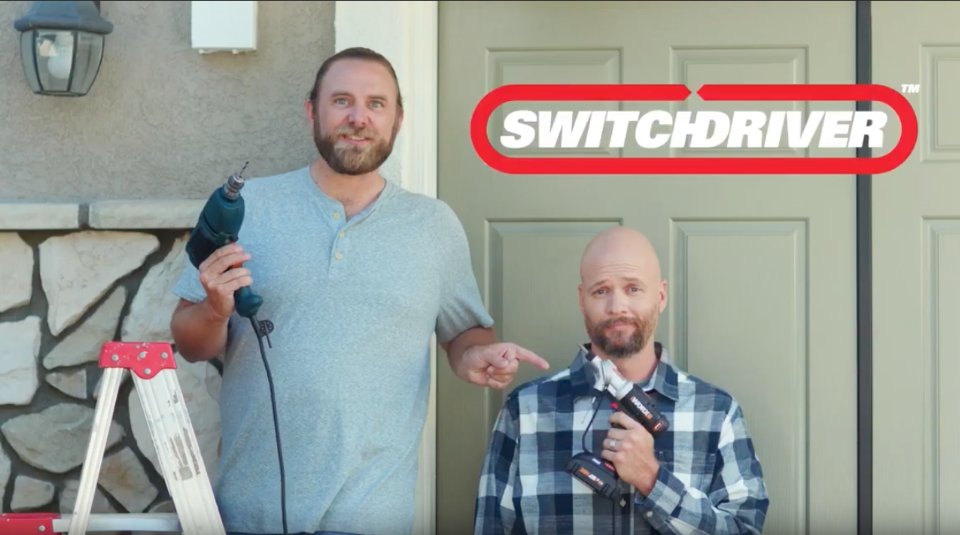 FREQUENTLY PURCHASED TOGETHER
TWO TOOLS IN ONE TO GET STUFF DONE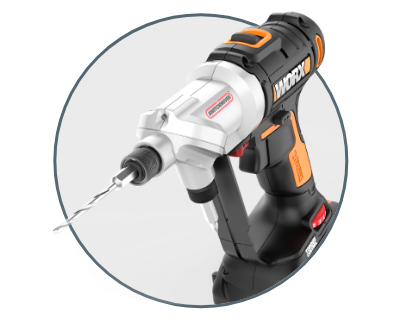 IT'S A DRILL...
Lightweight, compact design — just over 3 lbs. Drill like a pro thanks to the 2-speed gearing that delivers the speed and power you need to tackle any project with ease.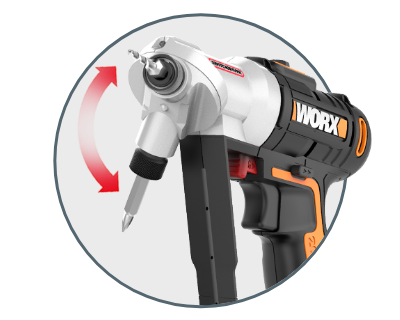 ...AND WITH A TWIST...
The two 1/4" chucks rotate 180° clockwise or counterclockwise with a push of a button, so you can switch from drilling to driving in an instant.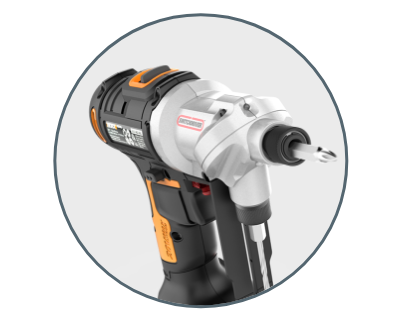 IT'S A DRIVER.
The compact and lightweight Switchdriver is equipped with electronic torque control which prevents your screws from stripping and eliminates any potential damage to your work surface or materials.