20V Power Share Multi-Function LED Flashlight
3 Year Warranty
30 Day Guarantee
As low as
$129.99
Regular Price
$89.99
Details
Worx 20V Multi-function LED light has a telescoping design for compact storage, and the ability to adapt to multiple working conditions.
4 functions in 1 light; flashlight, 360 degree lantern, desk lamp with Hi and Lo settings, and an emergency light.
Toggle through functions by pressing the switch.
Turn the light off by pressing and holding the switch while in any mode.
Left and right pivoting head adjusts for best angle of illumination.
A carry lanyard and hook are attached.
Light is rated for 50,000 hours of burn time and is not replaceable.
Includes 1 1.5Ah battery and 5 hour charger.
Same Battery, Expandable Power. The same battery powers over 75+ 20V, 40V, and 80V lifestyle, garden, and power tools in the Power Share™ family.
Pivoting Head
-72° TO +72°
Machine Weight
1.72 lbs. (0.78 kg)
(1) - 20V Maxlithium Battery
(1) - 20V Battery Charger
Yes, this model comes with 1 battery and 1 charger.
With the battery installed, the flashlight is only slightly more than 1.5lbs. (0.68 kg). Such a lightweight and compact design makes it the perfect light to take anywhere or to keep on hand for household tasks requiring a little extra light or for those unexpected emergencies.
The flashlight is 9-¾ in. (24.76 cm) tall when fully collapsed, and 14-¾ in. (37.46 cm) tall when fully extended. The battery connection base is 4 in. (10.16 cm) long and 2-½ in. (6.35 cm) wide.
The Multi-Function LED Flashlight is a traditional flashlight, 360° lantern, a desk lamp with high and low intensity, and an emergency strobe light.
The traditional flashlight feature is everything you expect – a brilliant, bright light in a super lightweight package.
To turn your flashlight into a 360° lantern, pull up the head of the flashlight to extend the telescopic shaft.
Convert your lantern into a desk lamp by angling the pivoting head to aim the beam where you need it. With a range of 0-140° to find just the right angle and high and low light intensity settings, you're sure to find the perfect combination for any task.
Each of the functions are available with one button. Turn on the flashlight with the power button and press it until you reach the light mode/intensity you prefer for the application. You can turn off the flashlight by toggling through all the functions until it turns off, or you can press and hold the power button until it turns off.
Runtime can vary depending on several factors, including the application and age of the battery. Typically, a fully charged 20V 1.5Ah battery included with the flashlight will last up to:
12 hours in Flashlight mode
6 hours in Lantern mode
5 hours in Desk Lamp (High intensity) mode
13 hours in Desk Lamp (Low intensity) mode
9 hours in SOS Beacon mode
While Power Share allows you to share batteries between tools within the same voltage family, batteries should only be used with tools of a corresponding voltage. Use your 20V MAX Lithium battery with any 20V WORX tool – even the garden tools – but save your 32V battery for your 32V tools and your 40V battery for your 40V tools.
Yes! Just attach a fully charged battery, and you're ready to go.
Carefully review the owner's manual for all safety information and guidelines. Follow safety precautions while using any power tools – including wearing safety eyewear, gloves, appropriate shoes & clothing, and keeping hair tied back. See the owner's manual for complete safety instructions and details.
NOTE: The Flashlight is designed to stand up with the battery as the base. Be sure the surface is dry before standing your Flashlight on it since the battery will stand on the vents and while the battery is weather-resistant, it is not water- or weatherproof.
Need an higher capacity battery or a faster charger? Many replacement parts are available online under Accessories.
Given the unique configuration, the bulb isn't replaceable, but with 50,000 hours of burn time, it's unlikely you'll need to replace the bulb for a long time.
If you decide the Worx 20V Max-Lithium Multi-Function LED Flashlight isn't the right tool for you, we offer a 30-day Money Back Guarantee from the date of receipt (less shipping and handling). View more information here.
We know your tools are indispensable, so we cover each tool with a 2 Year Limited Consumer Warranty. You can extend your warranty to 3 years by registering online within 30 days of purchase. Already have your flashlight? Register now!
Parts subject to normal wear and tear are not covered by the tool's warranty. View more information on our warranty here.
FREQUENTLY PURCHASED TOGETHER
THE LAST FLASHLIGHT YOU'LL EVER BUY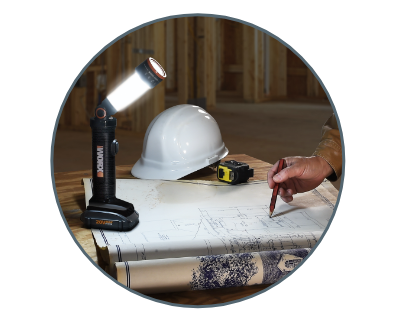 PIVOTING HEAD
The head pivots left and right so you can find just the right angle of illumination.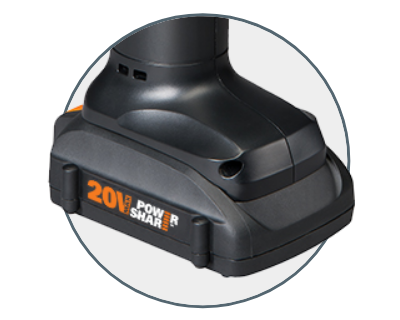 SHARE THE POWER
The 20V Max Lithium battery is rechargeable and shareable with every tool in the WORX Power Share family.
4-IN-1
An ultra-bright flashlight, an even brighter lantern, a desk lamp, and an emergency strobe light.