20V Power Share 1-hour Dual Port Quick Charger (WA3884)
3 Year Warranty
30 Day Guarantee
Details
The WORX dual-port quick charger is for use with 18/20-Volt Lithium batteries.
Dual-port allows for two charging modes that allows one battery to quickly charge or charge both within 2 hours.
Long cord provides flexibility to charge your battery in various locations.
Charge indicators for each battery port.
Compatible With
WA3512.1, WA3522, WA3525, WA3575, WA3578
(1) - 20V 1hr Dual Port Quick Charger
This charger is compatible with Worx 18V or 20V batteries including models WA3512, WA3512.1, WA3520, WA3522, WA3525, WA3544, WA3671, WA3575, and WA3578.
Two compatible 20V or 18V batteries will charge in about 1 hour. (2.0ah each). A single battery will charge in about 30 minutes.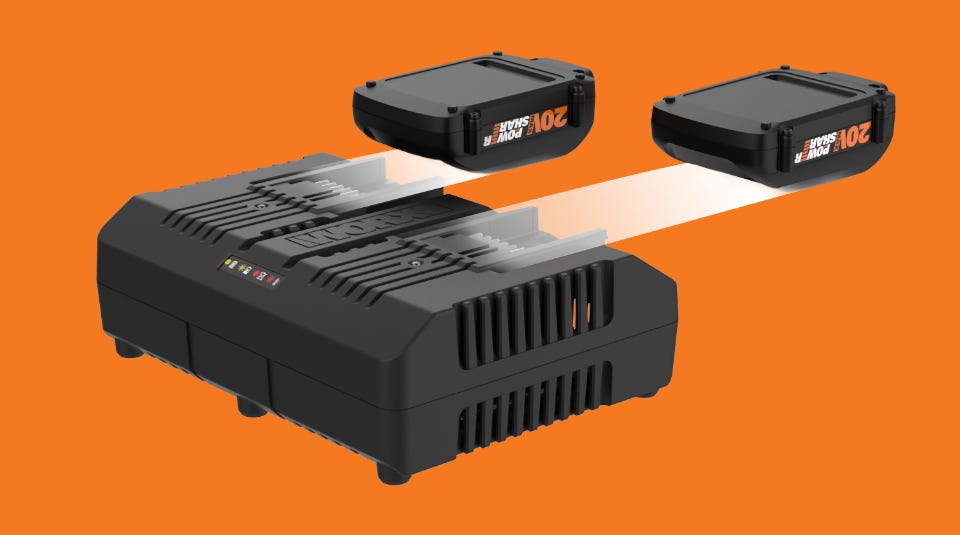 20V 1-HR Dual Port Quick Charger
DOUBLE THE CHARGE, HALF THE TIME.
The ultimate accessory for a growing WORX tool collection. Charge two 20V Power Share™ batteries in an hour, or just one even faster so your tools never run out of power.
FREQUENTLY PURCHASED TOGETHER