20V MAKERX Hot Glue Gun - Tool Only
3 Year Warranty
30 Day Guarantee
As low as
$39.99
Regular Price
$39.99
Details
20V Hot Glue Gun for use with the MAKERX system of portable crafting tools.
Micro-ergonomic design enhances overall user control of the Glue Gun for precise application.
LED temp indicator alerts user when the Hot Glue Gun is ready to use.
Quickly heats up and ready to go right away.
Narrow focus nozzle helps control glue placement.
Use the MAKERX Hub to connect to any 20V Power Share battery to power the MAKERX series of Go-Anywhere Creative Tools.
4 ft. long flexible cord attachment allows for unencumbered movement when working with this Glue Gun.
*20V battery (WA3520) and not included.
Glue Stick Diameter
.28 in. (7mm)
Nozzle Caliber
.05 in. (1.2mm)
Heat Up Time
30 sec to reach about 285°F
Run Time
About 120 mins using 2.0Ah battery
Temp When Fully Heated at 90 sec.
About 400°F
The 20V MAKERX Hot Glue Gun uses mini glue sticks of size .28in., or 7mm. These mini sticks can be found at craft stores, hardware stores and home centers, mass merchants, and online.
First, make sure the battery is charged and all the connections are tight. Turn the variable speed dial on the Hub to min. Push the on switch on the Hub. Hold the on/off button on the Glue Gun for 3 seconds. The button should turn red to indicate the glue is heating. After about 30 seconds, the light should illuminate green, meaning the Glue Gun is hot enough to use.
The indicator light on the 20V Hot Glue Gun turns from red to green when ready to use. After 30 seconds, the temp will be approximately 285°F. After 60 seconds, approximately 345°F. After 90 seconds, approximately 400°F.
The opening for dispensing glue is .05" wide (1.2mm).
The Hot Glue Gun is programmed to turn off after ten minutes. This prevents the glue gun from being left on by accident and helps preserve energy.
No, the speed dial on the Hub is ineffective on the 20V Glue Gun. Leave it on the minimum setting. The speed dial controls the MAKERX Angle Grinder, Rotary Tool, and Mini Blower, which are available separately.

Multiply Your Creativity
MAKERX is a system of portable, powerful, and precise crafting tools. It puts the power you need into compact and ergonomic tools that you can take anywhere to make anything. Make your world more beautiful with MAKERX.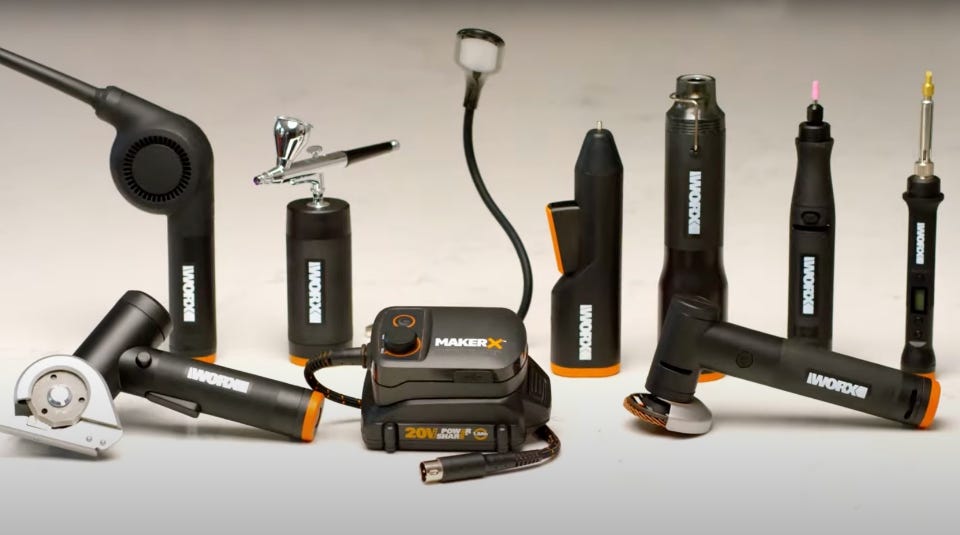 Frequently Purchased Together
A Better Craft Glue Gun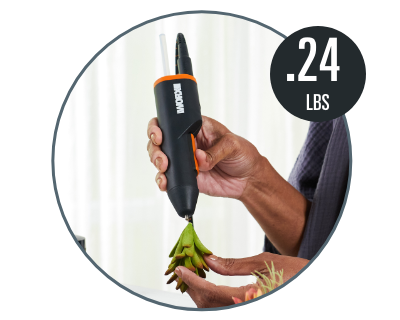 Compact, Lightweight Design
Weighs less than 1/4 lb., and the micro-ergonomic design makes it comfortable and easy to control.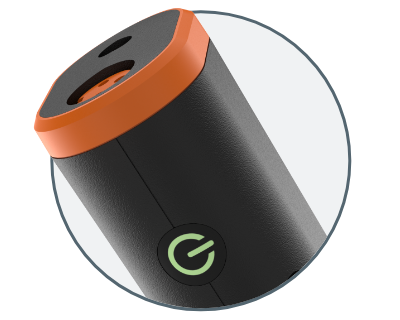 LED Temperature Status Light
Turns green when it's hot, so you know when this Cordless Hot Glue Gun is ready to go.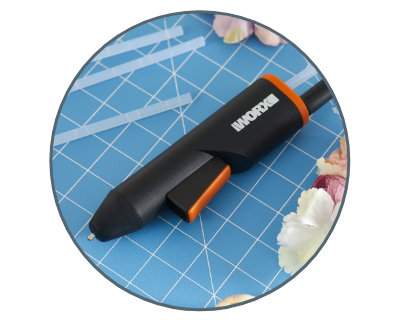 Quickly Heats Up
No one likes waiting around on a Hot Glue Gun, you've got things to make! And with automatic shut off after 10 minutes, you don't have to worry about forgetting to turn it off.