40V Power Share 14" Cordless Chainsaw w/ Auto-Tension (2x20V)
5 Year Warranty
30 Day Guarantee
As low as
$229.99
Regular Price
$229.99
Details
High-efficient brushless motor design for long-lasting power and performance.
Quick-stop chain brake, to help prevent accidental cutting.
Automatic, tool-free chain tensioning system for extended bar & chain life.
Automatic chain lubrication for continuous easy use.
40 volts of total power delivered by two 20V Power Share batteries.
On-board battery indicator so you know exactly how much charge is left.
Same Battery, Expandable Power. The same battery powers over 75+ 20V, 40V, and 80V lifestyle, garden, and power tools in the Power Share™ family.
Adaptive Chain Type
QR: A0 (T)-52E / OREGON: 90PX052X
Adaptive Bar Type
QR: P014-43SR(T) / OREGON: 144MLEA041
(1) - 14" Cordless Chainsaw
(1) - Blade Protection Cover
(2) - 20V 2.0Ah Batteries
This tool comes with two (2) 20V Power Share 2.0ah batteries and a dual-port charger for efficient charging.
Yes, with WORX Power Share™, you can share the battery and save money. You can use any WORX 20V MAX Power Share battery you already have. By sharing the battery between tools, you'll always have the power you need to complete any job.
The 40V Power Share™ tools are designed to work with two batteries and will not operate with just one battery installed. For optimum performance, both batteries should be of the same Amp-Hour (ah) rating and fully charged.
To fell a standing tree, it's recommended that you use a bar longer than the diameter of a tree. To cut a tree that has already fallen, you can cut up to double the bar length minus a couple of inches by making two cuts, one from each available side of the tree. For example: If the bar is 16" you can cut a log up to 30" in diameter.
This chainsaw can take any kind of bar and chain oil, which is available in most hardware stores or stores that sell chainsaws.
With a saw designed to self-lubricate during operation, a little oil leakage is normal. To help minimize and prevent leakage, we recommend wiping down the tool after use and storing it horizontally when not in use.
All our traditional chainsaws include our patented auto-tension chain tightening system that prevents over-tightening for extended bar & chain life.
Worx Chainsaws use a 5/32 in. file for sharpening the chain.
Take the bar and chain off of the tool, then reassemble it to make sure it tightly in place. After you place the bar and chain on the tool, pull the bar outwards (away from the motor) and then start twisting the auto tension knob. As you tighten the knob, lift the tip of the bar at a slight upwards angle. Once fully tightened, let go of the bar and check the tension in the chain. Tipping the bar at an upward angle as you tighten it allows for added tension and typically resolves any issues with the chain popping off.
If you decide your tool isn't right for you, we offer a 30-day Money Back Guarantee from date of receipt (less shipping and handling). For more warranty information, click here.
FREQUENTLY PURCHASED TOGETHER
GET TO KNOW THE 40V 14" CORDLESS CHAINSAW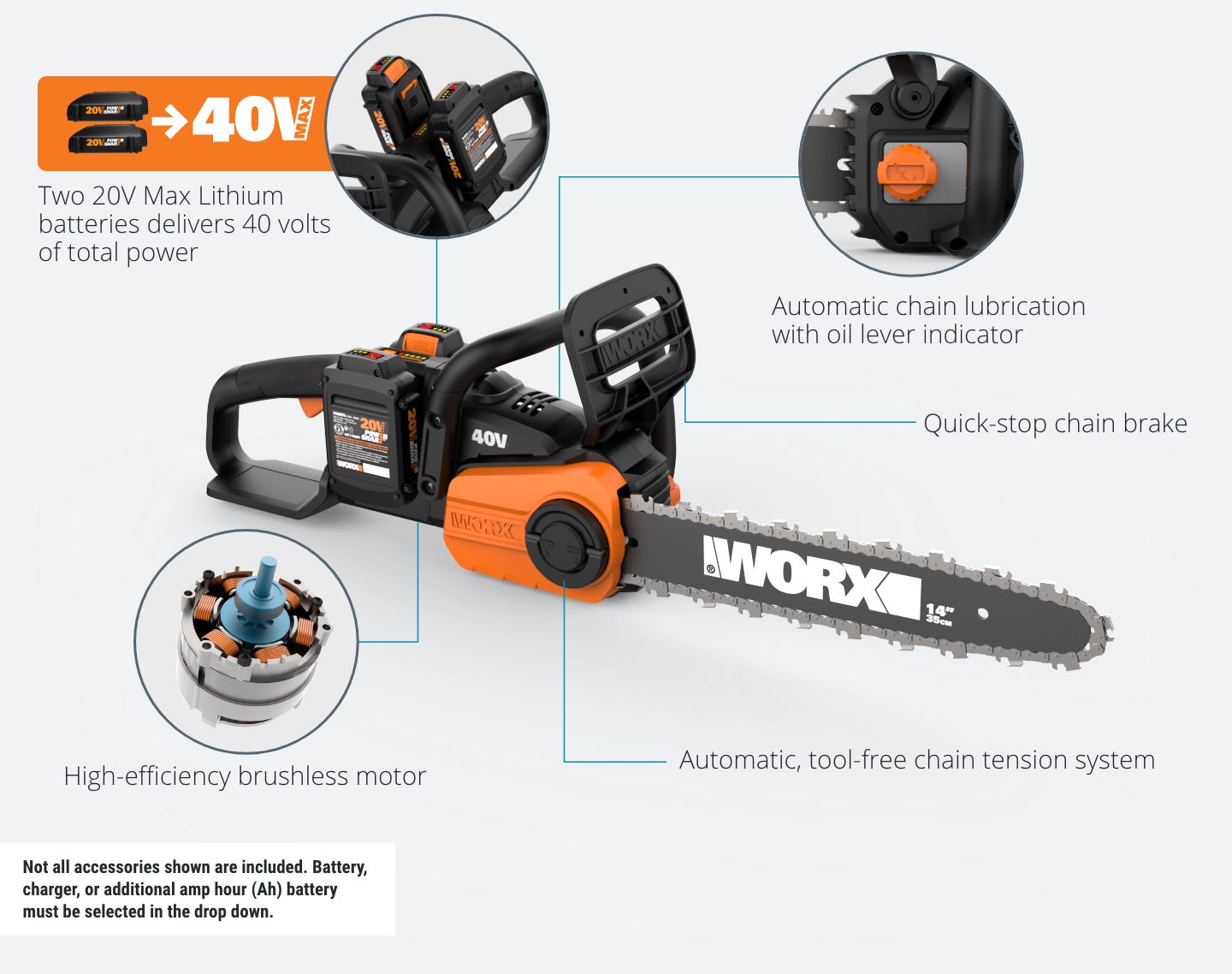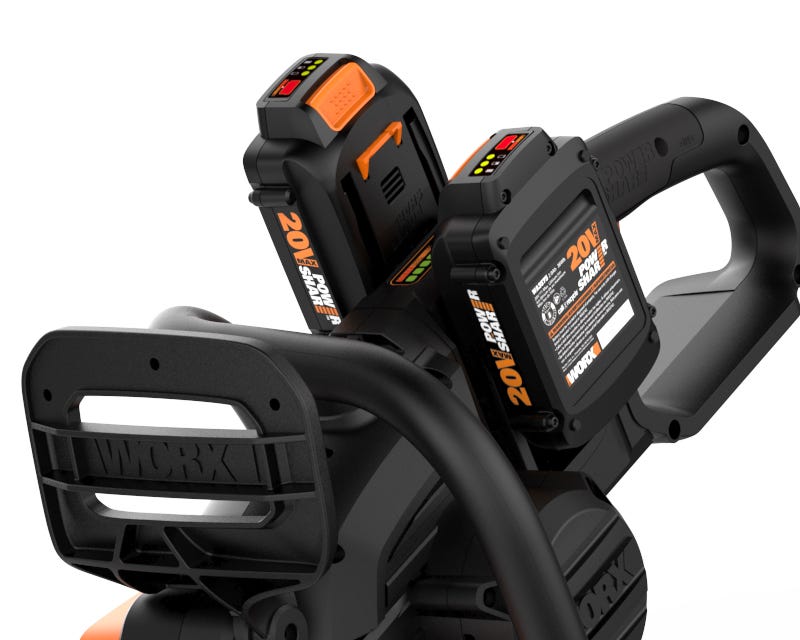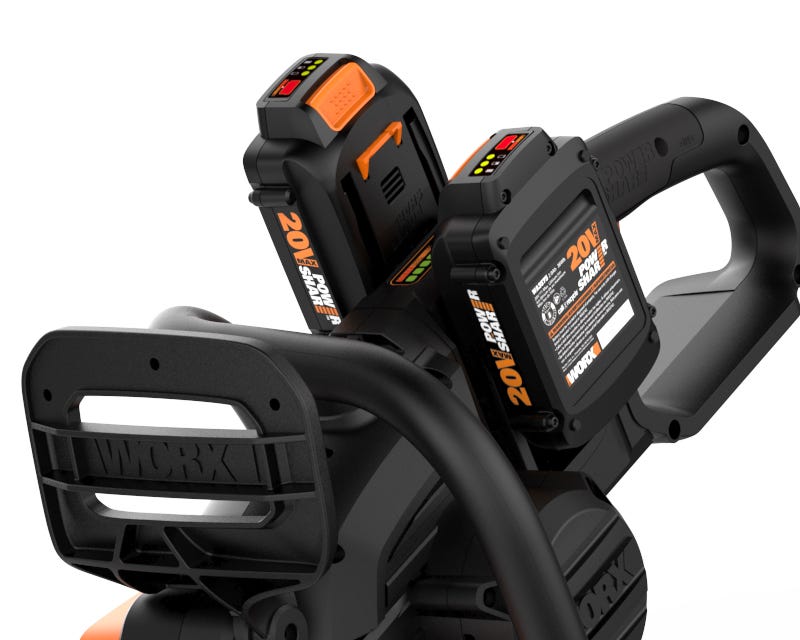 Two 20V Max Lithium batteries delivers 40 volts of power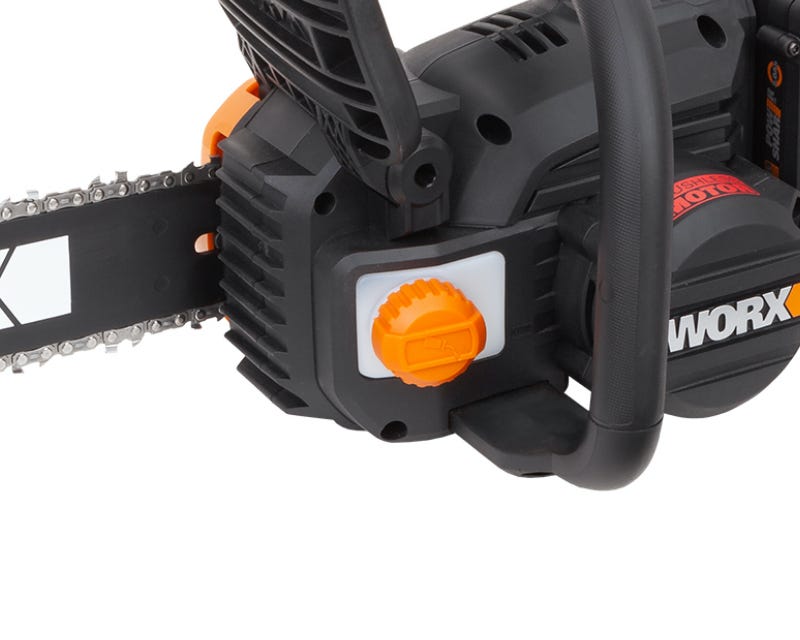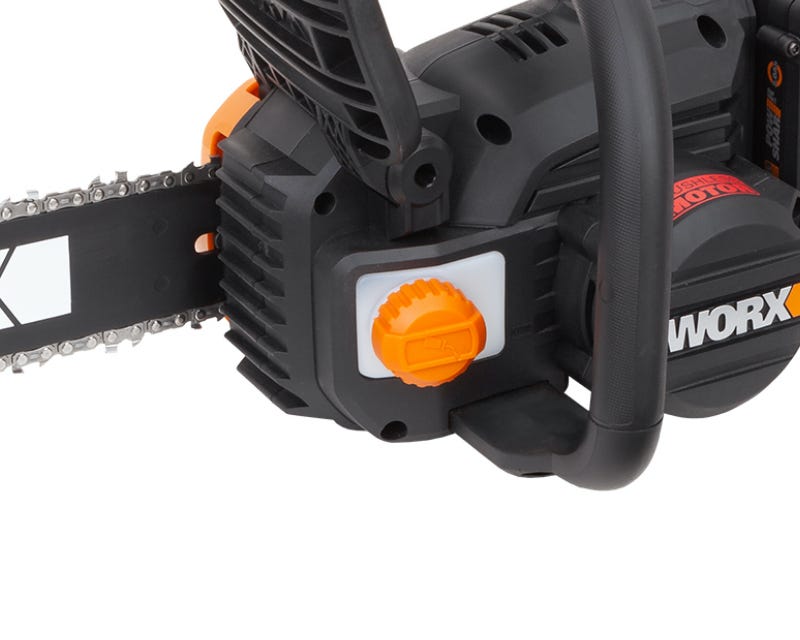 Automatic chain lubrication with oil level indicator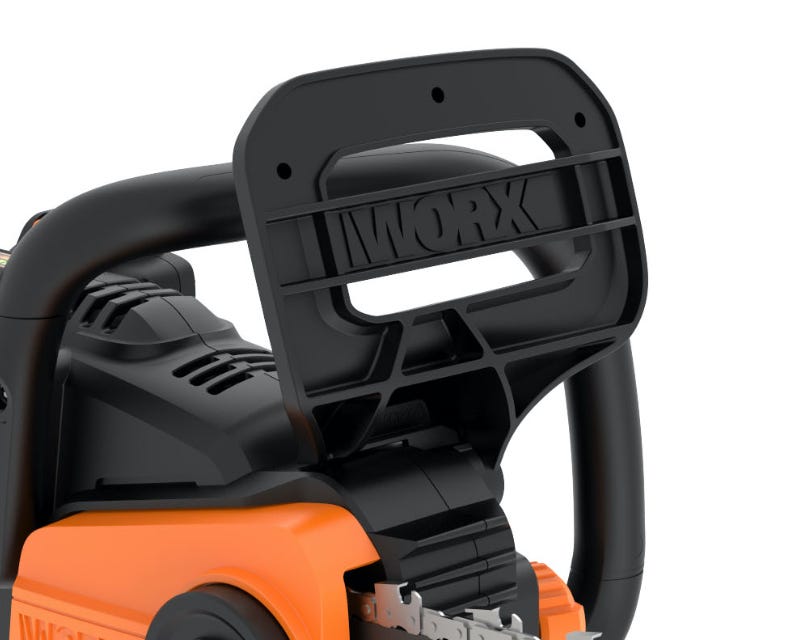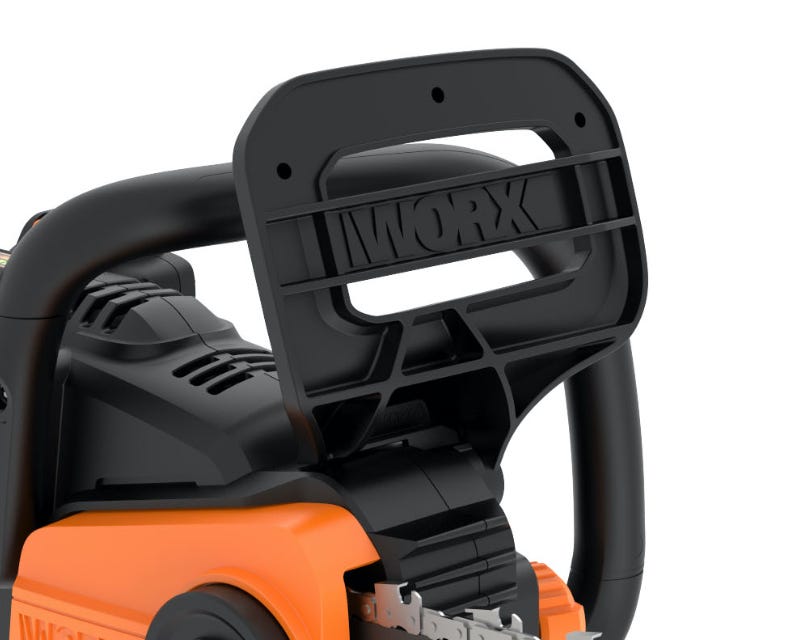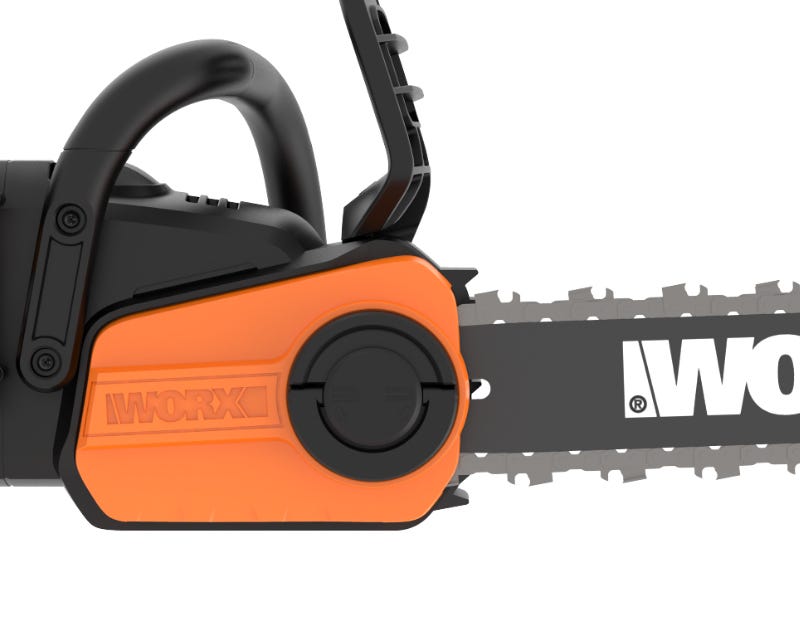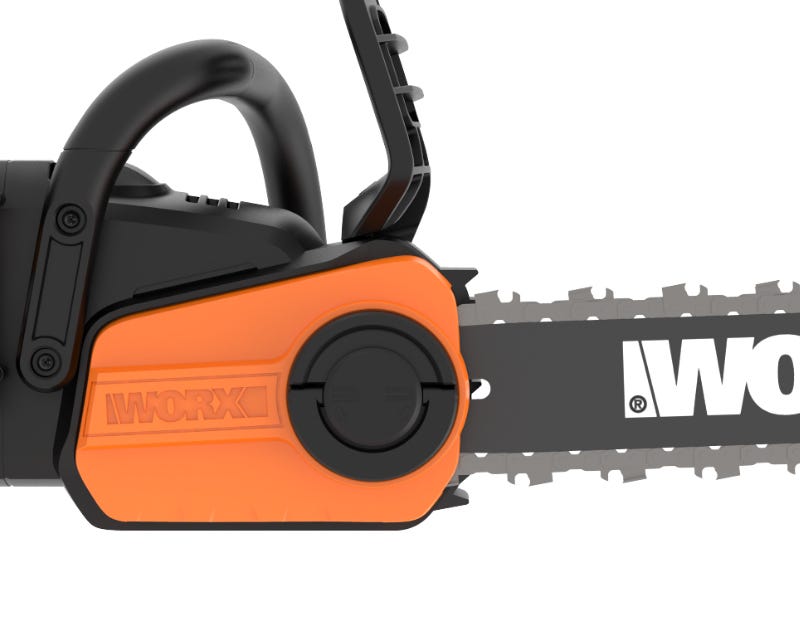 Automatic, tool-free chain tension system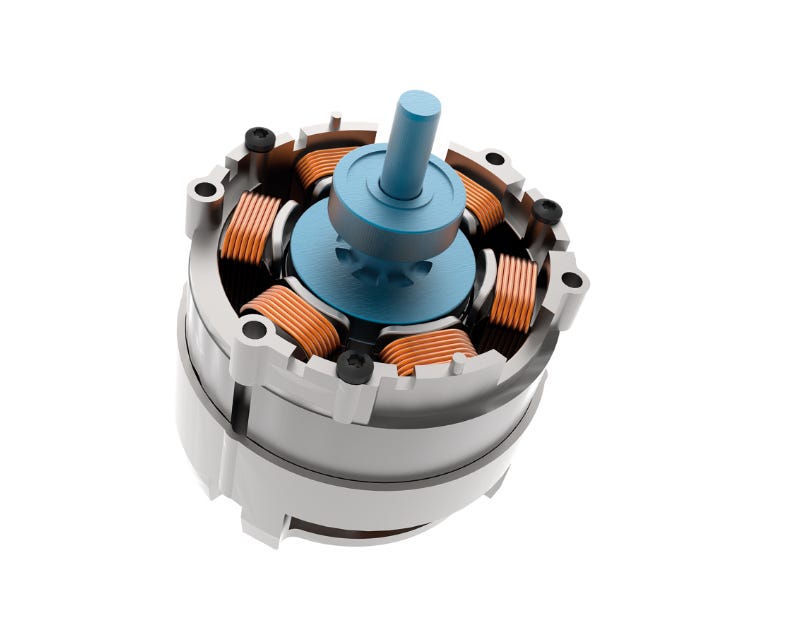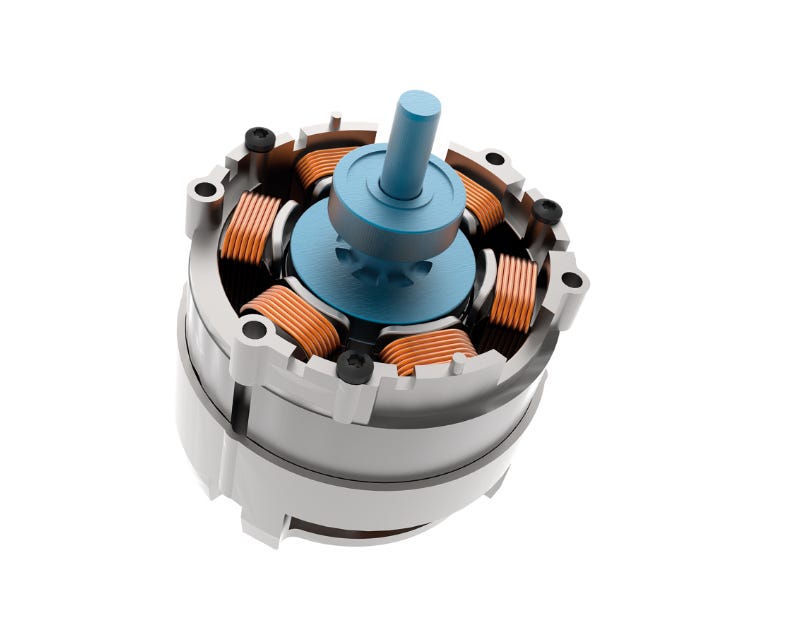 High-efficiency brushless motor
CONVENIENCE THAT'S A CUT ABOVE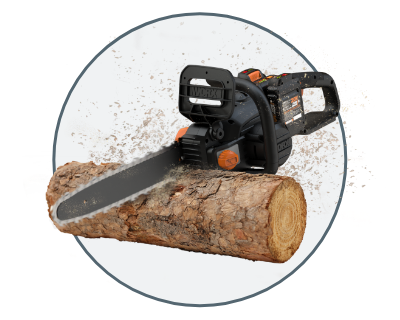 BRUSHLESS = BETTER
Built with a high-efficiency brushless motor, this chainsaw is longer-lasting, more reliable and more powerful.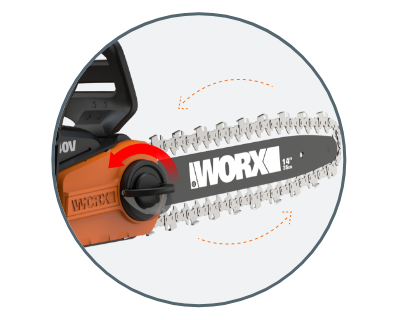 THE PERFECT FIT
The WORX WG384 Cordless Chainsaw features a tool-free chain tensioning system for extended bar, chain life, and easy adjustments.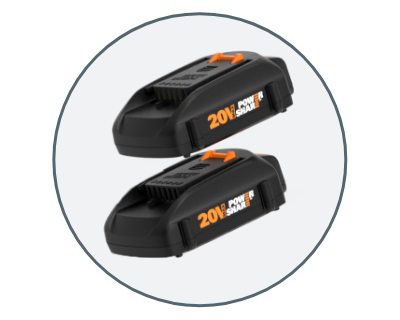 2X20V = 40V
Two 20V Max Lithium batteries team up for 40 volts of total power and performance, and eliminate the need for messy gas. Plus, you can share batteries within other Power Share tools in your arsenal.