Nitro 40V Power Share Cordless 16" Chainsaw with Brushless Motor
5 Year Warranty
30 Day Guarantee
As low as
$429.99
Regular Price
$249.99
Details
The Power to Outperform—Worx Nitro tools are engineered to provide greater power, performance, and run time.
40V cordless chainsaw features high-speed 16 in. bar & chain for professional-grade performance and cutting capacity.
Brushless motors are more efficient, run 50% longer, are 25% more powerful, and have a 10% longer life.
One-step tool-less chain tension for convenient, fast, and easy chain tension adjustments.
Cordless chainsaw features automatic chain lubrication for hassle-free, efficient cutting with increased bar & chain life.
16 in. (40cm) chainsaw features chain-brake guard for added safety and security.
Battery powered chainsaw features charge level indicator for quick reference to remaining runtime.
Worx Power Share PRO intelligent batteries deliver extended run times, plus heat and impact protection. Compatible with all Worx 20V and 40V tools, outdoor power and lifestyle products.
Battery Capacity
2x4.0Ah PRO
Bar Length
16 in. (40.64 cm)
Chain Speed
59 ft./s (17.98 m/s)
Chain Pitch
3/8 in. (.95 cm)
Technologies
Brushless Motor
Unit Weight
15.3 lbs. | 12.4 lbs. (bare) [6.9 kg | 5.6 kg]
(2) - 4.0Ah Power Share PRO Batteries
(1) - 4A Dual Battery Charger
Oil is not included with the sale of this chainsaw. This chainsaw can take any kind of bar and chain oil, which is available in most hardware stores or stores that sell chainsaws.
With a saw designed to self-lubricate during operation, a little oil leakage is normal. To help minimize and prevent leakage while being stored, we recommend loosening, then retightening, the oil cap to release any built-up pressure after use, wiping down the tool after use, and storing it horizontally (oil cap facing up) when not in use.
Bar spare part #: 50042526
Chain spare part #: 50042372
The chain-brake lever is a safety mechanism activated through the front hand guard, when kickback occurs - the chain will stop immediately. The saw will not start when the chain-brake is engaged. To disengage chain-brake, pull the front handguard toward the operator until it *clicks* into position.
The WG385 40V chainsaw requires (2) 20V batteries for operation. For optimum runtime, use (2) 4.0ah Power Share batteries (WA3578). Runtime will be significantly less when using batteries with an amp hour rating of lower than 4.0ah and is not recommended.
The POWERSHARE PRO series of WORX high-capacity batteries are designed for optimal performance and come standard with the WORX NITRO product offering. These batteries utilize an intelligent battery management system that monitors each cell to enhance, power, performance, and runtime.
Innovative, thermoplastic material encases each cell to pull heat away and maximize the cell's performance, resulting in longer runtime.
360° cell protection provides increased security against vibration, drops, and water intrusion. This full-wrap design limits the influence that a compromised cell can have over the rest of the battery pack.
No. The WORX POWERSHARE PRO batteries can be used on all existing WORX 20V MAX chargers (WA3742, WA3881, WA3764, WA3770, WA3884, WA3835).
No. The batteries require the same amount of charge-time as the standard WORX POWERSHARE batteries. However, due to the Cell-Cooling Technology in the POWERSHARE PRO batteries, they stay cooler, longer. As a result, less wait-time is needed before a battery can start charging, due to high temperature.
5-Year Warranty on the tool.
Frequently purchased together
Outperforms Traditional Chainsaws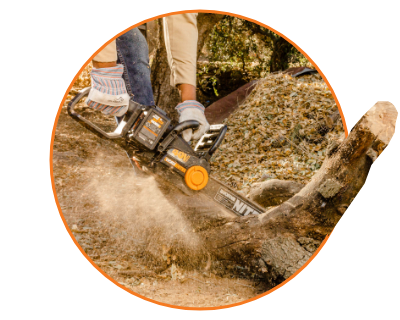 High-Speed 16" Bar & Chain
40V of Worx NITRO™ power spin the chain at 59 ft./s., comparable to traditional gas-powered chain saws.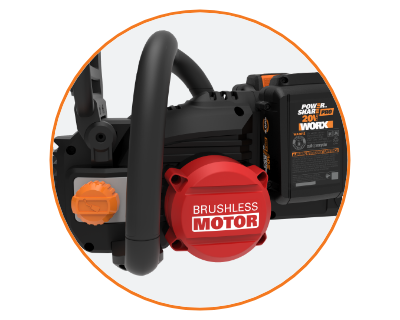 Brushless is Better
Better runtime, better efficiency, more power, and a longer lifespan for the tool.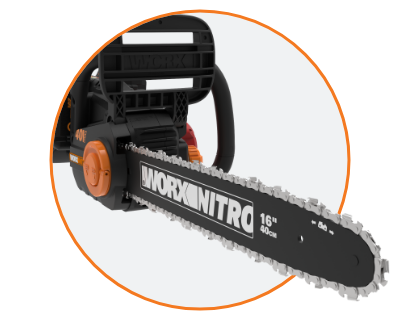 Cleaner & Cost-Effective
Battery-powered chain saws are cleaner, quieter, easier to start, and less expensive to maintain.