Aerocart Wheelbarrow Wagon Kit
3 Year Warranty
30 Day Guarantee
Details
Converts Worx Aerocart into a wagon with no tools required.
Includes handy seat for sitting and pruning, picking fruit, pulling weeds or just resting.
Equipped with a detachable storage tray and drink holder.
Changing from dolly to wagon takes only seconds.
Wagon has same flat-free tires as the Aerocart.
Open extension arms and dolly flap to create a hay wagon—excellent for bales of hay or pine needles, firewood, and other large, bulky loads.
Wagon Cart Capacity
300 lbs. (136 kg)
Hay Wagon Capacity
300 lbs. (136 kg)
Seat Capacity
300 lbs. (136 kg)
Wagon Kit Weight
16.3 lbs. (7.39 kg)
(1) - Wagon Kit Assembly, Cup Holder Tool Tray & 2 Flat Free Tires
(1) - Garden/Resting Seat
This kit is designed to transform your Worx Aerocart into a wagon or garden cart.
Your Aerocart can handle up to 300lbs while using the Wagon Kit whether using the wagon cart/hay cart or garden seat.
The Aerocart Wheelbarrow Wagon Kit weighs 16.3 lbs.
This model (WA0228) includes:
(1) - WAGON KIT ASSEMBLY (including cup holder tool tray & 2 flat free tires
(1) - GARDEN/RESTING SEAT
None! The Wagon Kit attaches to your Aerocart without tools for quick conversion to a garden cart or hay wagon.
You can download the manual here.
Regardless of the tool or job at hand, we recommend that our customers follow standard safety precautions while using our tools, including wearing safety eyewear, gloves, appropriate shoes and clothing, and keeping hair tied back. Always refer to the owner's manual for complete safety information before operating any tool.
If you decide the Worx Aerocart Wheelbarrow Wagon Kit isn't the right tool for you, we offer a 30-day Money Back Guarantee from date of receipt (less shipping and handling). View more information here.
We know your tools are indispensable, so we cover each tool with a 2 Year Limited Consumer Warranty. You can extend your warranty to 3 years by registering online within 30 days of purchase. Already have your Wagon Kit? Register now!
Parts subject to normal wear and tear are not covered by the tool's warranty. View more information on our warranty here.
Ready to add to your Aerocart accessories? Many replacement parts are available online under Accessories.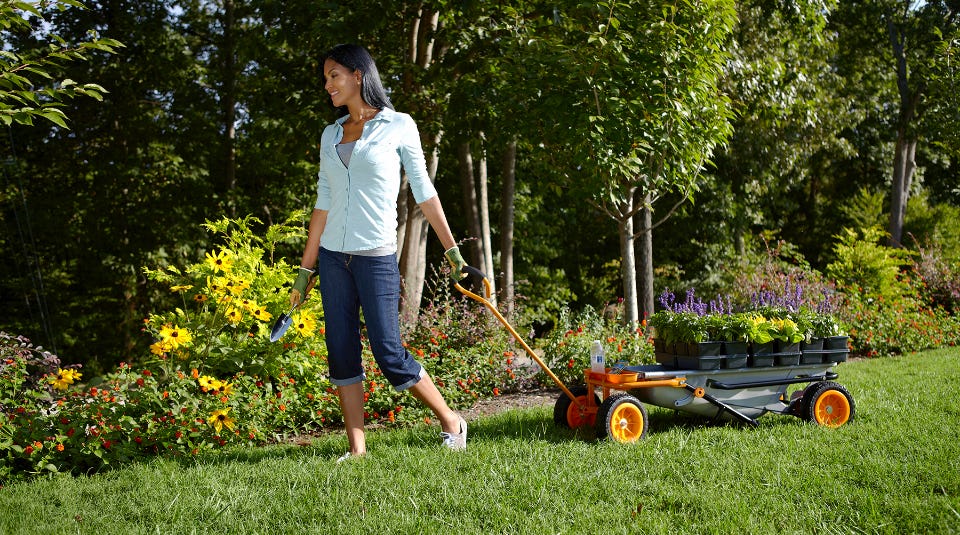 TRANSFORM YOUR AEROCART
Pull up to 300 lbs with just one hand when you attach the wheelbarrow wagon kit with no tools required. Yard work isn't a chore anymore with the included seat and detachable storage tray with drink holder.
FREQUENTLY PURCHASED TOGETHER