Hydroshot Adjustable Outdoor Power Scrubber (Hard Bristles)
No Warranty
30 Day Guarantee
Details
Compatible with all Hydroshot models.The Hydroshot Adjustable Power Scrubber with a quick snap connection makes it easy to switch between jobs quickly.
Offers a hard bristle design to thoroughly clean outdoor furniture, glass, or even siding.
Features dual articulating points for easy adjustments.
Compatible with all Hydroshot models.
Compatible With
WG620, WG625, WG629, WG629.1, WG630, WG640, WG644, WG649
(1) - Adjustible Outdoor Power Scrubber (Hard Bristles)
No. This accessory is solely intended for use with all Hydroshot models. It is only rated for the pressure of the Hydroshot models.
This attaches directly to the Hydroshot itself, so the wand needs to be removed and switched out with this accessory using a press, then quarter-turn operation.
The WA1821 has more rigid bristles that are more aggressive and for better use hardscape surfaces (patios, patio tables, driveways, etc.).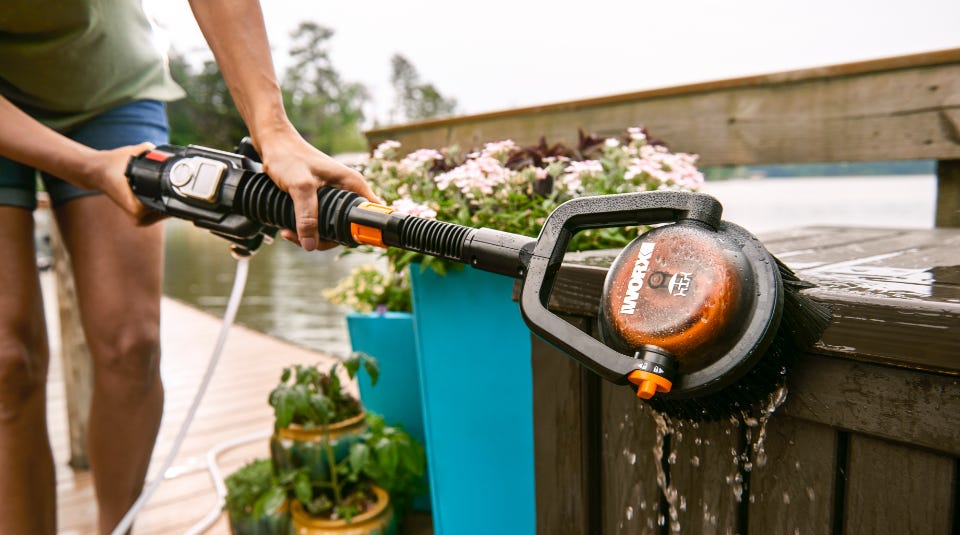 HYDROSHOT POWER SCRUBBER
TURN YOUR HYRDOSHOT INTO A HYDROSCRUB
Scrubbing is usually hard work, but not when you've got the combo of hard bristles and water power to do the hard work for you.
FREQUENTLY PURCHASED TOGETHER