Hydroshot Soap Dispenser Attachment
Hydroshot Soap Dispenser Attachment
is rated out of
5
by
169
.
No Warranty
30 Day Guarantee
Special Price
$31.99
Regular Price
$39.99
Details
Compatible with all Hydroshot models.13.5 oz container for your soap mixture.
Quick snap connection provides a steady water flow while cleaning.
Ideal for adding soap to any cleaning project, including cars, boats, windows, and more.
Compatible with all Hydroshot models only. Not compatible with Pressure Washer models.
Container Capacity
13.5 oz. (29.57 ml)
Compatible With
WG620, WG625, WG629, WG629.1, WG630, WG640, WG644, WG649
Weight
0.1 lbs. (0.45 kg)
(1) - 13.5 oz. (29.57 ml) Soap Dispenser Attachment
The Soap Dispenser Attachment is an accessory designed to make power cleaning with your Worx Hydroshot even more effective. Tough cleaning jobs might need a little extra and with this attachment, you can use soap or other cleansing agents with your Hydroshot. Fill and attach the soap dispenser to your Hydroshot with the quick snap connection, use any clean water source, and clean up easier than you'd imagined before.
The Worx Hydroshot is designed to work with clean water sources, and using chemicals, cleansers and soaps through it will void the warranty. The Soap Dispenser Attachment is designed to let you up your Hydroshot's cleaning game without affecting the longevity or performance of your tool.
The Hydroshot Soap Dispenser Attachment can hold up to 13.5 oz. (29.57 ml) of your soap mixture or other cleansing agent.
We made cleaning easier by taking out an extra step! There's no need to mix soap or other cleaning agents in the Soap Dispenser before using it. The water from the Hydroshot will mix with it as it dispenses.
The Soap Dispenser Attachment can be attached directly to the Hydroshot for lower pressure applications or can be used in addition to the extension lance for higher pressure applications.
Regardless of the tool or job at hand, we recommend that our customers follow standard safety precautions while using our tools, including wearing safety eyewear, gloves, appropriate shoes and clothing, and keeping hair tied back. Always refer to the owner's manual for complete safety information before operating any tool.
Many replacement parts are available online under Accessories.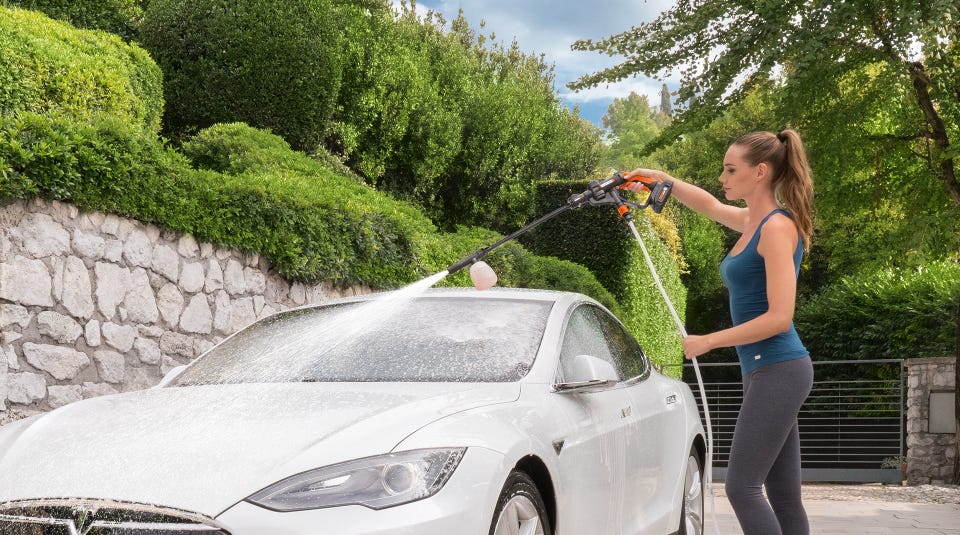 BETTER CLEANING
Water pressure is often enough for a lot of jobs, but sometimes your things get really dirty. Add the soap dispenser to your hydroshot and really get things clean.
FREQUENTLY PURCHASED TOGETHER