Nitro 20V Cordless Paint Sprayer with Brushless Motor
3 Year Warranty
30 Day Guarantee
As low as
$229.99
Regular Price
$149.99
Details
Proven Power—Worx NITRO™ tools are built for pro-level performance to elevate power, speed, and productivity on every task.
Compact, cordless design provides flexibility to paint anywhere, anytime.
Speed control allows you to evenly dispense the flow of paint and minimizes over-spraying.
Choose from wide or narrow spray patterns to tackle a wide variety of projects.
Four nozzle sizes to select from for materials like stains, primers and latex paints.
Large capacity paint container holds up to 34 fl. oz. (1000 ml).
Easy to clean with the included garden hose hook-up. All accessories and paint cup detach for easy cleaning.
Same Battery, Expandable Power – The same battery powers over 75+ 20V, 40V, and 80V lifestyle, garden, and power tools in the Power Share family.
2A Charger – Charges 4.0Ah battery in 2 hr.
(1) - Nitro 20V Paint Sprayer
(4) - Nozzles (1.5mm, 1.8mm, 2.2mm, 2.6mm)
(1) - Garden Hose Adapter
(1) - 4.0Ah Battery (WA3012)
(1) - Quick Charger (WA3881)
Yes, this 20V cordless paint sprayer can be used both indoor and outdoors. It is recommended for small to medium projects in and around the home.
Yes, you can spray a variety of materials from stains, primers, enamels, and latex with this paint spray gun.
Yes, you can spray a ceiling. It is recommended that you ensure the suction tube is facing toward the rear of the nozzle for spraying upward.
It is not necessary to thin most materials if using the larger diameter nozzle on this cordless paint sprayer. When using the smaller diameter nozzle, thinning may be needed to achieve a finer finish. If thinning is necessary, use the included viscosity cup to adjust as needed.
Yes, and you can adjust the airflow via the dial on top of the paint sprayer based on your project type.
Frequently purchased together
Functionality to Take on a Variety of Projects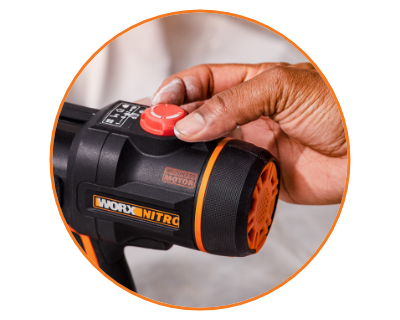 Adjustable Speed and Flow Rate
Easily control the flow of paint and the speed of the application. Plus, the spray width adjustment lets you go wide or narrow.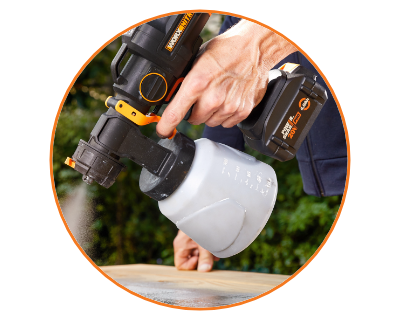 Large Capacity Container
Holds up to 34 oz. (1000 ml) of material so you can get more done before having to refill.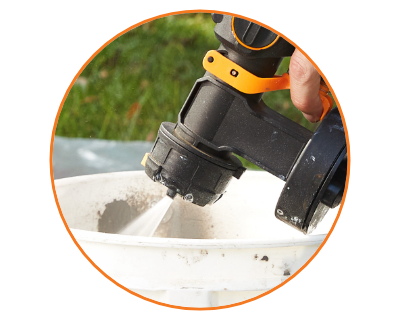 Multiple Nozzles Included
Four nozzle sizes to select from for multiple spray patterns and for use with multiple materials.