Nitro 20V Power Share Cordless 9" Work Fan
3 Year Warranty
30 Day Guarantee
As low as
$83.99
Regular Price
$99.99
Details
Proven Power—Worx NITRO™ tools are built for pro-level performance to elevate power, speed, and productivity on every task.
Ready Charge feature allows you to plug in and charge the battery while the fan is running.
Compact 9 in. blade diameter, but still powerful enough to cool down any workspace, with 310 or 450 CFM depending on the speed.
Only 5 lbs., wall-mountable, with a hanging hook and carry handle, so you can take it and place it almost anywhere.
360° head allows for blowing up in the air, spinning around to ventilate the room, or dry off a project.
High & Low Speed—0-1500 RPM on Low when you just need a small amount of air, or 2500 RPM on High, when you want a stronger airflow.
Same Battery, Expandable Power. The same battery powers over 75+ 20V, 40V, and 80V lifestyle, garden, and power tools in the Power Share™ family.
High Speed Run Time
1.5 hrs.
Low Speed Run Time
5.5 hrs.
RPM
Low: 1500 | High: 2500
(1) - Nitro 20V Power Share Cordless Work Fan with Ready Charge
(1) - Single Charger (WA3732)
(1) - Ready Charge AC Adapter
Yes! Ready Charge technology allows the battery to fully charge while the fan is connected to an outlet.
No, the cover cannot be removed to access the fan blades.
It is primarily plastic with an aluminum stand for durability.
On the 20V 2.0 ah battery the fan will run for 2 hours on High and 6 hours on low speeds.
Yes! The locking knobs on the side of the mount allow you to Lock the Fan in any position to accommodate you.
The 9 in. fan blows out 450 CFM, which is comparable to a heavy-duty leaf blower.
No, The Fan will not blow cold air. It will simply help circulate the air that is already in the room.
No, this fan will not mist water.
No, the fan is not waterproof, it is recommended to be used in a climate control environment.
Yes! There are mount holes on the fan that allows you to mount the fan directly to the wall. Additionally, there is also a convenient placed hanging hook to temporarily suspend the fan.
Frequently purchased together
Outperforms Traditional Work Fans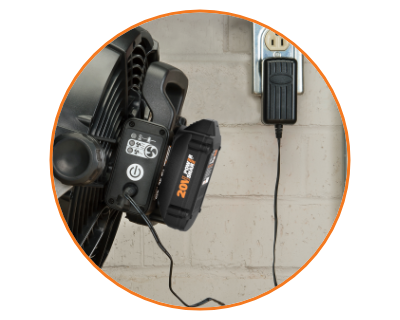 Ready Charge
This feature allows you to plug it into an outlet and recharge the battery while the fan still runs on AC power. You don't have to turn off the fan to charge it.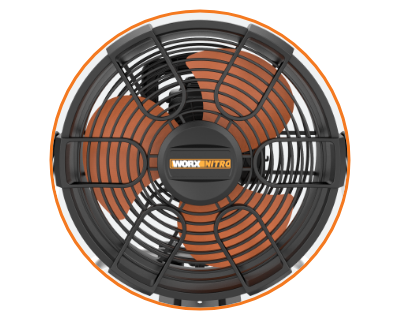 Up to 450 CFM
That's as much high-capacity air volume as a heavy-duty leaf blower. With two speeds you can also dial it down to 310 CFM when you don't need quite so much wind.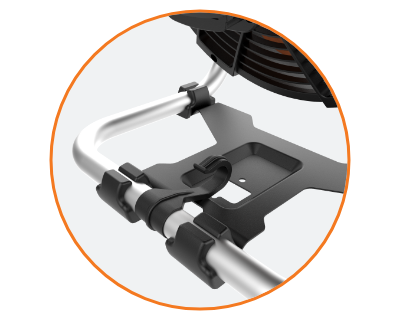 Hanging Hook
Hang it from almost anything, or even mount it permanently on the wall. And with a 360° tilt you can direct airflow wherever you need it.