4-1/2" WORXSAW 4 Amp Compact Circular Saw
3 Year Warranty
30 Day Guarantee
Special Price
$79.99
Regular Price
$99.99
Details
Compact size for excellent maneuverability and portability.
Easy-set depth gauge lever & 0-45° bevel settings for quick adjustments.
Grip with integrated safety trigger for comfort, balance, and control.
Easily cuts 2 in. (5.08 cm) stock lumber, metal, tile, and plastic.
Left-sided blade design for excellent cut-line visibility.
Dust port for vac hookup and a clean work environment.
Blade Size
4½ in. (11.43 cm)
Machine Weight
4.4 lbs. (1.99 kg)
(1) - 24T Carbide-Tipped Blade
No, this model does not include a battery. This is an electric tool.
At only 4.4 lbs. (1.99 kg), the Worxsaw is surprisingly lightweight and delivers easy-to-maneuver circular saw power with single-hand control.
The WorxSaw gives you the power and performance you'd expect in a traditional circular saw, packs it into a compact size that's easy to maneuver with one hand. Designed with you in mind, the WorxSaw features the lightweight, ergonomic design is something you expect from Worx without compromising power! How? The saw's 4½ in. (11.43 cm) blade has a kerf that is less than half the thickness of larger 7¼ in. (18.41 cm) circular saw blades. Since this smaller, thinner blade takes much less effort and motor strain to cut through the material, the 4 Amp - 3500 RPM saw can match the performance of full-size circular saws.
WorxSaw also features left-sided blade design provides remarkable cut-line visibility as well as a vacuum port for dust extraction while working to give you the best possible work experience for precision and safety.
Get everything you want from a traditional circular saw - with more flexibility and freedom. WorxSaw - power, performance, and comfort that's easy to control with one hand.
½Yes! The 4½" WorxSaw Compact Circular Saw is capable of bevels up to 45 degrees, and can cut up to 1-1/8 in. (2.85 cm) at a 45-degree bevel. The WorxSaw can also be used for plunge and pocket cutting up to 1-11/16 in. 4.28 cm) thick. For specific instructions and safety information, see your owner's manual.
The WorxSaw's cutting capacity varies depending on whether the cut is a vertical or beveled cut.
Cutting depth at 90 degrees: 1-11/16 in. (4.28 cm) (including nominal 2x material)
Cutting depth at 45 degrees: 1-1/8 in. (2.85 cm)
The 4½" WorxSaw Compact Circular Saw uses any 4½ in. (11.43 cm) circular saw blades with a 3/8 in. (0.95 cm) arbor. Additional blades are available at your local hardware or home improvement store.
The WorxSaw was born to cut wood, especially 2 in. (5.08 cm) nominal lumber materials. Included, you'll receive a carbide-tipped wood cutting blade. But, when it comes to cutting, the blade determines the material your WorxSaw can tackle. You can customize to the job at hand by picking a blade to fit your needs. The WorxSaw can use any 4½ in. (11.43 cm) blade with a 3/8 in. (0.95 cm) arbor.
The parallel guide installs on your WorxSaw in seconds and secures in place for confident parallel cuts. First, unplug your WorxSaw to avoid accidental starts.
Loosen the hex screw at the front of the base plate. Take the long, thin side of the parallel guide and make sure the measured marks are facing up. Insert it into the base plate in front of the blade through the holes in the base. Line up the desired measurement in the notch at the front of the base plate and tighten the screw to secure it in place. Line up the parallel guide's edge flush against the cutting surface, reinstall the battery and you're ready to cut!
To remove the parallel guide, loosen the screw at the front of the base plate and slide the guide out.
Changing the blades is quick and easy. Unplug the WorxSaw to avoid accidental starts.
Press the red spindle lock button behind the blade housing and insert the allen key into the hex bolt holding the blade in place. Unscrew and remove the blade bolt, and the outer flange. Remove the old blade and insert the new one. Once firmly seated, install the flange and blade bolt, finger tightening into place. Use the allen key to secure the bolt, re-install the battery, and you're ready to go.
Yes, the WorxSaw has an onboard vacuum port and comes with a vacuum adaptor so you can attach your favorite shop vac. It's as easy as installing the adaptor in the port, attach the shop vac and turn it on. (See your owner's manual for specific instructions.)
Worx tools are designed with safety features to protect you against accidental starts, and the WorxSaw is no different. In front of the on/off switch is a safety switch which must be engaged before the on/off switch will work. To engage it, pull the red switch back towards the on/off trigger and hold it in place while you squeeze the on/off trigger. Once the saw starts, you can release the safety switch and the saw will continue to run.
If you decide the 4-1/2" WorxSaw Compact Circular Saw isn't right for you, we offer a 30-day Money Back Guarantee from the date of receipt (less shipping and handling). For more information, click here.
We know your tools are indispensable, so we cover each tool with a 2 Year Limited Consumer Warranty. You can extend your warranty to 3 years by registering online within 30 days of purchase. Already have your WorxSaw Compact Circular Saw? Register now!
View more information on our warranty here.
Many replacement parts and accessories are available online under Accessories.
CALIFORNIA PROPOSITION 65 WARNING:
This product can expose you to chemicals including lead, phthalate or bisphenol A which are known to the State of California to cause cancer, birth defects or other reproductive harm. Wash your hands after use. For more information go to www.P65Warnings.ca.gov.
PROPOSITION 65 DE LA CALIFORNIE AVERTISSEMENT:
Ce produit peut vous exposer à des produits chimiques, incluant au plomb, au phtalate ou au bisphénol A, qui sont reconnus dans l'Ètait de Californie comme pouvant causer un cancer, des anomalies congénitales ou d'autres dommages à l'appareil reproducteur. Assures-vous de bien vous laver les mains après usage. Pour en savoir plus, veuillez consulter le site www.P65Warnings.ca.gov.
FREQUENTLY PURCHASED TOGETHER
POWERFUL, PORTABLE, PERFECT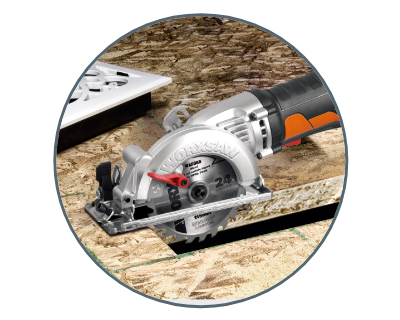 MAKE THE CUT
It easily cuts through metal, tile or plastic. 2" stock lumber is where the WORXSAW really shines. Cut 2x4's in a single pass.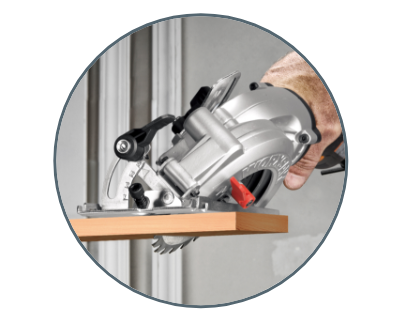 EASY SET
Pull down the depth gauge lever, then raise or lower the handle to your desired depth. Adjusts from 0-45° easily for bevel cuts. Attach the parallel guide for rip or plunge cuts.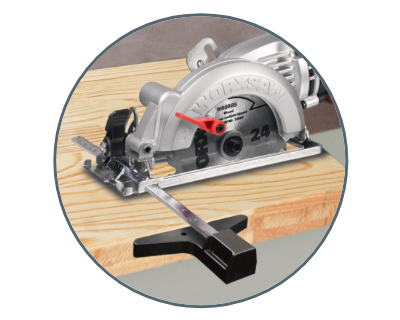 EASY TO HANDLE
The blade is half the size, weight, and thickness of blades on a regular circular saw, so you get the speed and the performance of a full-size saw in an easier to handle design.