20V Power Share Cordless 4" Shear and 8" Shrubber Trimmer - Tool Only
20V Power Share Cordless 4" Shear and 8" Shrubber Trimmer - Tool Only
is rated out of
5
by
466
.
3 Year Warranty
30 Day Guarantee
As low as
$79.99
Regular Price
$79.99
Details
WORX 20V Power Share Garden Shear Shrubber for quick and easy trimming.
Dual-action blades for clean professional trimming.
Overmold soft-grip handle for comfort and control.
Includes 4 in. Grass Shear blade and an 8 in. Shrubbery blade. Optional pole extension is available.
Sheath guard protection for additional safety during storage.
*Battery & Charger sold separately.
Cutting Width
4 in. with Grass Shear Blade
Max Cutting Length
8 in. with Shrub Blade
Max Diameter
0.3 in. for Shrub Blade
(1) - 20V Shrub and Grass Shear
(1) - 8" Shrub Shear Blade
*BATTERY & CHARGER NOT INCLUDED
This is our tool-only version, which does not include either a battery or a charger. Tool-only models allow you to take full advantage of our Power Share platform to save money by using the 20V Worx batteries and chargers you already own.
The 20V Cordless Shrub Shear and Grass Shear is great for any user at roughly 1 pound without the battery installed. This is the perfect hand-held trimmer to take on the go for jobs that aren't quite big enough for bigger tools. Ergonomic? Check! Lightweight? Check! Powerful? Check! Compatible with the 20V Power Share platform? Check! What more could you ask for?
To give you the most versatility, the 20V Cordless Shrub and Grass Shear comes with two blades making it two tools in one. One is a 4" blade designed for shearing grass, and the other is 8" and designed for shrubbery/branches up to 0.3" thick. Stay on top of the details without pulling out the whole lawn care arsenal.
The tool itself is 9-3/4" long without battery or blade and about 3" wide. It's compact and the perfect size for your tool box, or any small space.
Like all Worx tools, the 20V Cordless Shrub Shear and Grass Shear is designed with you in mind. We've made changing the blades as easy as 1-2-3. Before you begin, remove the battery from the tool, wearing gloves and using the safety sheaths for safety.
1 – Flip the tool over and press the buttons on either side of the tool.
2 – Grasp the flat faceplate and pull it away from the tool
3 – Remove the blade
That's it! Installing another blade is just as easy. Seat the blade, and snap on the cover. Re-install your battery and you're ready to go!
Each 20V Cordless Shear and Shrubber comes with 2 blades – one 4" grass shear blade and one 8" shrub blade. The maximum cutting capacity for the 8" shrub blade is 0.3" diameter. The 4" blade is designed for grass and weed trimming.
Yes! With Power Share, you can share the battery and save money. Your Cordless Shear and Shrubber can use any Worx 20V battery you already have. By sharing the battery between tools, you'll always have the power you need to complete any job. Need more power? Check out our higher capacity batteries.
Carefully review the owner's manual for all safety information and guidelines. Follow safety precautions while using any power tools – including wearing safety eyewear, gloves, appropriate shoes & clothing, and keeping hair tied back. See the owner's manual for complete safety instructions and details.
ATTENTION: For safety, remove the battery when changing the blades or changing the tool between modes. When changing the blade, we recommend wearing gloves and using the included safety sheaths.
You can download the manual here.
If you decide the Worx 20V Cordless Shear and Shrubber isn't the right tool for you, we offer a 30-day Money Back Guarantee from date of receipt (less shipping and handling). Please call our customer service center at 1-866-354-9679 (WORX) and we'll be happy to assist. View more information here.
We know your tools are indispensable, so we cover each tool with a 2 Year Limited Consumer Warranty. You can extend your warranty to 3 years by registering online within 30 days of purchase. Already have your 20V Cordles Shear and Shrubber? Register now!
Parts subject to normal wear and tear are not covered by the tool's warranty. View more information on our warranty here.
Lose your charger? Need an extra battery? Many replacement parts are available online under Accessories.
QUICK AND EASY TRIMMING
WORX 20V Power Share Garden Shear and Shrubber
If your bushes are looking a little shaggy or you have some stray grasses to take care of, don't get out the big hedge trimmer! Grab this handy and portable trimmer with an interchangeable 4-inch grass shear and an 8-inch shrubbery blade.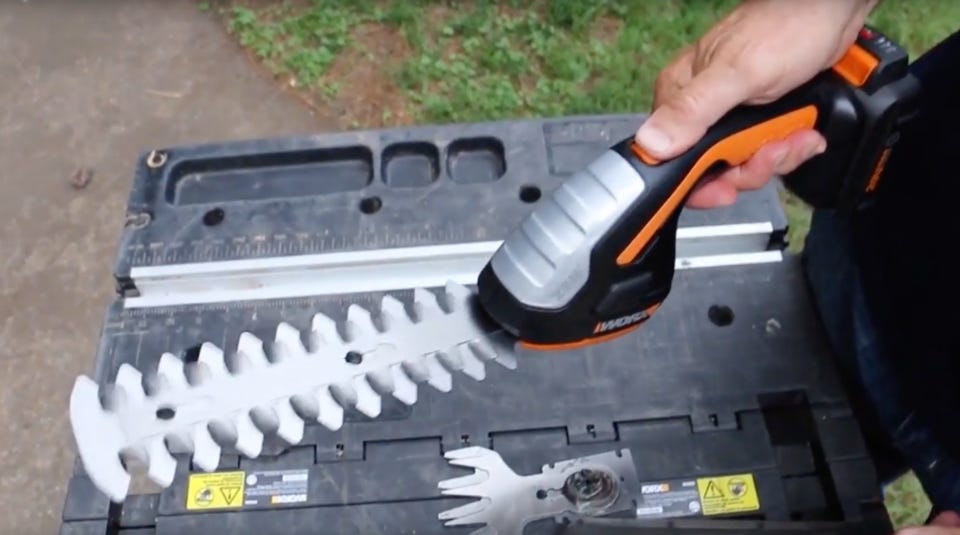 FREQUENTLY PURCHASED TOGETHER
PERFECT FOR DETAIL TRIMMING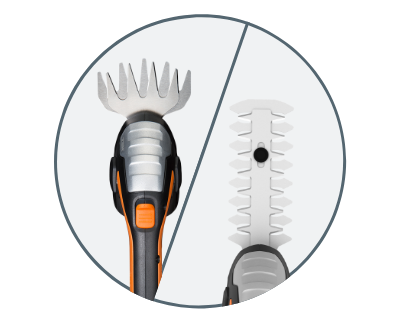 2 TOOLS IN 1
It's easy to switch out the 4" grass shear blade for the 8" shrubbery blade.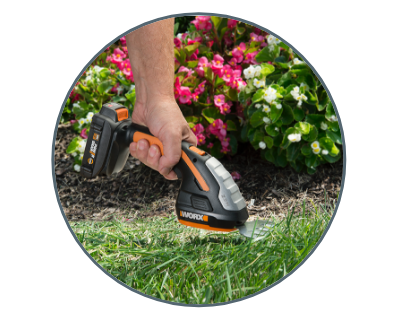 EASY TO USE
It's only 2 lbs., and the grip is comfortable and designed to give you complete control and maneuverability.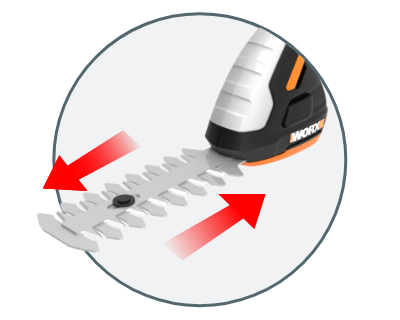 DUAL-ACTION BLADES
Operating at a no-load speed of 1100 strokes per minute, the dual-action blades offer quick, clean cuts.