Nitro 40V Cordless 21" Self-Propelled Lawn Mower with Brushless Motor and Rear Wheel Drive
5 Year Warranty
30 Day Guarantee
Details
Gas-like power—Worx NITRO™ outdoor tools are engineered to provide gas-like power, performance, and run time.
Self-propelled lawn mower featuring rear-wheel drive with variable speed control.
3-in-1 functionality—Mulch / Bag / Side-Discharge.
Brushless motors are more efficient, run 50% longer, are 25% more powerful, and have 10% longer life.
Auto-IntelliCut™ technology automatically adjusts performance to grass conditions.
Durable, 21 in. steel cutting-deck w/ NutriCut™ dual-stage mulching capabilities.
Single-lever controls for (7-position) cutting height-adjustments and grass/bag mode change.
LED lights for visibility in low-light conditions.
Charge-level indicator provides quick reference to remaining runtime.
One-touch fully-collapsible handle for compact, stand-up storage.
Run longer with high-capacity batteries—Worx Power Share™ PRO intelligent batteries deliver extended run times, plus heat and impact protection. Compatible with all Worx 20V and 40V tools, outdoor power, and lifestyle products.
Capacity
2 x 5.0Ah Power Share PRO
Cutting Height
1.6 in. - 4 in. | 7-Position
Wheel Size
Front: 8 in. | Rear: 10 in.
Unit Weight
68.4 lbs. | 63.3 lbs. (bare)
(1) - Worx NITRO™ 40V 21" Self-Propelled Lawn Mower
(1) - Side-Discharge Chute
(2) - 5.0Ah Batteries (WA3571)
Auto-IntelliCut™ is smart technology inside the lawn mower's motor. It automatically senses when grass conditions are higher and thicker. Instead of bogging down during these conditions, the lawn mower cutting capabilities speed up to cut more efficiently. On the other hand, when the grass conditions are less demanding, the lawn mower will utilize its lower setting to conserve battery runtime.
Auto-IntelliCut™ refers to the motor changing "speed" to cut more efficiently. On the other hand, the variable speed control lever adjusts the self-propel speed, or pace, at which the lawn mower moves. While operating in more demanding grass conditions, put the lawn mower in a slower speed to provide the blades more time to cut within a given area.
The innovative, quick-change mode lever provides the user the ability to change modes without the use of a plug. No more of a need to store, or lose, the mulch plug. Instead of a plug, the lawn mower deck has a sliding "door" that can be opened or closed to change from bag or mulch/side-discharge modes.
The POWER SHARE™ PRO series of WORX high-capacity batteries are designed for optimal performance and come standard with the WORX NITRO™ product offering. These batteries utilize an intelligent battery management system that monitors each cell to enhance, power, performance, and runtime.
Innovative, thermoplastic material encases each cell to pull heat away and maximize the cell's performance, resulting in longer runtime.
360° cell protection provides increased security against vibration, drops, and water intrusion. This full-wrap design limits the influence that a compromised cell can have over the rest of the battery pack.
The WA3571 5.0ah POWER SHARE™ PRO battery is 100% compatible with all WORX 20V, 40V, 80V tools, outdoor power, and lifestyle products​ that display the POWER SHAR™E or POWER SHARE™ PRO logo.
Although the WORX POWER SHARE™ PRO high-capacity batteries come standard with WORX NITRO™ products, they can also be utilized on the traditional WORX products to achieve longer runtime.
WORX recommends that POWER SHARE™ PRO batteries be used with WORX NITRO™ products to unlock optimal performance.
No. The WORX POWER SHARE™ PRO batteries can be used on all existing WORX 20V MAX chargers (WA3742, WA3881, WA3764, WA3770, WA3884, WA3835).
No. The batteries require the same amount of charge-time as the standard WORX POWER SHARE™ batteries. However, due to the Cell-Cooling Technology in the POWER SHARE™ PRO batteries, they stay cooler, longer. As a result, less wait-time is needed before a battery can start charging, due to high temperature.
Frequently purchased together
The Power to Outperform Gas Mowers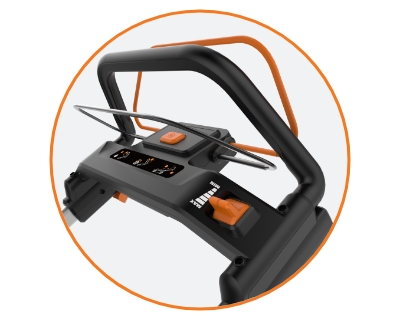 Self-Propelled
With rear-wheel drive and variable-speed control. One lever changes the pace of the mower depending on your preference, or how thick the grass is.
Brushless Motor & High-Capacity Batteries
Gas-like power, performance, and runtime delivered by a brushless motor paired with Power Share™ PRO intelligent batteries.
Auto-Intellicut™ Technology
Internal sensors detect when the grass gets thicker and turns up the torque to power through. Once the grass is less-dense, Auto-IntelliCut™ turns the torque back down to conserve battery usage.