20V Power Share Switchdriver Cordless Drill & Driver w/ 67 pc. Kit
20V Power Share Switchdriver Cordless Drill & Driver w/ 67 pc. Kit
is rated out of
5
by
871
.
3 Year Warranty
30 Day Guarantee
As low as
$99.99
Regular Price
$99.99
Details
Rotating dual chucks let you switch between bits faster than ever to go from drill to driver.
Electronic torque control prevents the stripping of screws.
Variable 2-speed gearing tackles all common drilling & driving functions.
¼ in. (0.63 cm) hex quick-change chucks for easy bit change-out.
Includes 2 powerful MaxLithium batteries — part of the 20V Power Share platform of DIY yard and power tools that share batteries, saving you time and money.
Drilling tool kit includes 67-Piece Accessory set & Hard Case for all your project needs.
No-Load Speed
0-400/min - 0-1500/min
Chuck Capacity
¼ in. (0.63 cm)
Max Drilling Capacity
3/8" STEEL |1-3/16" WOOD (0.95 | 3.01 cm)
Machine Weight
3.1 lbs. (1.40 kg)
(1) - 20V Switchdriver Drill / Driver
(2) - 20V Maxlithium Battery
(1) - 20V Battery charger
(67) - Assorted Accessory Kit
(1) - Worx Hard Carrying Case
Yes, this model includes 2 batteries and one charger.
The WORX Switchdriver uses standard ¼ in. (0.63 cm) hex bits. You can use any standard ¼ in. (0.63 cm) hex bits you already have, or purchase bits from your favorite retailer.
This model (WX176L.1) includes a 67 piece project kit of bits to help you tackle any project you've been putting off.
The WORX Switchdriver features the innovative rotating chuck that allows you to use two different bits at the same time and switch between them one-handed. Our quick release chuck is like another pair of hands – just pull the collet locking sleeve on the chuck (away from the tool), insert the bit and let go of the collet. That's it! Your bit is already perfectly seated and tightened. To remove the bit, pull the collet locking sleeve away from the tool and remove the bit. It's that simple.
The innovative chuck on the WORX Switchdriver was designed with convenience in mind so you can get the job done instead of wasting time changing bits. To rotate the chuck, squeeze the red dual chuck release button over the on/off switch on the Switchdriver. While holding it down, rotate the chuck until it clicks into place. Many people use their thigh or forearm to turn the chuck while keeping one hand on the work. For your safety, the Switchdriver on/off switch will not operate until the chuck is clicked securely into the correct position, which will also prevent it from accidentally turning while in use. Always make sure the chuck has "clicked" into place before using the tool.
Drills have clutches in them to prevent over-driving screws. Most drills use a mechanical clutch, but Switchdriver has a clutch controlled by an electronic PCB. Set the clutch on a low number when screws are small or soft and cannot handle a lot of force put to them. For big fasteners, or tough materials, set the clutch on a high number. If the screw drives too far into wood, or breaks off, set the clutch to a lower setting. If the screw will not drive flush with the work surface, increase the clutch setting. Setting the clutch requires some trial and error. If possible, practice on a scrap workpiece first.
The Switchdriver can handle just about any job you throw at it. Because of the light weight and compact size, it is excellent for jobs like hanging blinds, curtain rods and pictures. But there is plenty of power to handle driving deck screws or mounting hardware in brick or masonry. With two speed settings, the Switchdriver can drill everything from soft wood to hard metal.
Almost any job involving driving screws into wood will have a better result if there is a hole predrilled for the screw. Predrilling helps the screw's threads cut into the wood easier, so less force need be placed on the screw. The lower force helps prevent the wood from splitting, keeps the screwdriving bit from slipping and damaging the screw and aids in driving a screw straight.
In wood, maximum recommended hole size is 1-3/16 in. (3.01 cm). Avoid drilling holes larger than 3/8 in. (0.95 cm) metal.
If you decide the Worx Switchdriver isn't the right tool for you, we offer a 30-day Money Back Guarantee from date of receipt (less shipping and handling). Please call our customer service center at 1-866-354-9679 (WORX) and we'll be happy to assist. View more information here.
We know your tools are indispensable, so we cover each tool with a 2 Year Limited Consumer Warranty. You can extend your warranty to 3 years by registering online within 30 days of purchase. Already have your Switchdriver? Register now!
Parts subject to normal wear and tear are not covered by the tool's warranty. View more information on our warranty here.
Switchdriver
GET MORE DONE, FASTER AND EASIER.
The 20V Switchdriver holds multiple bit pairings so you get your work done twice as fast, with half the hassle. No more fumbling around for loose bits. Just give the head a quick twist and switch from drilling to driving in an instant. And since the Switchdriver is part of the 20V Power Share platform, you can share batteries with other 20V WORX tools you already own, saving time and money.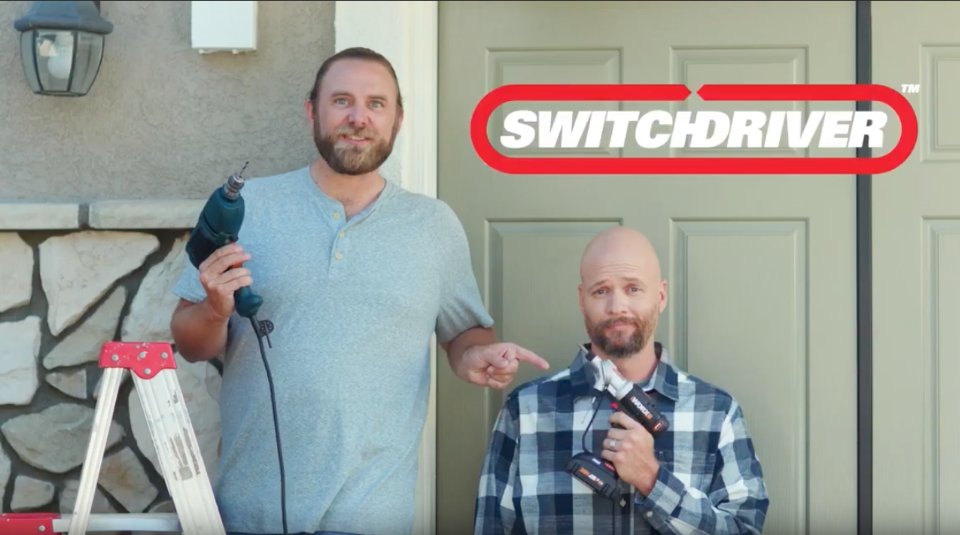 FREQUENTLY PURCHASED TOGETHER
TWO TOOLS IN ONE TO GET STUFF DONE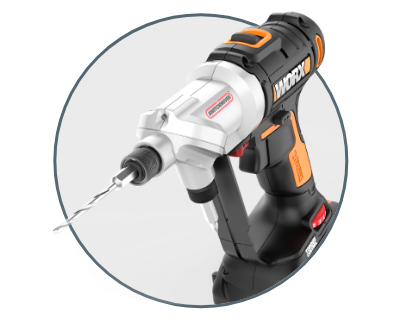 IT'S A DRILL...
Lightweight, compact design — just over 3 lbs. Drill like a pro thanks to the 2-speed gearing that delivers the speed and power you need to tackle any project with ease.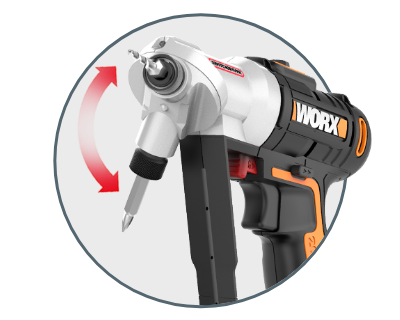 ...AND WITH A TWIST...
The two 1/4" chucks rotate 180° clockwise or counterclockwise with a push of a button, so you can switch from drilling to driving in an instant.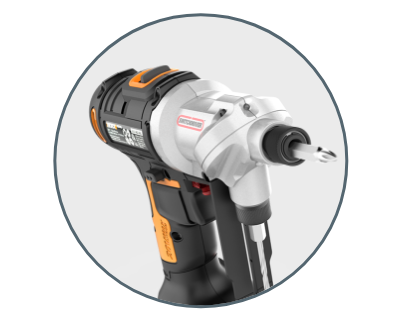 IT'S A DRIVER.
The compact and lightweight Switchdriver is equipped with electronic torque control which prevents your screws from stripping and eliminates any potential damage to your work surface or materials.