Aerocart Wheelbarrow Water Bag (Discontinued)
Aerocart Wheelbarrow Water Bag (Discontinued)
is rated out of
5
by
95
.
3 Year Warranty
30 Day Guarantee
Details
Converts your Aerocart into a mobile watering station in just seconds.
Equipped to carry up to 20 gallons of water for irrigation, livestock or mixing concrete.
Lightweight, durable and includes an anti-slip tub liner that works with any wheelbarrow.
Capacity (gallons)
20 Gallons
Capacity (weight)
160 lbs.
This kit converts your Worx Aerocart into a mobile watering station in seconds.
Yes, this accessory can be used without the Worx Aerocart Wheelbarrow, but may be cumbersome or difficult to maneuver on its own.
The Aerocart Water Bag can handle up to 20 gallons of water, or up to 160 lbs.
The Water Bag weighs 1 lbs.
None! The Water Bag doesn't attach to the Aerocart, but rests in the tub of the Aerocart. Place the anti-slip liner in the Aerocart and place the Water Bag on top of it attaches to the Aerocart in seconds without tools.
Regardless of the tool or job at hand, we recommend that our customers follow standard safety precautions while using our tools, including wearing safety eyewear, gloves, appropriate shoes and clothing, and keeping hair tied back. Always refer to the owner's manual for complete safety information before operating any tool.
If you decide the Worx Aerocart Water Bag isn't the right tool for you, we offer a 30-day Money Back Guarantee from date of receipt (less shipping and handling). View more information here.
We know your tools are indispensable, so we cover each tool with a 2 Year Limited Consumer Warranty. You can extend your warranty to 3 years by registering online within 30 days of purchase. Already have your Water Bag? Register now!
Parts subject to normal wear and tear are not covered by the tool's warranty. View more information on our warranty here.
Ready to add to your Aerocart accessories? Many replacement parts are available online under Accessories.
CALIFORNIA PROPOSITION 65 WARNING:
This product can expose you to chemicals including lead, phthalate or bisphenol A which are known to the State of California to cause cancer, birth defects or other reproductive harm. Wash your hands after use. For more information go to www.P65Warnings.ca.gov.
PROPOSITION 65 DE LA CALIFORNIE AVERTISSEMENT:
Ce produit peut vous exposer à des produits chimiques, incluant au plomb, au phtalate ou au bisphénol A, qui sont reconnus dans l'Ètait de Californie comme pouvant causer un cancer, des anomalies congénitales ou d'autres dommages à l'appareil reproducteur. Assures-vous de bien vous laver les mains après usage. Pour en savoir plus, veuillez consulter le site www.P65Warnings.ca.gov.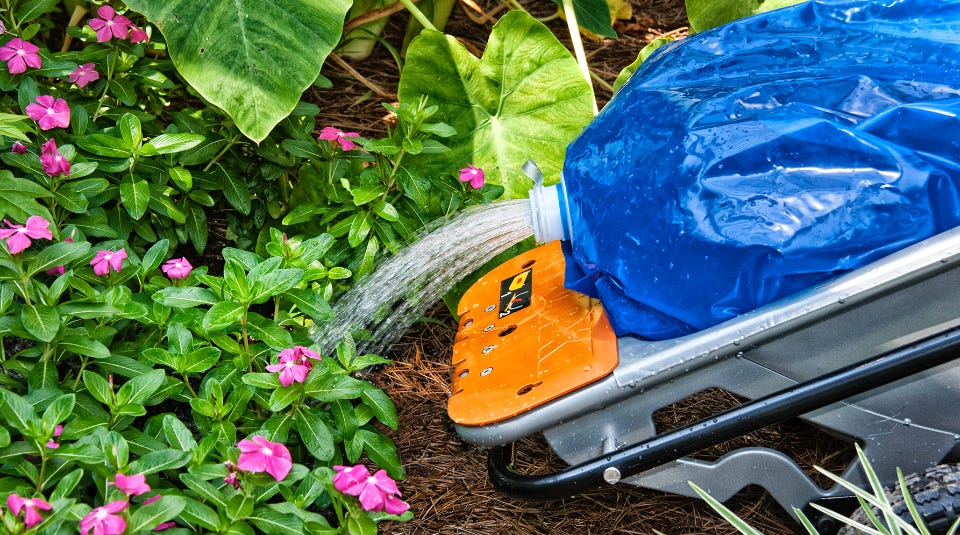 Water Is Heavy
20 gallons of water weighs about 120 lbs — that's a lot! — but not if you have the Aerocart. This water bag works easily with your Aerocart to lighten your load and transport water with ease.
FREQUENTLY PURCHASED TOGETHER