Aerocart 8-in-1 Wheelbarrow / Yard Cart / Dolly
Aerocart 8-in-1 Wheelbarrow / Yard Cart / Dolly
is rated out of
5
by
3971
.
3 Year Warranty
30 Day Guarantee
Details
Turbo Lift design makes a 200 lb wheelbarrow load feel like 17 lbs.
Instantly converts between a lightweight wheelbarrow, yard cart, bag holder, dolly, extended dolly, cylinder carrier, rock/plant mover & trailer tote.
The best, patented two-wheel wheelbarrow design adjusts center of gravity for a balanced and easy-to-manage load.
Durable, flat-free tires never need inflating and ensure a smooth ride no matter your load.
WHEELBARROW WEIGHT CAPACITY
300 LBS
WHEELBARROW VOLUME CAPACITY
~3 FT
DOLLY LOAD CAPACITY
300 LBS
The Worx Aerocart is an 8-in-1 all-purpose mover and lifter. The Aerocart combines the capabilities of a wheelbarrow, hand truck dolly, extended dolly, bag holder, cylinder holder, rock lifter & mover, flower pot carrier, and trailer mover all in one. The Aerocart is more than just a unique tool. It's an entire work system that transforms from function to function simply & easily. And the Aerocart is designed to perform with very little effort on your part. Additional accessories take you beyond just 8 applications and make your Aerocart a must-have, all-season tool. The Wheelbarrow Wagon Kit transforms your Aerocart into a garden wagon, a portable seat and workspace to make spring planting a breeze. Add on a Tub Organizer to transform it into an organized utility cart. Got snow? The Wheelbarrow Snow Plow attachment converts it to an easy-to-use snow plow.
The applications for the Aerocart are limitless and start with 8 different configurations. The Worx Aerocart can transform into a Wheelbarrow, Hand Truck/dolly, Extended Dolly, Bag Holder, Cylinder Holder, Rock Mover, Plant Mover, and Trailer Mover. Optional accessories expand the Aerocart's utility even further. Using the wagon kit, you can convert the Aerocart into a garden wagon or utility cart. Worx even offers a Snow Plow attachment to get the most out of Aerocart in EVERY season!
Converting the Aerocart is simple and fast.
To convert between the Wheelbarrow and Dolly, simply pull the Release Knob on the side of the cart. Fold or unfold the legs as needed. They lock into place automatically.
For Dolly mode, slide the Dolly Flap Plate to the right and fold it down. It will lock into place automatically.
: When converting between Dolly and Wheelbarrow, tip the Aerocart forward so that no weight is on the wheels. Then pull the Release Knob.
To convert to the Extended Dolly, Plant Mover or Rock Mover, fold down the Extension Arm. Stack materials directly on top of the Extension Arm, or attach the proper strap for moving rocks or potted plants.
The Bag and Cylinder Holders hook directly into the frame of the AeroCart.
Use the Aerocart to move trailers simply by attaching your hitch ball to the Dolly Flap when the cart is in Wheelbarrow mode.
Stand in front of the Aerocart. Slide the flap firmly to the right and move the flap up or down.
The Aerocart exploits the physics of leverage. As a Wheelbarrow, the Aerocart tub is specially shaped to concentrate the center of gravity directly over the wheels for a perfectly balanced load that can be lifted and moved with ease. The two wheels improve stability so the Aerocart will not tip over like a standard wheelbarrow.
In Dolly mode, the wheels automatically shift forward, closer to the Dolly flap and the center of gravity, creating leverage that makes lifting the load easier.
The Aerocart will hold between 3 and 4 cubic feet of material.
The Worx Aerocart will hold up to 300 pounds in wheelbarrow and dolly mode.
Up to 80 pounds of material can be stacked on the Aerocart's Extended Dolly arms.
The Worx Aerocart can lift a potted plant, large rock, and many other items using the Extension Arm and proper strap. Maximum weight for items lifted using the Extension Arm is 80 pounds.
The Bag Holder can support a bag weighing as much as 40 pounds.
The Cylinder holder can support up to 80 pounds.
The Worx Aerocart is made of steel.
The Aerocart's flat free tires are polyurethane and will never need inflating. The wheel hubs are polypropylene.
The Worx Aerocart is painted with a thick powder coating to protect the surface and prevent rust. But since the main components are solid steel, as the cart is exposed to wear and tear from the rigors of outdoor use, the Aerocart may show signs of rust similar to any other steel implement.
If you decide the Worx Aerocart isn't the right tool for you, we offer a 30-day Money Back Guarantee from date of receipt (less shipping and handling). Please call our customer service center at 1-866-354-9679 (WORX) and we'll be happy to assist. View more information here.
We know your tools are indispensable, so we cover each tool with a 2 Year Limited Consumer Warranty. You can extend your warranty to 3 years by registering online within 30 days of purchase. Already have your Aerocart? Register now!
Parts subject to normal wear and tear are not covered by the tool's warranty. View more information on our warranty here.
CALIFORNIA PROPOSITION 65 WARNING:
This product can expose you to chemicals including lead, phthalate or bisphenol A which are known to the State of California to cause cancer, birth defects or other reproductive harm. Wash your hands after use. For more information go to www.P65Warnings.ca.gov.
PROPOSITION 65 DE LA CALIFORNIE AVERTISSEMENT:
Ce produit peut vous exposer à des produits chimiques, incluant au plomb, au phtalate ou au bisphénol A, qui sont reconnus dans l'Ètait de Californie comme pouvant causer un cancer, des anomalies congénitales ou d'autres dommages à l'appareil reproducteur. Assures-vous de bien vous laver les mains après usage. Pour en savoir plus, veuillez consulter le site www.P65Warnings.ca.gov.
Aerocart
WHO NEEDS HELP WHEN YOU HAVE AN AEROCART?
Chores that used to take all afternoon can be knocked out in 20 minutes. Tasks that took 3 people you can now do by yourself.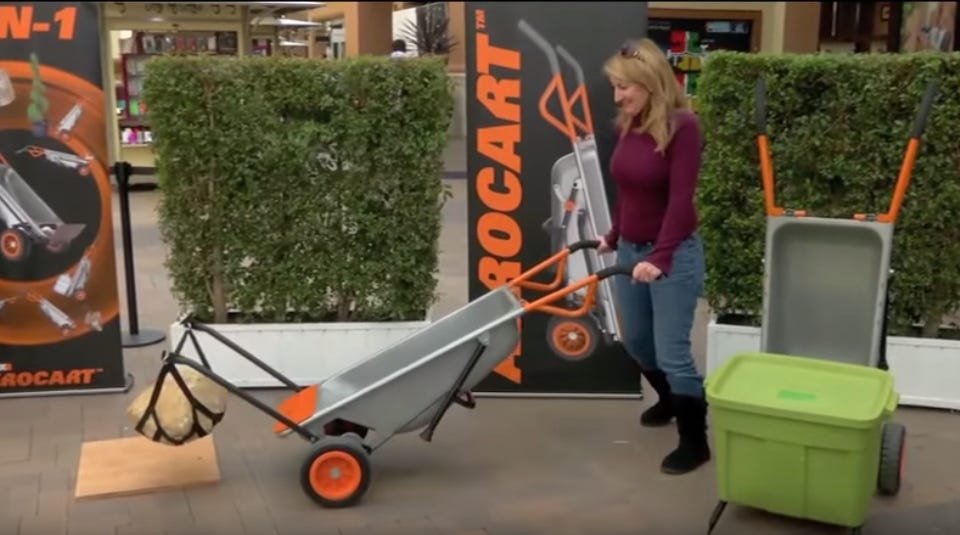 FREQUENTLY PURCHASED TOGETHER
STOP LIFTING WITH YOUR BACK, START LIFTING WITH AEROCART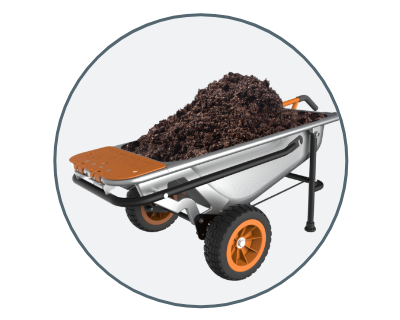 MAKE LIGHT WORK OUT OF HEAVY LOADS
WORX Engineers invented a design that shifts the center of gravity of large loads to a place that is optimum for hauling.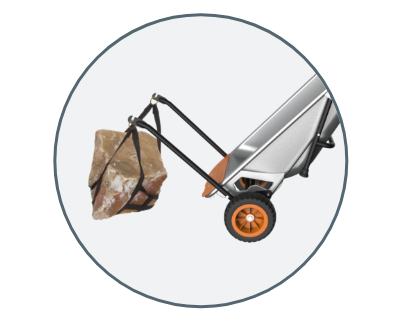 SO MANY USES
Flip down the bottom flap and you have a heavy duty hand truck with a 300 lbs. carrying capacity. Attach the mesh rock holder and carry up to an 80 lbs. rock right across the yard.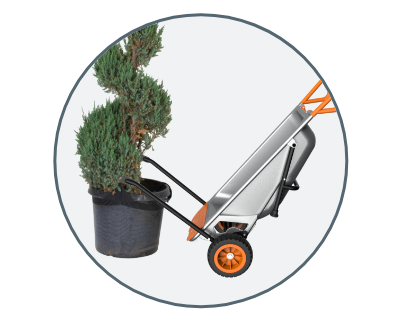 EVEN MORE USES
Strap your outdoor plants into the potted plant mover, extend the arms and turn your new Aerocart into an extended dolly, the bag holder is great for taking leaves to the curb, and the cylinder holder carries buckets, barrels, trash cans and water jugs.