Aerocart Wheelbarrow Tub Organizer
3 Year Warranty
30 Day Guarantee
Details
Organize & transport items in your Aerocart, wheelbarrow, or garden cart.
Compartment sizes adjust using hook & loop straps.
Connects through the Aerocart handles & won't slide out of the wheelbarrow tub.
Made from heavy stain-resistant nylon material.
This organizer is designed to organize and transport items in your Worx Aerocart wheelbarrow, or garden cart.
Designed to perfectly complement your Worx Aerocart Wheelbarrow, the Tub Organizer can be used with any tools, or even on its own. Use it to organize your tools while using your Aerocart as a garden cart, or carry the Tub Organizer by the handles transport tools or flowers around your yard.
The Tub Organizer is made of heavy, stain-resistant nylon.
The Tub Organizer weighs about 2 lbs.
Externally, the Tub Organizer is 23-1/2" x 12" x 2". The interior sections are customizable. Hook and Loop straps allow you to move compartment walls to customize the interior space to the job or tools at hand.
Great news! We thought of that! The Aerocart Tub Organizer connects through the Aerocart handles so it won't slide out of your Aerocart.
While there are no specific concerns regarding the Aerocart Wheelbarrow Tub Organizer, we recommend that our customers follow standard safety precautions while using our tools, including wearing safety eyewear, gloves, appropriate shoes and clothing, and keeping hair tied back. Always refer to the owner's manual for complete safety information before operating any tool.
If you decide the Worx Aerocart Tub Organizer isn't the right tool for you, we offer a 30-day Money Back Guarantee from date of receipt (less shipping and handling). View more information here.
Parts subject to normal wear and tear are not covered by the tool's warranty. View more information on our warranty here.
Ready to add to your Aerocart accessories? Many replacement parts are available online under Aerocart Accessories.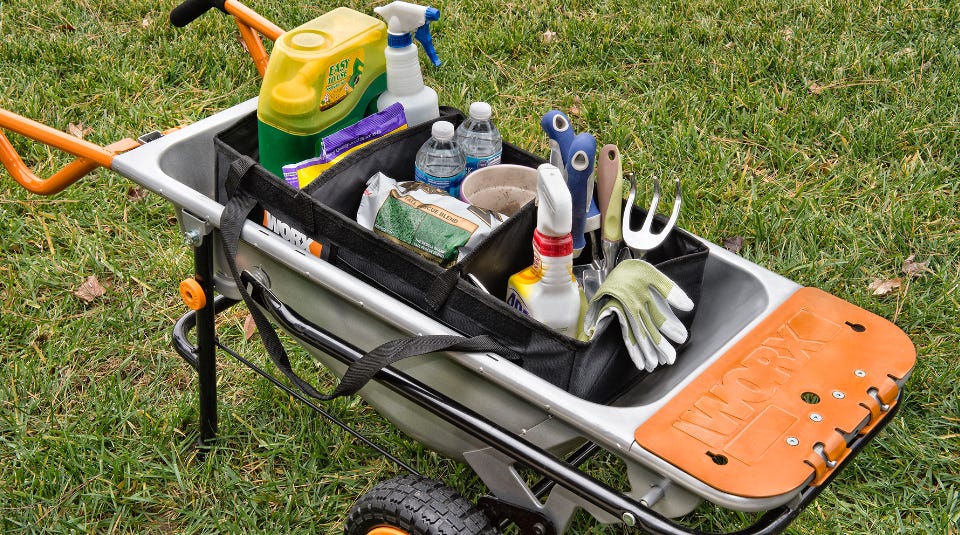 EVERYTHING IN ONE PLACE
Load up everything you need for the job and wheel it around easily in your Aerocart. Works easily with your Aerocart to hold tools for planting or other outdoor projects.
FREQUENTLY PURCHASED TOGETHER