13 Amp 1500 PSI Electric Pressure Washer (1.2 GPM) (Discontinued)
13 Amp 1500 PSI Electric Pressure Washer (1.2 GPM) (Discontinued)
is rated out of
5
by
101
.
3 Year Warranty
30 Day Guarantee
Details
High pressure for difficult cleaning tasks like brick, siding, and RVs.
Compact and lightweight design makes it portable and easy to store.
3-pc spraying wand comes apart for even more storage options.
Comes with 20' High-Pressure Hose.
2 nozzles are included to handle a variety of cleaning applications.
Powerful 1500 psi stream, 2100 MAX, but only uses 1.2 GPM.
Rated Pressure
2000 Max PSI / 1500 PSI
Rated Flow Rate
1.85 MAX gpm 1.2 gpm
Pump | Motor
Axial Cam Pump | Universal Motor
(1) - Turbo Nozzle Accessory
(1) - 20ft High Pressure Hose
PSI is the pressure (lbs. per square inch) at which the water exits the nozzle. The GPM (gallons per minute) refers to the amount of water volume that exits the nozzle during a specified amount of time.•A combination of both PSI and GPM are important in determining the ultimate performance of a pressure washer.
A higher waterflow rate (GPM) helps "flush" out debris from a large cleaning area, while a higher PSI provides a greater "grime"removal rate, and typically, in a more concentrated area
The included nozzles have standard ¼" fittings that insert directly into the end of the spray wand by depressing the brass ring on the wand, inserting the nozzle, then releasing the ring. The nozzle should then "snap" into place
Aside from the turbo nozzle WA4037, all other hydro accessories are only designed (and rated) for use on the Hydroshot and cannot be used on other pressure washing equipment.
Primarily after initial startup, residual air can still be trapped in the hose. Continue to hold down the trigger of the wand to allow the water to flow through the hose and expel any remaining air.
This is an electric tool and does not use batteries. You will need an extension cord connected to a power outlet to use this tool. You can check for extension cord gauge in your manual.
FREQUENTLY PURCHASED TOGETHER
GET A HANDLE ON DIRTY JOBS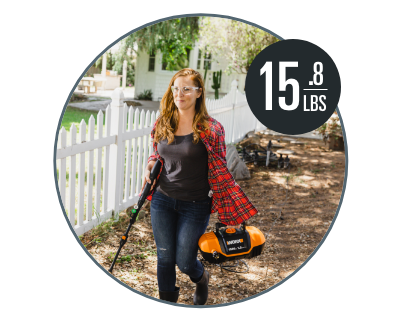 EASY TO CARRY
And just over 15 lbs, it's easy to tote around the yard. And at only 17" long and 12" high, you can store it in a corner of the garage or on a shelf.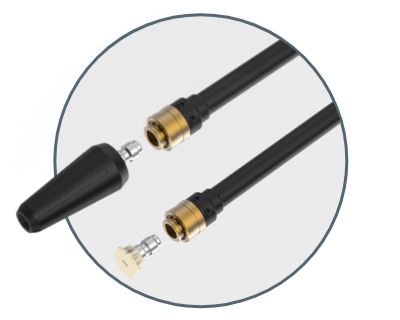 A NOZZLE FOR EVERY JOB
A turbo nozzle for the really tough stuff, like concrete, brick, and masonry and a 40° nozzle to clean a wide variety of other things.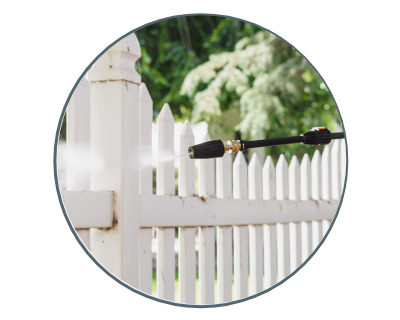 SO MANY APPLICATIONS
Clean out lawn equipment, spray down the boat, freshen up fencing or the deck, you can even clean out the gutters. But use caution and make sure you're using the right nozzle, so you won't damage anything.