18" Wall Mount Tool Holder Kit
18" Wall Mount Tool Holder Kit
is rated out of
5
by
66
.
No Warranty
30 Day Guarantee
Details
WORX 18" Wall Mount Tool Holder Kit includes 2 tool holders and 4 wood screws. Tool Holder Kit is a great garage storage solution that can ultimately hold up to three WORX products if needed.
Install on wall studs or drywall.
Connect multiple tool holders to minimize storage space.
Includes 4 wood screws.
(1) - 18" Universal Wall Mount kit
This model (WA0139) is designed to be a universal mount and hold up to two of any of your handheld tools. The wall mount design lets you conveniently store tools out of the way, and keep them easily accessible. What a great way to keep a tool like your Worx AIR or Hydroshot where you can grab them for quick clean up.
This model (WA0139) includes 1 universal wall mount bracket, 2 tool holders and 4 wood screws.
A wide variety of tools are compatible with the Wall Mount Tool Holder including most Worx tools and is ideal for any tool with a handle.
You can install the Wall Mount Tool Holder in drywall, though anchoring it in the wall studs will allow you to hang heavier items.
While there aren't any specific hazards related to the 18" Wall Mount Tool Holder Kit, we recommend that all our customers follow standard safety precautions while using our tools or performing maintenance on them – including wearing safety eyewear, gloves, appropriate shoes & clothing, and keeping hair tied back.
This product does not have a manual of its own.
If you decide the 18" Wall Mount Tool Holder Kit isn't right for you, we offer a 30-day Money Back Guarantee from the date of receipt (less shipping and handling). View more information here.
Parts subject to normal wear and tear are not covered by the tool's warranty. View more information on our warranty here.
Many replacement parts are available online under Accessories.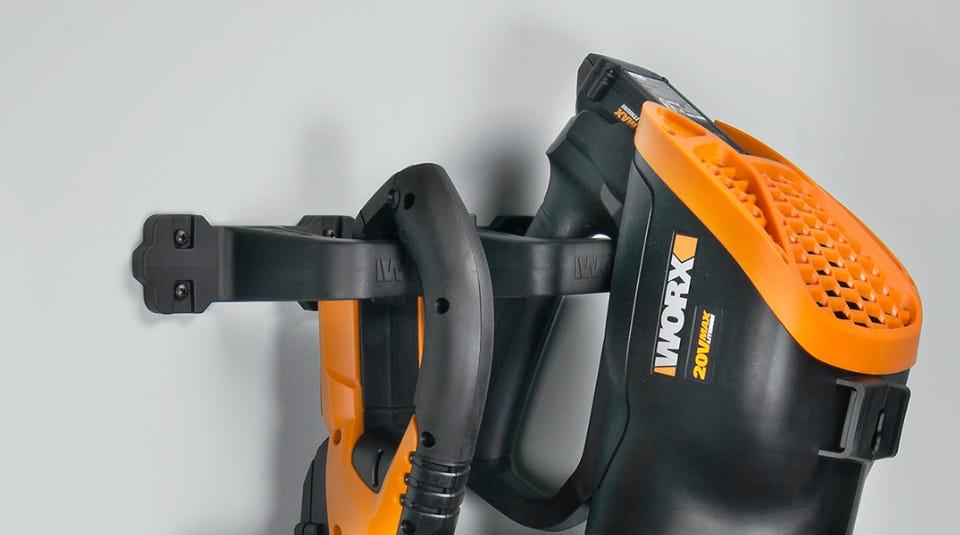 Organize your Shop
Hang your tools and clear up space in your garage or shop with this set of two wall mount tool holders. Hang tools vertically or horizontally for ultimate organization.
FREQUENTLY PURCHASED TOGETHER