20V Power Share 1L Cordless Handheld Sanitizing Sprayer (Discontinued)
3 Year Warranty
30 Day Guarantee
Details
Handheld, portable sanitizing sprayer sprays a fine mist of cleaning solution and disinfectants on multiple surfaces.
Perfect for sanitizing large areas or public places like gyms, offices, and classrooms, or around the home and car.
Cordless convenience allows for effortless movement from room to room.
Continuous spray trigger provides faster coverage.
1L removable tank with measurements for precise, hassle-free filling.
Lightweight and portable design allows you to take anywhere and use on a wide range of applications.
Long spray lance for hard-to-reach areas.
Same Battery, Expandable Power. The same battery powers over 75+ 20V, 40V, and 80V lifestyle, garden, and power tools in the Power Share™ family.
Flow Rate
0.27 - 0.46 Gal/Min
(1) - 1L Handheld Sanitizing Sprayer
(1) - 1L Graduated Bottle
(1) - 2.0Ah Battery (WA3575)
(1) - 2A Single Charger (WA3881)
Yes, the cordless sanitizing sprayer can be used in your home with cleaners and disinfectants that do not include alcohol or hydrogen peroxide.
No, you can only use this cordless sanitizing sprayer with liquid cleaners and disinfectants that do not include alcohol or hydrogen peroxide.
Yes, you can use bleach cleaners but it is recommend that you dilute the bleach before use.
Yes, you can use other liquids like pesticides but it is extremely important to clean and flush out the disinfectant spray gun system between chemicals.
Depending on how heavy you spray the disinfectant, it should dry within 5-10 minutes.
A Quicker Sanitizer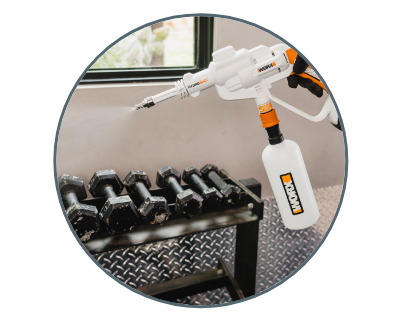 Perfect for Any Space
The easy and cost effective way to sanitize larger spaces like classrooms, office buildings, gyms, and more to keep surfaces safe and clean.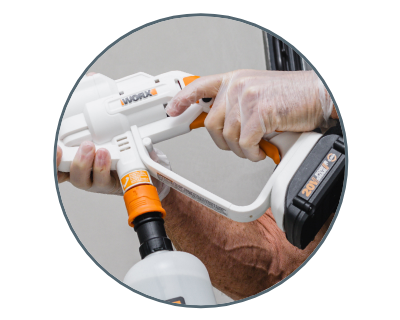 Continuous Spray
The continuous spray trigger allows for faster coverage with less user fatigue.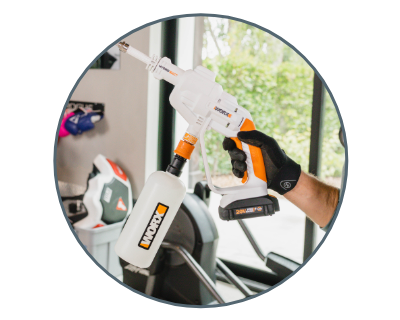 Cordless Convenience
The 20V Power Share™ battery allows you to take this sanitizing sprayer almost anywhere to sanitize almost anything without being tethered to an outlet.