20V Power Share Cordless Impact Driver (Discontinued)
3 Year Warranty
30 Day Guarantee
As low as
$119.99
Regular Price
$69.99
Details
Check out the latest model: 20V Power Share Cordless Impact Driver (WX291L).
Compact and lightweight design supports hours of working without fatigue.
950 in-lbs of torque easily manages large screws and bolts.
Ideal for removing stubborn or rusted fasteners.
Powerful and lightweight MaxLithium battery.
(1) - 20V Cordless Impact Driver
(1) - 20V MaxLithium Battery
(1) - 20V Battery Charger
Yes, this model includes 1 battery.
This model takes 1/4" hex bits. The 16-Piece Drill & Drive Bit Set includes compatible bits. You can find individual bits to suit the need of any job at your local hardware or home improvement store.
The Cordless Impact Driver uses a quick change chuck to make changing bits easy. To install a bit, pull the collet locking sleeve away from the body of the drill. Install the bit and release the collar. That's it. It's that simple.
Even with the battery installed, the drill weighs 2.6 lbs.
The impact rate for the driver can reach up to 3000ipm and has a maximum torque of up to 950 in/lbs. What the Cordless Impact Driver will deliver on any particular job will vary depending on the task at hand, but you'll have plenty of power for driving large, difficult fasteners or removing stubborn or rusted ones.
The variable speed control trigger allows you to customize the speed of the 20V Cordless Impact Driver to the job by applying more pressure on the trigger. You can go from low to GO! just by squeezing the trigger.
Run time depends on the type of work, the conditions under which work is being performed, the Amp hour rating of the batteries being used, and may even vary from user to user. The batteries can be charged and discharged for about 2,000 cycles. PowerShare allows you to use any 20V Worx battery you have on hand with your 20V tools, so you'll always have the power on hand to complete any job.
Higher capacity batteries and faster charging options are available.
Yes! With Powershare, you can share the battery and save money. Your 20V Worx tools can use any Worx 20V battery you already have. By sharing the battery between tools - even between power and garden tools and you'll always have the power you need to complete any job.
Yes, there's an LED light to help you see what you're working on.
The flashing LED light indicates the battery charge is getting low or the battery power is interrupted. This feature protects the battery so it will perform a long time.
Carefully review the owner's manual for all safety information and guidelines. Follow safety precautions while using any power tools – including wearing safety eyewear, gloves, appropriate shoes & clothing, and keeping hair tied back. See the owner's manual for complete safety instructions and details.
You can download the manual here.
If you decide the Worx 20V Cordless Impact Driver isn't right for you, we offer a 30-day Money Back Guarantee from date of receipt (less shipping and handling). View more information here.
We know your tools are indispensable, so we cover each tool with a 2 Year Limited Consumer Warranty. You can extend your warranty to 3 years by registering online within 30 days of purchase. Already have your Impact Driver? Register now!
Parts subject to normal wear and tear are not covered by the tool's warranty. View more information on our warranty here.
Need a higher capacity battery? Looking for a faster charger? Many accessories are available online under Accessories.
CALIFORNIA PROPOSITION 65 WARNING:
This product can expose you to chemicals including lead, phthalate or bisphenol A which are known to the State of California to cause cancer, birth defects or other reproductive harm. Wash your hands after use. For more information go to www.P65Warnings.ca.gov.
PROPOSITION 65 DE LA CALIFORNIE AVERTISSEMENT:
Ce produit peut vous exposer à des produits chimiques, incluant au plomb, au phtalate ou au bisphénol A, qui sont reconnus dans l'Ètait de Californie comme pouvant causer un cancer, des anomalies congénitales ou d'autres dommages à l'appareil reproducteur. Assures-vous de bien vous laver les mains après usage. Pour en savoir plus, veuillez consulter le site www.P65Warnings.ca.gov.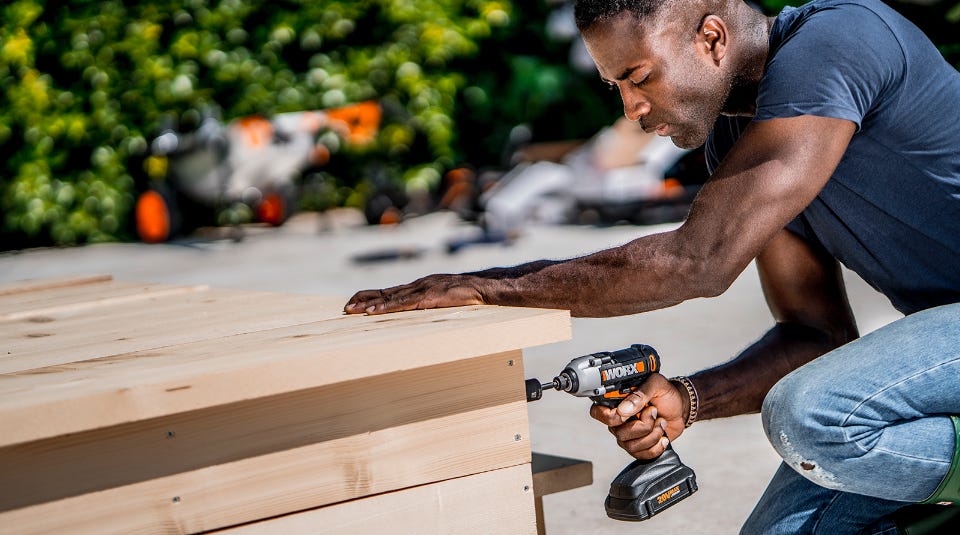 MAKE AN IMPACT
The 20V Impact Driver is a compact and powerful tool. Especially designed for driving large fasteners quickly and easily, the 950 inch pounds of torque easily manages large screws and removes stubborn or rusted fasteners.
FREQUENTLY PURCHASED TOGETHER