20V Power Share 2.0 Ah Battery 2-Pack
3 Year Warranty
30 Day Guarantee
Details
2.0Ah Lithium technology charges quickly and powers your cordless WORX tool without waning or draining.
Max Lithium batteries are lighter, more efficient, and charge with no memory effect.
Recommended to use with WA3742 20-Volt Lithium charger, or WA3868 20-Volt Lithium quick charger.
Includes an indicator system for quick battery life review.
Compatible Models
WG170.1, WG170, WG163, WG160.4, WG160.3, WG160.2, WG160.1, WG160, WG157, WG156, WG155.5, WG155, WG154, WG151.5, WG151
(2) - 20V MaxLithium Battery
No, this model does not come with a charger.
This model (WA3575.2) includes 2 batteries, where WA3575 is a single battery.
Each Worx 20V 2.0Ah battery is compatible with all 20V Worx tools – both garden tools and power tools – as well as all 18V Worx tools. PowerShare lets you share the battery and save money.
Each 2.0Ah 20V battery (WA3575.2) weighs less than 1lb!
On the Worx GT 2.0 String Trimmer/Edger/Mini-Mower, each 2.0Ah 20 Volt Max Lithium Battery will provide enough working time per charge to trim up to the average 1/4 acre yard. Actual results may vary depending on the density of the grass or weeds you're cutting, the amount of trimming versus edging, and the age of the battery pack.
It takes about 5 hours to fully charge the battery with a standard charger (WA3742), or about an hour with a quick charger (WA3868). Since two batteries are included in this package, consider a dual-port charger like WA3875 or a dual-port quick charger like WA3878.
While Power Share allows you to share batteries between tools within the same voltage family, batteries should only be used with tools of a corresponding voltage. Use your 20V Max Lithium battery with any 20V Worx tool – even the power tools – but save your 32V battery for your 32V tools.
Our lithium tools and Ni-Cd tools are separate platforms and are not interchangeable. Lithium batteries offer our customers maintenance-free technology without the hassle of managing the memory effect inherent in Ni-Cad batteries.
The Worx WA3742 20V charger and the Worx WA3868 20V quick charger are compatible, along with WA3732, WA3835, WA3764, and WA3875. Charging times will vary by style of charger.
The difference between our Worx 20V batteries is their amp hour rating. The amp hour rating measures how much energy can be stored in the battery (energy capacity). The 20V Worx 2.0Ah battery gives you the power to care for the average 1/4 acre yard. The 20V Worx 4.0 Ah battery (WA3578) can hold twice the amount of energy and can provide up to double the run time. The WA3575.2 also includes 2 batteries.
Regardless of the tool or job at hand, we recommend that our customers follow standard safety precautions while using our tools, including wearing safety eyewear, gloves, appropriate shoes and clothing, and keeping hair tied back. Always refer to the owner's manual for complete safety information before operating any tool.
Many replacement parts are available online under Accessories.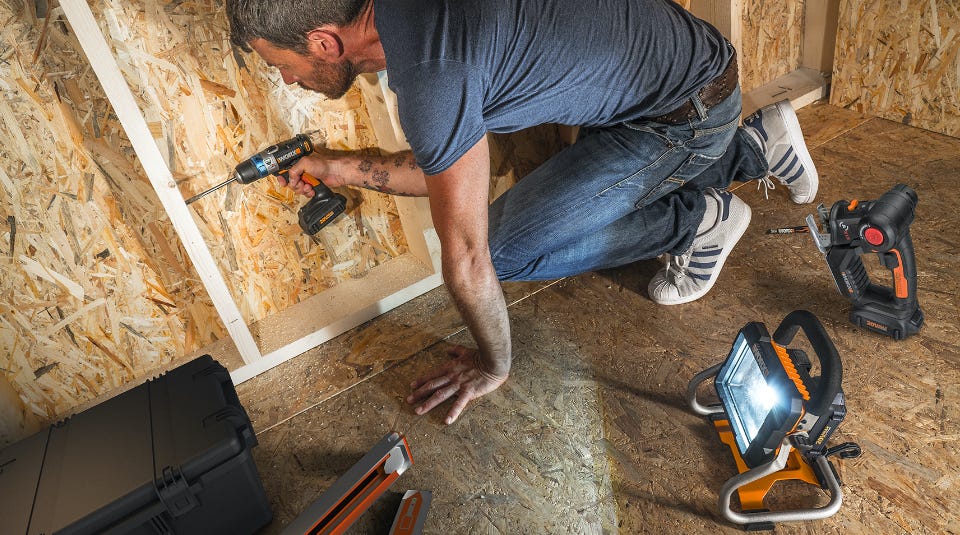 TWICE THE SHARING
These 20V 2.0Ah Max Lithium batteries power every garden and power tool in the WORX Power Share family. Multiple batteries mean you've always got one charged and ready to go for your next project.
FREQUENTLY PURCHASED TOGETHER