20V 2-Gallon Cordless Lawn Sprayer
3 Year Warranty
30 Day Guarantee
As low as
$129.99
Regular Price
$89.99
Details
No Pumping Required! Pump automatically pressurizes providing continuous spray for all applications.
Pump can be used with other lawn sprayer tanks without concern of contamination.
Pressure release valve allows for quick release of internal pressure for easy refills or cleanup.
Lightweight spray wand and variable spray nozzle with Lock-On/Off provide professional results.
Built-in spray wand storage for quick cleanup, portability, and storage.
Shoulder strap harness lessens user fatigue during long periods of lawn spraying.
Same Battery, Expandable Power. The same battery powers over 75+ 20V, 40V, and 80V lifestyle, garden, and power tools in the Power Share™ family.
Unit Weight (Full)
20.4 lbs.
Unit Weight
3.86 lbs. | 3.04 lbs. (bare)
(1) - 20V Cordless Yard Sprayer
(1) - 2.0Ah Battery (WA3575)
The air compressor works just like a traditional air compressor that would be used to blow up a bicycle tire. When the air is pumped into the tank, it forces the liquid out of the lawn sprayer.
Since an air compressor-style pump is used, rather than the traditional manual hand-pump style, the air is mechanically forced down from above, without touching the liquid. This allows the user to use the same uncontaminated pump with several different tanks of chemicals (lawn fertilizer, weed killer, insect killer, etc.).
The Air Compressor Pump from the WG829 Cordless Lawn Sprayer also works with the WA4028 (5L) and WA4029 (2gal) WORX tank models that are sold separately to be used as spare tanks. In addition, the pump shares a common thread within the lawn sprayer market. As a result, this pump will work on many tanks from competitive manual-pump lawn and yard sprayers, including various Round Up®, Smith®, Husqvarna®, and Scotts® models.
No. The pump will initially run to pressurize the tank; once the tank is pressurized and the user starts spraying, the pump will kick back on for several seconds to ensure the pressure stays at a high enough level to maintain a steady spraying stream.
Length of sprayer wand without the nozzle is approximately 19.21 inches.
Length of sprayer wand with the nozzle is approximately 21.65 inches
The length of the hose is approximately 49.21 inches.
Frequently purchased together
A Better Way to Spray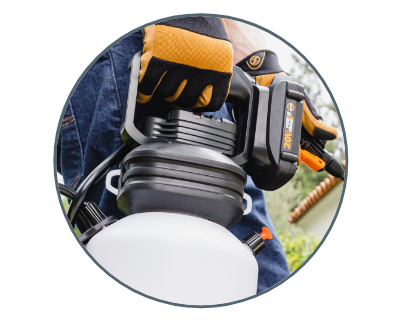 Air Compressor Pump
Your days of tiresome hand-pumping are over. The automatic pump provides a continuous spray for lawn spraying applications of all sorts.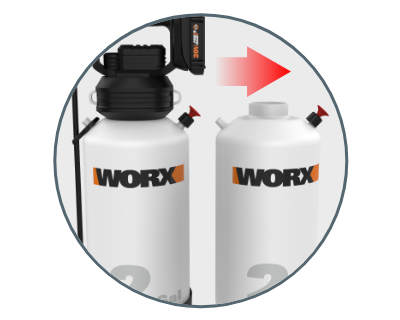 Share the Pump with Other Tanks
The compressor-style pump never touches the chemicals in the tank, so you can use it with other tanks without fear of contamination.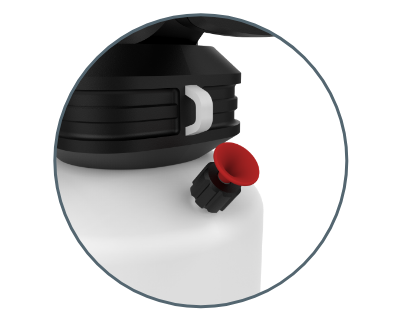 Pressure Release Valve
Allows for quick and easy release of internal tank pressure. Makes refilling and cleanup a breeze.