20V GT 3.0 12" Cordless String Trimmer & AIR Blower Combo Kit
3 Year Warranty
30 Day Guarantee
Details
The GT 3.0 Trimmer is a string trimmer and in-line wheeled edger in one. The AIR Blower/Sweeper comes with 8 attachments for a wide variety of cleaning tasks. 2 Power Share batteries included.
Fresh line on-demand, thanks to the push-button COMMAND FEED® spool system.
90° pivoting head for trimming sloped sections of your lawn and getting into hard-to-reach areas.
Telescoping shaft adjusts to the user's height and posture so both short and tall people can find a comfortable working position.
Use the blower/sweeper to quickly clean up your deck, driveway, sidewalk, patio and all-around your house.
This lightweight, compact blower is easy to control with one hand and easy to store in a closet or on a shelf.
8 blower attachments for taking on a wide variety of debris clearing tasks and creating a CleanZone around your home.
Do It All With Power Share Batteries−Worx Power Share intelligent batteries maximize power, performance and run time and are compatible with all Worx 20V, 40V and 80V tools, outdoor power and lifestyle products.
WG163.9 TECHNICAL SPECIFICATIONS
Cutting Line Length
10 ft.
WG545.9 TECHNICAL SPECIFICATIONS
(1) - GT 3.0 12" String Trimmer (WG163.9)
(1) - AIR Cordless Leaf Blower (WG545.9)
(1) - 2A Charger (WA3881)
(2) - 2.0Ah Batteries (WA3525)
The great news is that it's not heavy! The Worx AIR Cordless Leaf Blower / Sweeper only weighs 2.7lbs (1.22 kg). Even after you install a 20V Worx battery, it's still less than 5lbs. Our ergonomic design ensures even this small amount of weight is optimally distributed. Clean-up has never been so effortless, comfortable or so portable!
Worx has an entire family of products, some of which are battery operated and some of which are electric. The WG545.9 is a battery-powered model and is compatible with any of our 20V Worx batteries.
Runtime will vary from job to job, and sometimes between users, depending on how each person works and the amp hour rating of the battery you're using. The Worx AIR Cordless Leaf Blower / Sweeper will take you far, but remember you can also use any 20V Worx batteries you already have so you'll never be out of power.
Battery powered DC motors are not rated for horsepower as output power is only measured with gas or induction AC (corded) motors. Worx lithium-powered products are designed with sufficient power to get the job done quickly & easily. With an airspeed of 120mph, you can be sure the Worx AIR has the power to get the job done, whether cleaning up lawn trimmings or sweeping leaves off the front porch.
The WG545.9 does not include a vacuum feature.
The WG545.9 Worx AIR is not a variable speed blower.
Because of the positioning of the fan in the tool, the fan is not a part we offer as a replaceable item.
Absolutely! The 20V Worx GT 3.0 is designed to be fully adjustable from the telescoping shaft, multi-position auxiliary handle, to the pivoting trimmer head. Don't contort yourself to fit your trimmer, let the Worx GT 3.0 adapt to fit you.
Worx GT has a history of changing the game when it comes to feeding trimming line, and the Revolution is no exception. Bumping to advance the line became a thing of the past with auto-feeding line on the first GT, and now, COMMAND FEED® puts the control at your fingertips.
Your trimmer is equipped with COMMAND FEED®. To efficiently feed the line, just press the COMMAND FEED® button as needed while the machine is running until you hear the 'clattering' noise of the line cutting. The line will automatically feed to the perfect length for trimming. The motor will shut off when pressing the COMMAND FEED® button and will restart when the button is released.
Place the trimmer head on the ground and put your foot on the cutting head. Lift or lower the handle to your preferred angle while stabilizing the head on the ground. The 20V Worx GT 3.0 String Trimmer / Edger will click through the positions. Once you've found the perfect angle for you, you're ready to get back at it!
Some stores do offer spools for sale in smaller packs, and while these may be the answer if you run out and need them right away, we recommend taking advantage of the Free Spools for Life program benefits included with the purchase of your trimmer.
The safety guard is an essential part of the tool. Not only does it keep you safe from any debris from the trimming/edging, it also helps regulate the length of the cutting line. Without the safety guard, your Worx GT 3.0 will not operate properly and you are at risk for injury.
Get to Know the 20V Trimmer & Blower Combo Kit
20V Power Share GT 3.0 12" String Trimmer/Edger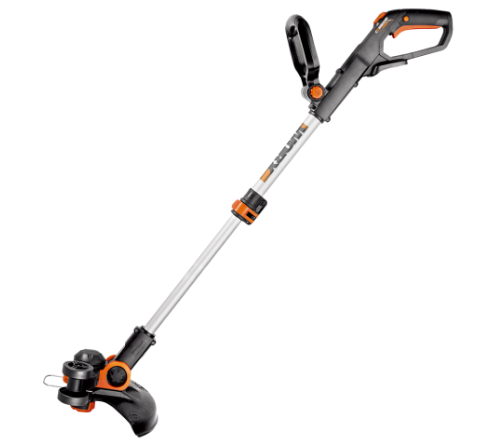 90° head tilt for trimming slopes or tight areas
Tool-free switch between trimming and edging
Ergonomic 7-position handle for easy handling and comfort
COMMAND FEED® for fresh line on-demand
Telescoping shaft adjusts to users' height and posture
12 in. cutting diameter
20V Worx AIR Blower/Sweeper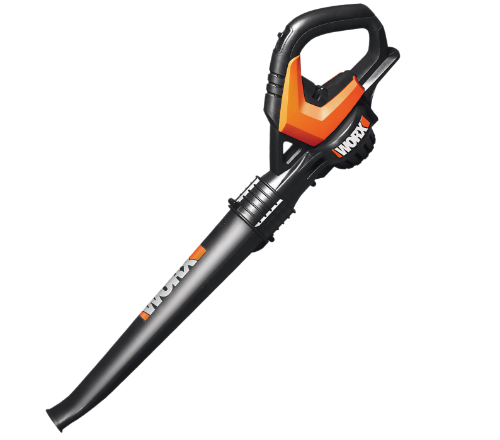 Includes 8 attachments for a variety of cleaning tasks
On/Off switch
Lightweight, one-handed operation
20V MAX Power Share battery