40V Power Share Cordless Blower/Vac/Mulcher
5 Year Warranty
30 Day Guarantee
As low as
$279.99
Regular Price
$219.99
Details
40V leaf blower/vacuum/mulcher with (2) 4.0Ah Power Share batteries delivers 350 CFM to blow, vac, and mulch leaves… without a cord.
40V cordless blower/vac/mulcher features a high-efficiency brushless motor for more power, extended runtime, and longer life.
12:1 mulch ratio — Durable, 2-stage impeller design shreds 12 piles of leaves into 1.
One-step toolless blower to vac conversion — comes with two tubes for dedicated mode conversion from leaf blower, to leaf vacuum & leaf mulcher.
Two-speeds for added control in tight spaces or large areas.
Lightweight blower & wheeled vac-tube reduces user strain and fatigue.
Battery-powered leaf blower/vacuum/mulcher features charge level indicator for quick reference to remaining runtime.
4A dual charger — charges (2) 4.0Ah batteries in 2 hrs.
Same Battery, Expandable Power. The same battery powers over 75+ 20V, 40V, and 80V lifestyle, garden, and power tools in the Power Share™ family.
Battery Capacity
(2) 4.0Ah Batteries
Air Volume
High: 350 I Low: 200 CFM
Air Speed
High:185 I Low:116 MPH
Collection Capacity
1.0 Bushels
Unit Weight
Blower: 8.4 / 5.5. lbs. (bare) | Vac: 11.5 / 8.6 lbs. (bare)
Technologies
2-Stage Impeller
(1) - 40V Power Share Cordless Blower/Vac/Mulcher
(2) - 4.0Ah Batteries (WA3578)
(1) - 4A Dual-Charger (WA3884)
The WG583 can take 12 equivalent units (bags, piles, etc.) of leaves and mulch them down into 1 single unit for easy disposal.
A dry bushel is equivalent to approximately 8 dry gallons.
No. The wheeled vac-tube does provide the advantage of not needing to hold/carry the WG583, but the wheels also put the tube at an advantageous angle (near the ground) for vacuuming up leaves, etc. The non-wheeled blower tube is lightweight and more manageable to operate in this configuration.
Make sure all necessary tubes, bags, or housing covers are properly installed before using. Safety mechanisms were put into place in order to ensure safe conversion from vac to mulch mode, and vice-versa.
No. The safety mechanisms put in place for the tool conversion do not allow for compatibility with the LeafPro. The advantage of the WG583 is that it is cordless, as well as, offers a wheeled vac-tube, which allows for greater mobility around the yard for cleanup. The Universal leaf collection system is intended for more of a stationary setup.
5-Year Warranty on the tool.
Frequently Purchased Together
The Quickest Way to Clear the Yard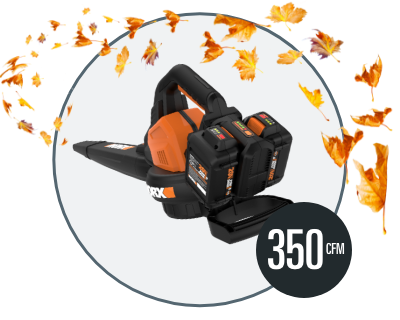 2X20V = 40V
Dual 20V 4.0Ah Power Share batteries deliver 350 cfm to blow, vac, and mulch leaves without dragging around a cord.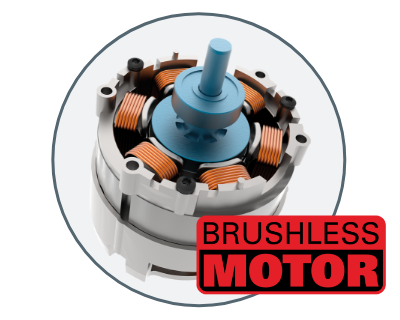 Brushless Technology
High-efficiency brushless motor delivers higher power, extended runtime, and longer life of the tool.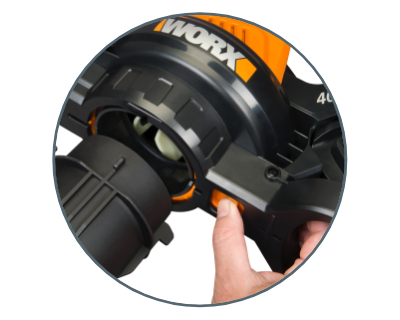 Easy Conversion
Toolless, two tube conversion between blower and vac including wheeled tube to make vacuuming easier.