High-Pressure Foam Cannon for Pressure Washer & Hydroshot
No Warranty
30 Day Guarantee
Details
High-pressure foam cannon accessory connects to your
to add soap to the water stream for various cleaning tasks.
Adjustable dial controls flow of foamed soap-detergent.
Universal ¼ in. quick-connect adapter is compatible with every Worx Hydroshot power cleaner and every Worx pressure washer.
0.21 gal/0.80 L tank for various soaping applications.
Maintains high-pressure stream for better cleaning of stuck on dirt and debris.
Perfect for washing vehicles, camping gear, patio furniture and more.
The WA4036 applies soap with low pressure and is only compatible with the Hydroshot models. It attaches directly to the tool, then after the soap is applied, the WA4036 gets replaced by the wand for rinsing with water. Whereas the WA1740 High-Pressure Foam Cannon applies foamed soap with high pressure to better saturate and remove debris. It works with any Hydroshot or pressure washer that has a ¼ in. quick-connect fitting. The WA1740 attaches to the end of the wand and offers a dial to adjust the amount of soap that goes through the wand.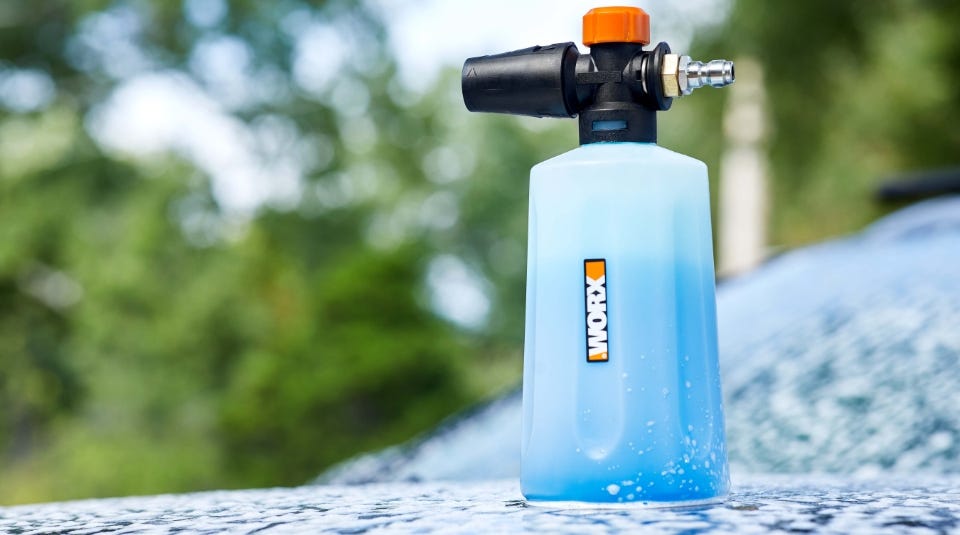 Add Some Suds
Other soap dispensers interfere with the strength of the stream, but not the High-Pressure Foam Cannon! The combination of soap and high pressure is enough to blast dirt, grime, and debris out of tires, off of vehicles and more with impressive results.
Frequently purchased together