40V 14" Lawn Mower & 20V GT 3.0 12" String Trimmer Combo Kit
3 Year Warranty
30 Day Guarantee
Details
A powerful 40V cordless lawn mower and the popular GT 3.0 String Trimmer/Edger, plus two Power Share batteries and a charger.
A single lever lets you set the mowing height (6 separate heights), so depending on the season, or just your preference, you can cut how you want.
INTELLICUT® feature provides torque on-demand for tougher mowing conditions.
The 2-in-1 cordless lawn mower lets you mulch or bag, it's up to you.
The 2-in-1 cordless string trimmer/edger converts from a fast and powerful string trimmer to an in-line wheeled-edger in seconds.
Fresh line on-demand, thanks to the push-button Command Feed™ spool system.Bullet 890° pivoting head for trimming sloped sections of your lawn and getting into hard-to-reach areas.
Telescoping shaft adjusts to the user's height and posture so both short and tall people can find a comfortable working position.
Same Battery, Expandable Power. The same battery powers over 75+ 20V, 40V, and 80V lifestyle, garden, and power tools in the Power Share™ family.
WG779 TECHNICAL SPECIFICATIONS
Rated Voltage
40V (2X20V MAX)
Cut Height Range
1.5-3.5 in.
Grass Bag Capacity
0.85 Bushels
Max Cut Area/Charge
5,000 FT²
WG163.9 TECHNICAL SPECIFICATIONS
Cutting Line Length
10 ft.
(1) - 14" Cordless Lawn Mower (WG779)
(1) - GT 3.0 12" String Trimmer (WG163.9)
(2) - 20V 4.0h Batteries (WA3578)
(1) - 2A Charger (WA3770)
Yes. Two 20V 4.0Ah Power Share batteries and a charger come with this mower/trimmer combo kit. The 40V lawn mower uses two 20V batteries at a time for more power and performance. The 20V string trimmer uses just one.
40V Power Share™ tools are designed to work with two batteries and will not operate with just one battery installed. For optimum performance, both batteries should be of the same Amp-Hour (Ah) rating and fully charged.
This lawn mower is not self-propelled, but is still agile and easy to work with.
The 4.0Ah battery can run up to 45 minutes depending on the thickness of grass and mode the mower is in.
The deck width is 14 in. and the cutting width is 13 in. to deliver great cutting efficiency for smaller yards.
This lawn mower's cutting deck is made of durable, lightweight plastics making it highly maneuverable and lighter than its metal counterparts.
Absolutely! The 20V Worx GT 3.0 is designed to be fully adjustable from the telescoping shaft, multi-position auxiliary handle, to the pivoting trimmer head. Don't contort yourself to fit your trimmer, let the Worx GT 3.0 adapt to fit you.
Worx GT has a history of changing the game when it comes to feeding trimming line, and the Revolution is no exception. Bumping to advance the line became a thing of the past with auto-feeding line on the first GT, and now, COMMAND FEED® puts the control at your fingertips.
Your trimmer is equipped with COMMAND FEED®. To efficiently feed the line, just press the COMMAND FEED® button as needed while the machine is running until you hear the 'clattering' noise of the line cutting. The line will automatically feed to the perfect length for trimming. The motor will shut off when pressing the COMMAND FEED® button and will restart when the button is released.
Place the trimmer head on the ground and put your foot on the cutting head. Lift or lower the handle to your preferred angle while stabilizing the head on the ground. The 20V Worx GT 3.0 String Trimmer / Edger will click through the positions. Once you've found the perfect angle for you, you're ready to get back at it!
The safety guard is an essential part of the tool. Not only does it keep you safe from any debris from the trimming/edging, it also helps regulate the length of the cutting line. Without the safety guard, your Worx GT 3.0 will not operate properly and you are at risk for injury.
Lose your spool cap cover? Ready for a faster charger? Many replacement parts are available online under Accessories.
Get to know the Lawn Mower and Trimmer Combo Kit
40V 14" Cordless Lawn Mower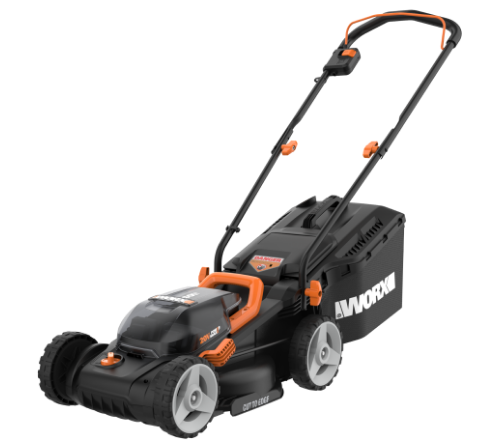 Dual 20V (4.0Ah) batteries = 40V Max power
INTELLICUT® adds torque for thicker grass
Comfortable padded grips
Folding handle for compact storage
Bag or mulch
Lever for cutting-height adjustments
14 in. cutting deck
20V GT 3.0 12" String Trimmer/Edger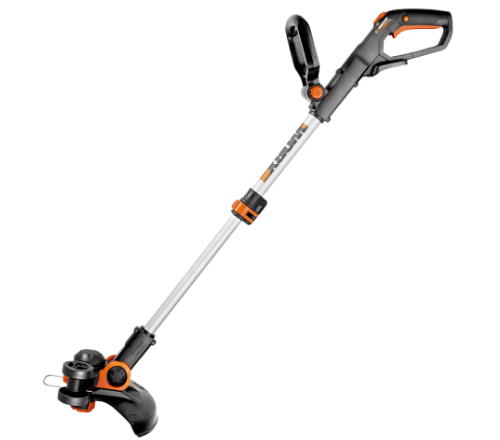 90° head tilt for trimming slopes or tight areas
Tool-free switch between trimming and edging
Ergonomic 7-position handle for easy handling and comfort
COMMAND FEED® for fresh line on demand
Telescoping shaft adjusts to users' height and posture
12 in. cutting diameter